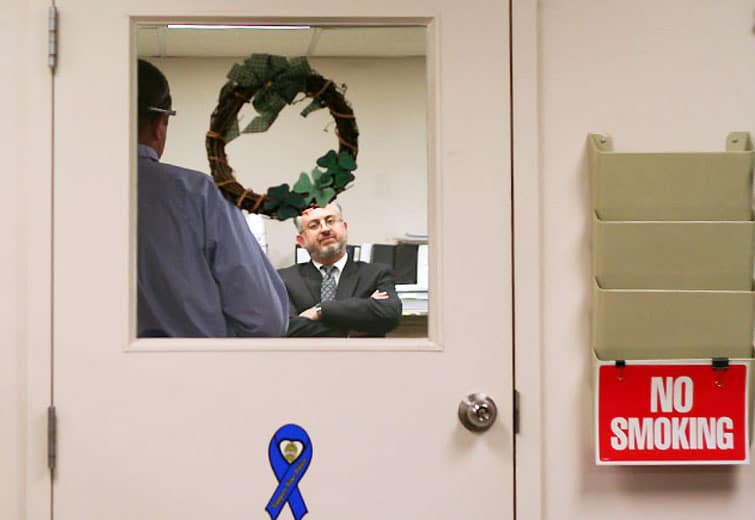 A part-time Ohioville Borough Police Officer has named the town's Solicitor as a defendant in an amended whistleblower lawsuit alleging he is being retaliated against for exposing corruption by the borough's former police chief.
Officer Nevin Beatty's amended complaint alleges that Ohioville Borough Solicitor Paul Steff, who is also Beaver County Chief Public Defender, helped to retaliate against the officer for going to the Pennsylvania State Police with allegations of time-card fraud by former Chief Ronald Lutton.
"Ohioville Borough Solicitor, Defendant Paul Steff, was informed that [Officer Beatty] had initiated a criminal investigation of Defendant [Ronald] Lutton with the Pennsylvania State Police," states the amended complaint. "[Officer Beatty] and [Solicitor Paul] Steff communicated by telephone regarding [Beatty]'s complaints to the Pennsylvania State Police. Defendant Steff expressed his displeasure and anger with [Beatty]'s decision to contact the Pennsylvania State Police."
The complaint goes on to allege that Steff subsequently advised Ohioville Borough Council on a course of action that included a significant reduction in scheduled hours and unjustified suspensions from duty.
Officer Beatty has been on an indefinite suspension by Ohioville Borough since March 17th — his third such suspension from duty since the officer went to the Pennsylvania State Police with evidence former Chief Ronald Lutton had allegedly been stealing from taxpayers by falsifying time sheets and hearing notices. Beatty has lawsuits pending in state and federal court against Ohioville Borough and several of its officials.
Beatty's amended complaint goes on to say he was further retaliated against for filing his whistleblower lawsuit.
Along with Solictor Paul Steff, the lawsuit also names as defendants former Ohioville Mayor John Szatkiwicz, current Mayor Karl Anthony, former Assistant Chief Mark Smilek (who is now Chief), and Council members Richard Decker, Robert Ward, Denise Cox, Robert Ours and Kenneth Doughty.
The lawsuit does not name Council members Richard Jackson or Lucas Hill, both of whom have expressed concerns about the legality of Council's actions against Officer Beatty. Councilmen Hill and Jackson have tried unsuccessfully to terminate Paul Steff as the Borough Solicitor and both men voted against Officer Beatty's suspensions. Both Hill and Jackson have walked out of executive sessions of Council because they believed things being said by Solicitor Steff about Officer Beatty's employment were unethical if not unlawful.
In an exclusive interview with the Beaver Countian back in May, former Ohioville Borough Secretary & Treasurer Maureen Hapach said she resigned from the town after 12 years of service because of alleged harassment by Solicitor Paul Steff.
"Paul [Steff] knew the cuts in Nevin's hours were causing him financial problems, he told me that he hopes Nevin starves to death and dies," Hapach told the Beaver Countian at the time. "He told me if I did anything else I was next in line."
Hapach also told the Beaver Countian that Paul Steff expressed to her his displeasure that the Pennsylvania State Police had become involved. "He was pissed, he was irate, he was yelling," said Hapach. " 'Why would you go to the State Police, I'm above the State Police, the State Police have no authority here, I have more authority than the State Police.' I thought to myself, that was strange, why would a solicitor have more authority than the Pennsylvania State Police? […] That's when I knew I did the right thing, if I had gone through Paul [Steff] it all would have been swept under the rug again."
After Hapach resigned the Beaver Countian was leaked a copy of an audit Ohioville Borough Council had conducted of her work. The audit accused Hapach of misconduct, including allegations that she had failed to withhold taxes from her last two paychecks. It was later revealed that Hapach's final paychecks were issued after she had already left the Borough by a new Secretary & Treasurer who may not have been properly trained on how to do payroll.
Officer Nevin Beatty remains on a legally questionable indefinite suspension from Ohioville Borough.
Ohioville Borough Solicitor Paul Steff has repeatedly ignored numerous detailed messages seeking comment that have been left for him over the phone and in person throughout the past year. Steff has previously made it clear through an intermediary that he never intends to speak with the Beaver Countian and wants this publication to cease attempts at contacting him.