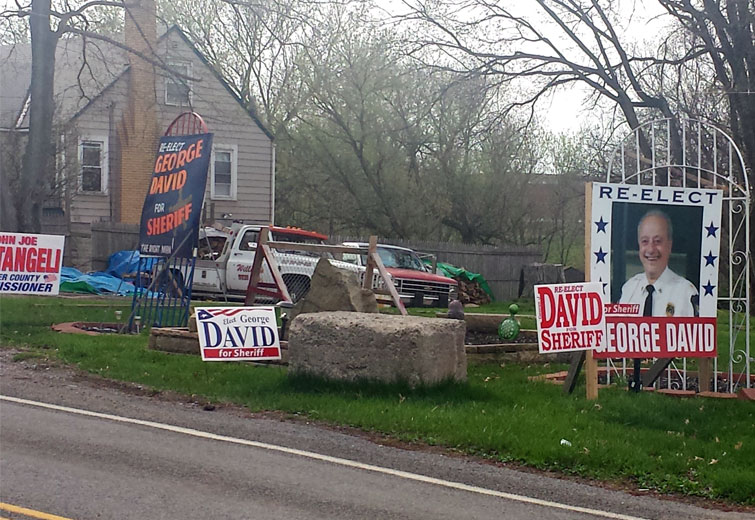 Campaign signs supporting George David for Sheriff, John John Fratangeli for County Commissioner, and Shelley Blythe for Register of Wills, litter the home of Bobby Williams on Old Brodhead Road in Center Township.
Bobby Williams was convicted of perjury under the election code in March of last year after an investigative report by the Beaver Countian revealed he had lied about where he lives when filling out paperwork to run for Aliquippa City Council. Williams had conspired with George David to run for a seat on Aliquippa's Council even though he is a resident of Center Township. The Beaver Countian's investigation revealed the address he claimed to be living at in Aliquippa was in fact an uninhabitable, dilapidated old abandoned building.
After refusing to accept a plea agreement offered by prosecutors that would have seen him serve a period of probation, Williams was subsequently convicted at trial. Beaver County Judge Harry Knafelc ruled that Williams would face no punishment as a result of his conviction — no confinement, no probation, no fine. Williams had faced a possibility of up to 5 years in prison and a fine of up to $10,000.
Sheriff's Deputy John Joe Fratangeli had also been caught in a now infamous lie after an investigation by the Beaver Countian revealed he filed a materially false charging affidavit against a destitute African American man back in 2013. Fratangeli had unlawfully detained and arrested Larry Hicks at Friendship Ridge and then provided false statements in an Affidavit of Probable Cause when charging Hicks with crimes that he did not commit. Although the Beaver County Detectives, Pennsylvania State Police, and Pennsylvania Attorney General's Office all urged District Attorney Tony Berosh to allow the filing of charges against Fratangeli, or recuse himself from the case, he failed to take action and refused any comment. Sheriff David subsequently promoted Fratangeli to Lieutenant and he is now running as a Democrat for County Commissioner (his wife is the Treasurer of the Republican Committee).