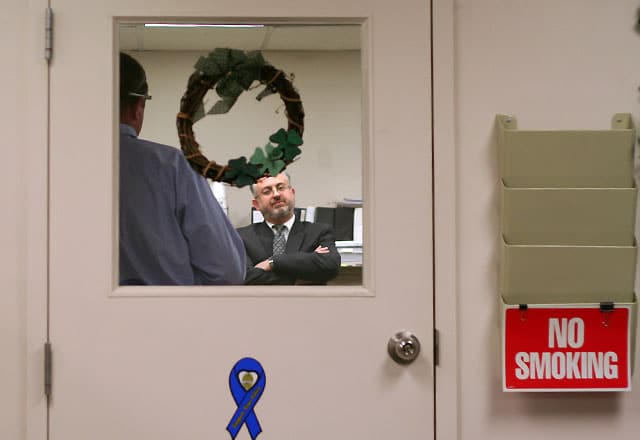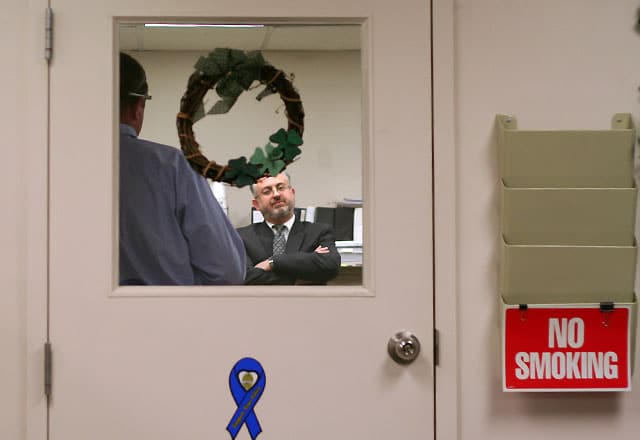 The Beaver Countian was at a meeting of Ohioville Borough Council last night to watch as members voted to promote their Assistant Chief and suspend a whistleblower who uncovered alleged corruption in the town.
Council suspended part-time Officer Nevin Beatty from duty last night pending further action towards his termination before promoting Acting Chief Mark Smilek to Chief.
Officer Beatty has lawsuits pending in state and federal court against Ohioville Borough and several of its officials, alleging he was retaliated against after going to the Pennsylvania State Police with evidence Chief Ronald Lutton had been stealing from taxpayers by falsifying time sheets and hearing notices.
Council met in executive session before the vote last night to talk about a list of alleged policy violations compiled by Assistant Chief Mark Smilek, Mayor Karl Anthony, and Borough Solicitor Paul Steff. While the list of alleged policy violations is considered confidential and has not been publicly released, the Beaver Countian was able to obtain the information from its sources. Among the alleged wrongdoings that Ohioville Borough intends to terminate Officer Beatty over include:
1. On August 9th, 2012 he failed to appear for a nonjury trial in a DUI case
2. On November 29, 2012 he was observed by Acting Chief Mark Smilek at central court wearing jeans in violation of policy
3. On March 6th, 2013 he failed to log expired inspection stickers into evidence as directed by Acting Chief Mark Smilek
4. On March 18, 2013 he failed to appear at taser training as directed by Acting Chief Mark Smilek
5. On May 17th, 2013 he failed to obtain a stolen property list from a burglary victim as directed by Acting Chief Mark Smilek
6. In late August 2013 he refused to provide Acting Chief Mark Smilek with the name or additional information about a confidential informant
7. The part-time officer failed to interview potential juvenile witnesses in a sexual assault case before September 30th as directed by Acting Chief Mark Smilek
8. On December 16th 2013 he failed to follow orders by Acting Chief Smilek to file burglary charges against two suspects
The alleged wrongdoings by Officer Beatty date back to 2012 and 2013; a list of incidents which he was not disciplined or reprimanded for at the time they allegedly occurred. The list does not contain any incidents from this year.
Officer Beatty was notified last Friday afternoon that there would be a hearing with the Mayor and Acting Chief Mark Smilek on Monday, although he was not provided with the specifics of the wrongdoing being alleged. Mayor Karl Anthony denied a request by Officer Beatty to continue the hearing to allow enough notice for his attorney to be present and was not permitted to record the proceeding.
Assistant Chief Mark Smilek went into Executive Session with Borough Council last night to discuss the results of that hearing and the disciplinary actions taken against Officer Beatty. Councilman Jackson left the executive session after just minutes, saying he did not want to be part of the discussions taking place.
Council was in executive session for 25 minutes before returning to vote.
Councilpersons Denise Cox, Robert Ward, Richard Decker, and Robert Ours voted to uphold Officer Beatty's suspension pending further action. Councilmen Lucas Hill and Richard Jackson voted no. Councilman Kenneth Doughty was not present.
Ohioville Borough Council then voted unanimously to promote Assistant Chief Mark Smilek to the position of Chief.
In January, Council voted unanimously to allow former Chief Ronald Lutton to retire. Lutton tentatively accepted a plea deal in his case, although a hearing date has been repeatedly delayed. Court dockets show Lutton is currently scheduled for trial in September on 64 felony counts.
Story Updated 3/19/2014 @ 9:50pm: The Beaver Countian originally reported Mayor Anthony's first name as being "Paul," when it is in fact "Karl." The Beaver Countian regrets this error and has corrected the story accordingly.