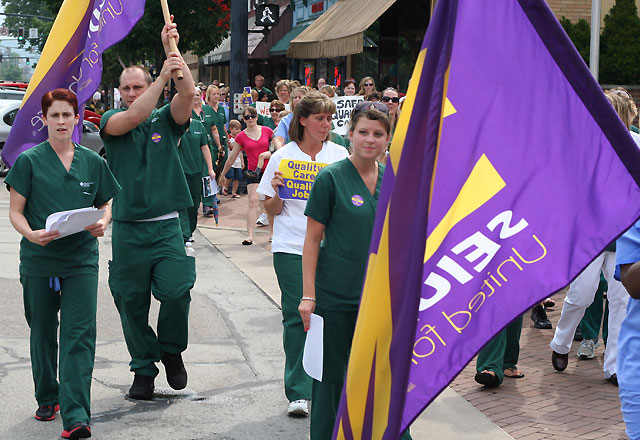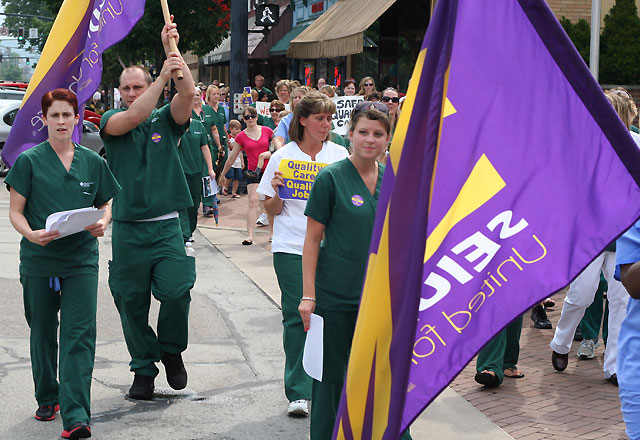 A crowd of nearly 200 nurses and their supporters took the streets of Beaver yesterday, following a rally held at the courthouse over stalled contract negotiations with Heritage Valley Health Systems.
Defying both pouring rain and heat, members of the Service Employees International Union (SEIU) were joined by representatives of the United Steelworkers, Association of Letter Carriers, and the NAACP, as they at times blocked traffic while marching their way around Third Street in Beaver. Motorists appeared mostly supportive of the spectacle, honking their horns in solidarity and taking fliers being passed through windows by nurses.
The nurses are working under a contract that expires on Sunday, and have been unable to reach an agreement with management despite extensive negotiations. The union says management wants to freeze wages, dramatically increase healthcare costs, rotate nurses into units where they lack expertise or experience, and decrease staffing to levels that could adversely impact patient care.
"I work on the hospital's psychiatric unit," nurse Mimi Tambellini told the crowd. "It's not always the safest place to work. Days can suddenly erupt into violence. Yet we only have 3 nurses on a shift to take care of 32 patients. But really, one nurse is responsible for passing meds for all 32 patients, so I usually end up responsible for 16 patients myself, psychiatric patients."
"We started these negotiations asking for just one more nurse so we'd have 10 patients each instead of 16," Tambellini continued. "That's still a lot of patients for one nurse, but we know these are challenging times. We're not being unreasonable. We're trying to make our unit safer and better for both patients and nurses … But one more nurse was too much for Heritage Valley management. They think the current staff is fine even though nurses and patients have been assaulted on our unit."
Others echoed Tambellini's concerns, saying nurses are being stretched too thin, and are being forced into unfamiliar units to provide care for patients with medical conditions they are unaccustomed to treating.
Commissioner Joe Spanik also spoke during the rally, warning if something is not done Heritage Valley may end up facing the same problems as Friendship Ridge. "I am asking the management of Heritage Valley to come to the table," said Spanik. "We are going to lose that hospital, we're going to lose it," he later added.
Zach Zobrist, Executive Vice President of Service Employees International Union Healthcare PA, led the group as they began to march after the rally. "When patient safety is under attack, what do we do," shouted Zobrist. "We stand up and fight back," the nurses chanted. Other chants heard during the march included "Be fair to those who care," and "We care about your care."
The SEIU, representing more than 500 registered nurses at Heritage Valley Beaver, has voted to authorize a strike if an agreement can not be reached soon.
[nggallery id=98]