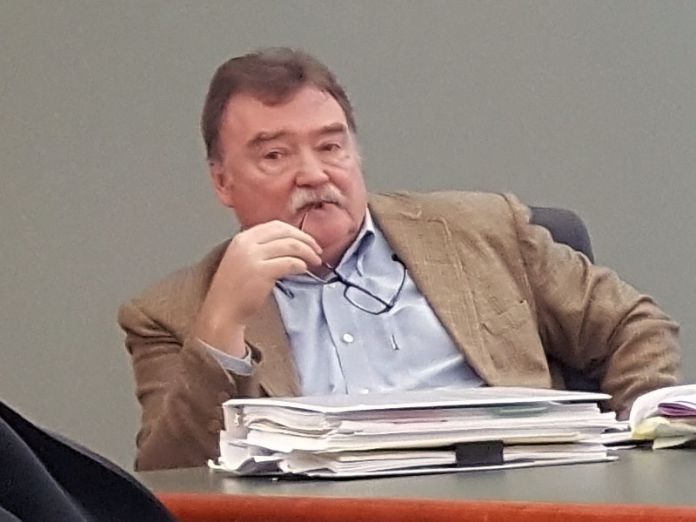 An interim Solicitor named by County Commissioners on Friday resigned today before ever officially getting started on the job.
Attorney John McCreary was appointed by Commissioners Tony Amadio and Sandie Egley to serve as the county's top attorney until a new Chief County Solicitor could be found. Amadio and Egley had terminated the employment of former Chief Solicitor Andrea Cantelmi last Wednesday, leaving the county's Law Department essentially unstaffed.
McCreary's tenure faced problems before it began, when Controller David Rossi announced to the Beaver Countian that his office would refuse to release county funds to the attorney because he believed the man's appointment was done improperly. Commissioners Amadio and Egley were attempting to contract the attorney at an hourly billable rate to serve as Interim Solicitor; Rossi asserted that the Pennsylvania County Code demands solicitors be county employees that are paid a fixed salary.
The Beaver Countian published an article the day after attorney McCreary was named Interim Solicitor, detailing controversies that saw signed paperwork related to the appointment being removed from the courthouse late at night by Commissioner Sandie Egley, who admitted she was keeping it at her home without the knowledge of the other two Commissioners. Egley had become concerned about her role in the appointment of McCreary after learning Controller Rossi had raised questions about its legality. Commissioner Dan Camp had refused to signed the paperwork because he similarly believed the appointment was not being done in a lawful manner.
Commissioner Tony Amadio has maintained that he believes Controller Rossi is incorrect and that it is lawful to retain an outside attorney to act as solicitor on an hourly basis, telling the Beaver Countian on Saturday that, "all we have to do is sign a contract and pass a resolution."
In the wake of the chaos, Attorney McCreary sent an email to the Board of Commissioners today notifying them he was no longer interested in serving as Interim Solicitor, wanting to remain only in his current capacity as an independently retained labor law attorney for the county. McCreary's resignation came as Controller David Rossi sent a letter of his own to the Board of Commissioners today, hoping to help educate them on state laws governing county solicitorships.
"In light of the termination of the Chief County Solicitor and her staff, and the upcoming need for the county to timely fill these important positions, my office wants to insure that all legal requirements in filling the positions are met," wrote Controller Rossi to Commissioners. "Likewise, my office is available to assist you in any way in this process, including meeting with the Board to further discuss the process of hiring a new Chief County Solicitor if you believe that would be helpful. As you know, our offices have had occasion to address the legal requirements that must be observed in hiring a solicitor. It is with this in mind that I offer the following."
Rossi's seven-page letter goes on to cite state statutes and case law governing the hiring of county solicitors.
"In summary, it is the position of my office that the new county solicitor is to be paid a fixed salary as determined by the salary board," concluded Rossi. "Moreover, once hired the solicitor is limited to his salary only, and can be paid no other compensation by the county from any other source. Thank you again and I wish you best in your search for a new county solicitor."
Commissioners Amadio, Egley, and Camp are currently in Harrisburg attending the spring conference of the County Commissioners Association of Pennsylvania. They are expected to return to work at the courthouse on Wednesday.
Read Controller David Rossi's Letter To The Commissioners In Full