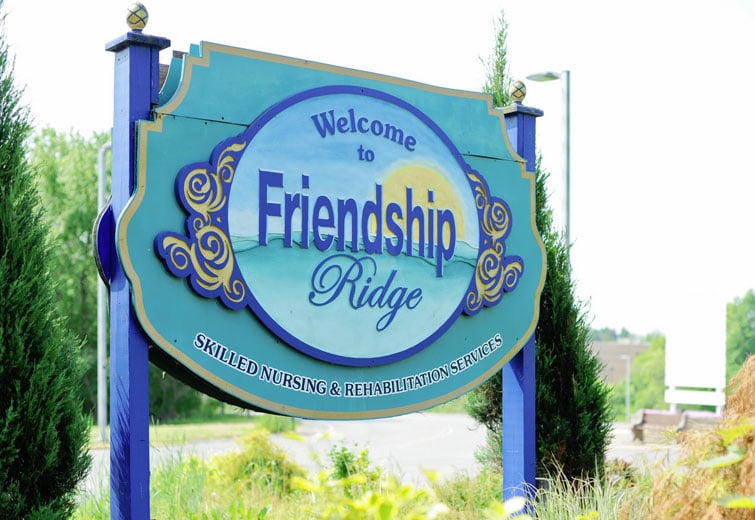 The new private owners of Friendship Ridge are appealing a property tax assessment of the facility, the Beaver Countian has learned.
Comprehensive Healthcare Management Services filed a notice with the county of their intention to appeal the tax assessment of Friendship Ridge. Comprehensive purchased the facility from county taxpayers last year in a $37.5 million deal.
As part of a public campaign during the controversial sale of Friendship Ridge to the corporation, Comprehensive Healthcare repeatedly touted the considerable tax revenues the facility would begin to generate for local governing bodies. The facility was tax exempt while publicly owned, but now in private hands Friendship Ridge will begin paying significant property taxes to Brighton Township, the Beaver Area School District, and Beaver County.
The building that houses Friendship Ridge, located at 246 Friendship Circle in Brighton Township, has a current estimated market value of $13.43 million with an assessed value for tax purposes of $6.71 million (assessed values are 50% of market value).
"The total yearly property taxes that Friendship Ridge owes is currently about $690,000" Chief County Assessor Michael Kohlman told the Beaver Countian on Thursday.
Property taxes are calculated based on a millage rate set by the municipality a parcel sits in, the school district that the parcel is a part of, and the county. Currently Friendship Ridge faces rates of 11 mills for Brighton Township, 69.6 mills for the Beaver Area School District, and 22.2 mills for Beaver County — A total of 102.8 mills.
That works out to a yearly tax payment of approximately $74,000 to Brighton Township, $467,000 to the Beaver Area School District, and $149,000 to Beaver County.
But now less than a year since they took control of the facility, Comprehensive Healthcare Management Services is already working to reduce those numbers.
Comprehensive believes the facility is over-appraised and is asking the Assessment Appeals Board to reduce its estimated market value. The company lists three "similar properties" to demonstrate a lack of uniformity in assessments: The Providence Care Center located at 900 3rd Ave in Beaver Falls (total appraised value of $2.18 million), the Golden Living Center at 770 Poplar Church Road in Camp Hill, PA (total appraised value of $3.18 million), and the Spring Creek Rehabilitation & Health Care Center at 1205 South 28th Street in Harrisburg, PA (total appraised value of $11.34 million).
Tax appraisals are handled by the County Assessment / Tax Claim Office, but courthouse officials say it was the County Treasurer who helped Friendship Ridge get started with their recently filed appeal.
Beaver County Treasurer Connie Javens escorted a representative from Comprehensive into the County Assessment Office on August 28th to help them file paperwork to begin the process. "I don't know why she did it, but I do know Connie Javens brought Comprehensive into this office to file their tax appeal," said Kohlman.
Other courthouse sources told the Beaver Countian that Treasurer Javens had previously contacted the Tax Assessment Office wanting the tax appeals process explained to her.
The Beaver County Assessment Appeals Board will consider Comprehensive Healthcare Management Services' petition on Thursday, October 23rd. Solicitors for Brighton Township, the Beaver Area School District, and Beaver County will all be able to contest Comprehensive's assessment appeal. Either side will have an opportunity to appeal the board's decision to Common Pleas court.
Requests for comment left with Friendship Ridge on Wednesday were returned by Dina Barone, a publicist from New York City, who told the Beaver Countian the facility's owners were unavailable until next week.
Beaver County Treasurer Connie Javens has previously demanded the Beaver Countian not contact her again for comment on articles that we publish. We will report back if we receive a statement from her about Friendship Ridge's assessment appeal.