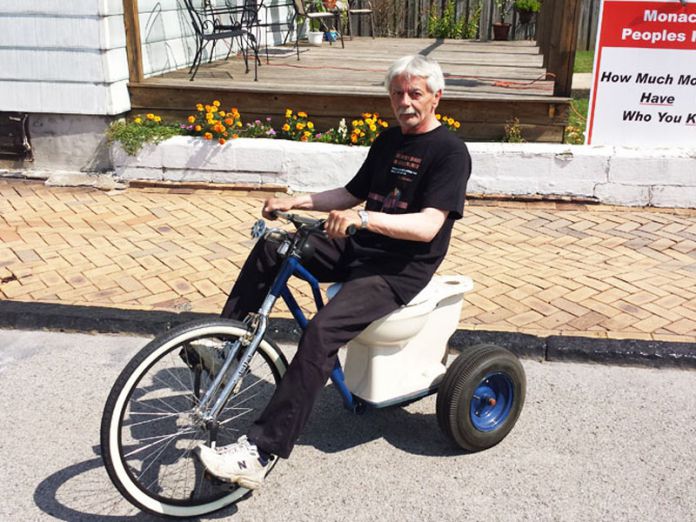 Monaca Borough's town slogan — "Leading The Way In Beaver County" — is proving to ring true this election season. The town quickly set itself apart from the rest of the pack during the Beaver Countian's analysis of local primary elections in the county, with a number races that are sure to prove as contentious as they are controversial.
Note: Do not mistake the following for political satire, it is actual fact-verified reporting by the Beaver Countian about municipal primary elections taking place on May 16th.
---
The Democratic Primary For Mayor Includes A Candidate With Extensive Law Enforcement Experience
The town's police department hangs in the balance as Thomas "Norm" Ely and Paul Miller III face off in the Democratic primary for Mayor.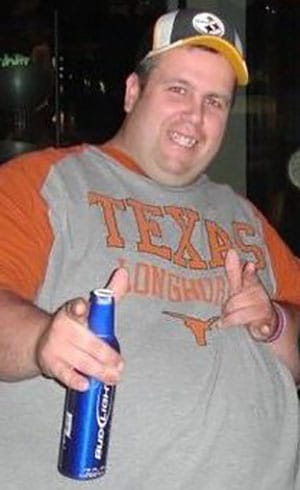 A former Monaca Borough Council President, Norm Ely currently works as the town manager for Rochester Township. Along with his day job, Ely also co-owns a Bruster's Ice Cream franchise with Mario Leone — who has a day job of his own working as town manager for Monaca Borough.
Paul Miller III is the owner of P-Dubs Sports Bar & Grille in Monaca. Research by the Beaver Countian shows Miller has extensive experience dealing with police departments — primarily in his reoccurring role as a criminal defendant.
Miller is currently awaiting the entering of a plea on charges of Disorderly Conduct filed against him on March 2nd by Monaca Officer Rachel Dietz — according to online court dockets Miller's record of arrests span years. In 2015, court records show Miller reached a plea deal with prosecutors that saw him pleading guilty to Disorderly Conduct following an arrest on charges of Terroristic Threats, Simple Assault, Stalking, and Harassment among other offenses.
Millers' five page arrest summary is available on the Unified Judicial System of Pennsylvania's website.
Voters in the Republican primary will be seeing just one name on their ballot for Mayor, Simon D Short. Short is a former laborer for the Monaca Public Works Department who now works as a Tattoo Artist in town.
---
County Commissioner Dan Camp's Mancretary Making A Run For Treasurer
It will be Anthony Caltury vs Virginia Dibacco on the Democratic primary ballot for Monaca Borough Treasurer.
Caltury spends his days in the courthouse as the Administrative Assistant for County Commissioner Dan Camp, but promises he'll still be able to keep Monaca Borough's Tax Collection Office open more than incumbent Virginia Dibacco by hiring an assistant out of his own paycheck for evening and weekend hours.
With Camp backing Caltury and Dibacco having the support of Beaver County Treasurer Connie Javens, it's possible this race may create political ripples that will be felt back in the courthouse.
---
Teacher vs Teacher In 2nd Ward Council Race
Incumbent Brandy Rossi Tesnovich will face challenger James Blanarik on the Democratic ballot for Council out of Monaca's 2nd Ward.
Brandy Tesnovich (sister of County Controller David Rossi) is currently a teacher in Rochester Area School District, James Blanarik recently retired from Monaca/Central Valley School District.
---
Democrats Will See Just One Name On The Ballot For 3rd Ward Council (Maybe)
Chad J McGown is the only Democrat in the 3rd Ward to get his name on to the ballot — that is if no one challenges his petition. McGown failed to file the mandated financial disclosure statements with the Borough by the deadline (oops).
Like all races for Monaca Council, the Republican primary ballot for the seat will be empty.
---
Internationally Renown Toilet Bowl Tricycle Inventor Running For 1st Ward Council Seat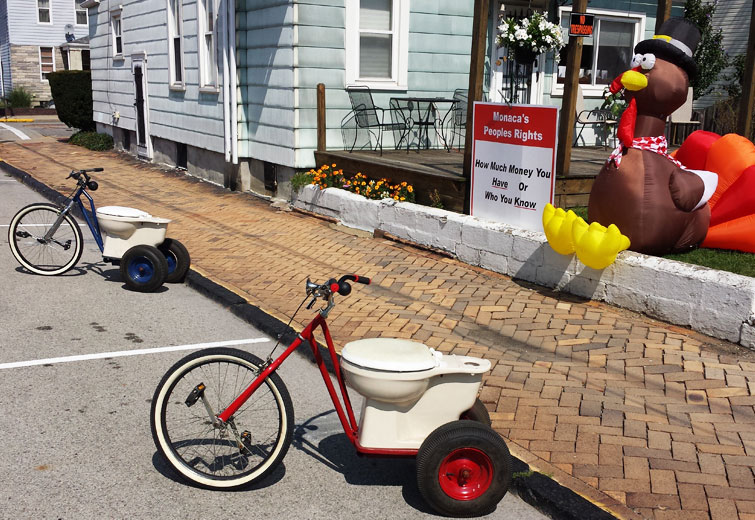 Former Monaca Councilman and internationally renown plumbing sensation Thomas Suica is on the Democratic ballot for a seat on council, facing off against Justin LaPearle.
Longtime readers of the Beaver Countian may remember Suica from previous articles about a row of toilets he has mounted to the peak of his garage, our coverage of the toilet bowl tricycles that he invented, or the physical altercation he got into with former Council President John DiMarzio about "a giant 5 foot long black dick" painted on Suica's garage.
(Click here to listen to Australian radio broadcasters talk about shenanigans involving Monaca Borough's Thomas Suica)