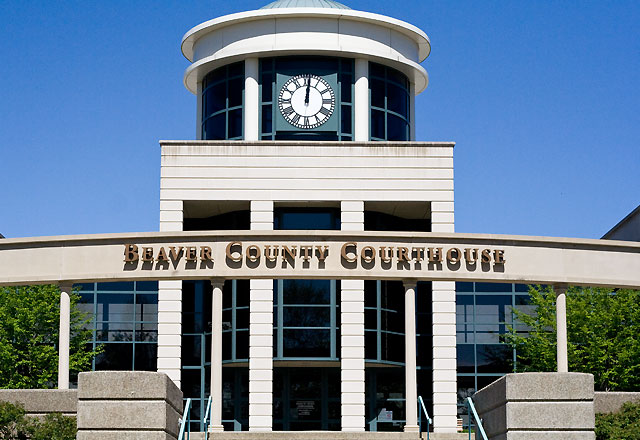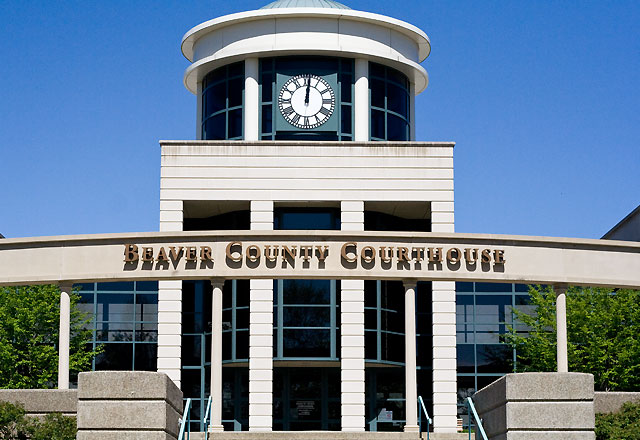 A mediator with the Pennsylvania Department of Labor & Industry said a complaint against Beaver County Sheriff George David should be dismissed, and the woman who originally filed that complaint is claiming shenanigans.
Beaver County Central Services Director Mary Ann Ruskin filed a complaint with Human Resources Director Rick Darbut back in February, following a meeting about Sheriff David's refusal to place the purchasing of deputies' uniforms out for competitive bid. County Commissioners made the decision to bring in an outside mediator to investigate Ruskin's complaint.
Ruskin alleged that Sheriff David became enraged during the meeting, and had become threatening towards her. "He didn't swear at me or threaten to harm me, but he was yelling and irate and his body language was extremely threatening" said Ruskin. "He lost control."
Along with Ruskin and David, Beaver County Commissioners Amadio, Spanik, and Nichols were also in the meeting, as were Joseph Askar, Bernard Rabik, and Andrea Cantelmi from the county legal department, Chief Sheriff Deputy Jay Alstadt, and Lt. Deputy Thomas Ochs.
"After interviewing the parties, I find no inappropriate behavior" said Mediator Joseph A. Lamenza in his report. "While Sheriff David may have expressed his opinion in a manner which could have been considered loud and animated, it does not rise to the level of "extremely unprofessional." No foul language or threats were made towards Ms. Ruskin. This was confirmed by other individuals who attended the meeting."
The Beaver Countian has confirmed the "other individuals" in the meeting that Lamenza spoke to, were the two Sheriff's Deputies. The mediator did not interview any of the Commissioners or members of the legal department before making his determination.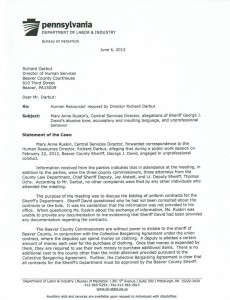 "Since he talked to the two Sheriff's Deputies, why didn't he talk to all of the other people that were in the room?" said Ruskin. "The Commissioners know exactly what happened, the solicitors know exactly what happened, because they were all sitting there letting it happen […] Not one of them said a word to the Sheriff after he lost it. Not a single word."
Ruskin said the day after that meeting, Commissioners Dennis Nichols and Tony Amadio apologized to her for the Sheriff's behavior. "[Commissioner] Nichols apologized to me for what happened at the meeting, and said things shouldn't have been allowed to go that far. [Commissioner] Amadio agreed with him, and told me the Sheriff's behavior was uncalled for" said Ruskin. "Bernie Rabik said he was really sorry about what the Sheriff did, and told me nobody should ever be put through that again, and Andrea agreed with him."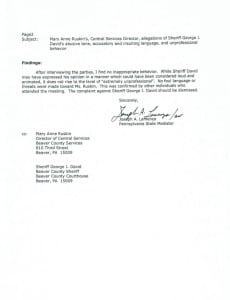 Along with determining that the complaint against Sheriff David should be dismissed, Lamenza also issued an opinion about the uniform contracts for deputies. "The Beaver County Commissioners are without power to dictate to the sheriff of Beaver County […] where the deputies can spend money on clothing" he said in his report. "Further, the Collective Bargaining Agreement is clear that all contracts for the Sheriff's Department must be approved by the Beaver County Sheriff."
"I told the mediator I don't even care if the Sheriff was purchasing uniforms legally or illegally, I brought my concern to the attention of the attorneys and they could deal with that" said Ruskin. "My complaint was about the Sheriff's behavior that day, and that's something the mediator didn't really want to talk about […] He came in with a cup of coffee he got from the Sheriff, put down a copy of the Sheriff's contract on my desk, and said here read this. [The mediator] didn't even look at the county's purchasing policy, so he had no idea what he was talking about […] He basically just wrote down what the Sheriff told him almost word for word."
Beaver County Solicitor Joseph Askar said Lamenza is not an attorney, and was not brought in by the county to provide legal commentary about the deputies' uniforms. "The mediator was brought in to determine if there was excessive misconduct on the part of Sheriff David" he said. "He was not brought in to make a determination on any contractual relationships involving uniforms."
Both County Solicitor Joseph Askar and Controller Solicitor Al Torrence had previously researched issues surrounding the uniform contract. Their resulting legal opinions led to changes in how the Sheriff's Department was told to handle purchasing and billing for the deputies' annual allowances.
Ruskin has retained the Pittsburgh law firm of Rothman Gordon, who sent letters to the county requesting a meeting with the legal department. "If they all thought I was just going to walk away from what they are trying to do here, they were wrong" said Ruskin. "I'm fed up with people covering for George David."
In a prior interview with the Beaver Countian, Sheriff David denied acting inappropriately toward Ruskin at the meeting.
Beaver County Commissioners Amadio and Spanik were not available for comment. Human Resources Director Rick Darbut is on vacation. A message left for Commissioner Dennis Nichols was not returned, neither was a message left for State Mediator Joseph Lamenza.
Note: In the interest of full disclosure, the Beaver Countian has released a statement regarding an incident involving Sheriff George David and this reporter.