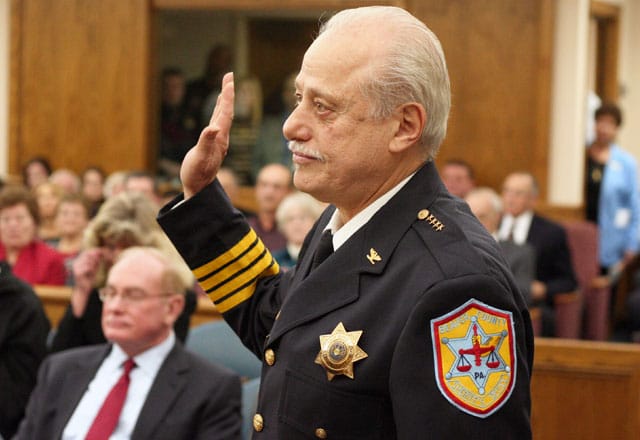 A New Brighton man who had his concealed carry gun permit unlawfully revoked by Sheriff George David has now filed a federal civil rights lawsuit against him.
Dennis McKee had a concealed carry permit for over 30 years before Sheriff David revoked it last February after a manager for the building he lived in filed a harassment complaint against him. No charges were brought against McKee as a result of the complaint, but Sheriff David subsequently revoked his permit without a hearing and without providing specific reasons for the revocation.
McKee, acting as his own attorney, filed a lawsuit against Sheriff David in county court alleging violations of his due process rights.
After a series of hearings, Beaver County Judge Kim Tesla determined that David had violated a state law requiring Sheriffs to provide a written revocation notice that included "the specific reason for revocation." Judge Tesla later found that Sheriff David's investigation of McKee was faulty, and issued a blistering 33 page opinion last November ordering Sheriff David to return the man's concealed carry permit.
"The Court finds that the Sheriff's conclusion that McKee has a reputation and character that is likely that he will act in a manner dangerous to the public is based solely on incorrect information, hearsay and speculation," wrote Judge Tesla in his opinion.
Now Dennis McKee has filed a federal action against Sheriff David, alleging the Sheriff engaged in "willful misconduct" by violating his due process rights when revoking his permit, and by publicly declaring him a danger to society without having conducted a proper investigation. McKee is seeking both compensatory and punitive damages in the case.
Dennis McKee is acting as his own attorney in the matter.
An investigative report by the Beaver Countian previously revealed that Sheriff David had unlawfully denied or revoked gun permits from at least 300 individuals since taking office.
Note: In the interest of full disclosure, this reporter is a named victim in criminal charges filed against Sheriff George David by the Pennsylvania State Police.