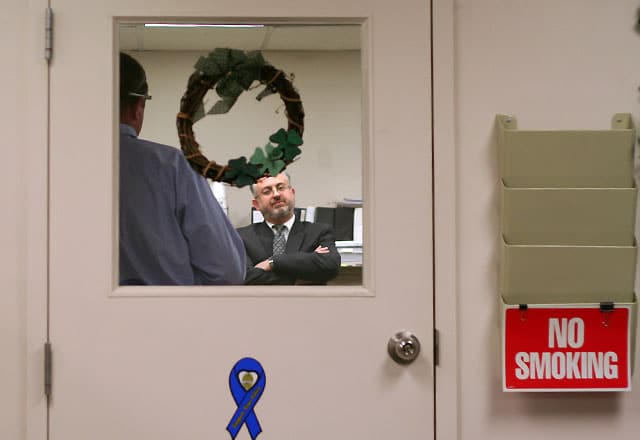 After nearly 12 years of dedicated service to the people of Ohioville Borough, longtime secretary Maureen Hapach has resigned to take a position in the private sector. In a series of exclusive interviews with the Beaver Countian, Hapach talked about discovering alleged fraud by the town's former police chief, about retaliation by borough officials against the officer she went to for help, and about claims of her own mistreatment at the hands of the town's solicitor.
"I suspected a couple of years ago that there were problems with [Chief Ronald Lutton's] time sheets," Hapach began. "I was working long hours and was always in the office. I noticed the amount of time Ron was listing on his cards and I thought to myself, ehh I don't think so; I didn't see him around on the days he had listed. I brought what I suspected to [Solicitor Paul Steff] and he told me not to make any waves. I kind of doubted myself after that and let it go."
Leaked emails dating to 2010, purportedly from the Ohioville Police Department's internal CrimeStar records management system, appear to show Chief Lutton threatening his officers' jobs because of a complaint that was made about his time sheets.
Hapach said it would be almost two more years before she recognized a much larger problem with Chief Ron Lutton's time sheets – her alleged discovery would later lead to the man's arrest.
"It was February of 2012 when I first noticed something odd about his court slips," said Hapach. "Ron stapled his court hearings to his time sheets, where the other officers were not allowed to staple their court hearings to their stuff, they had to paperclip them. I went through it and noticed the dates were altered or the times were altered.. it looked like he typed over it. I had also noticed that the courts changed their computer system and changed the format of the documents officers got. But all of the documents Ron was submitting with his time sheets were still in the format from the old system."
After previously having her concerns about Lutton dismissed by Solicitor Steff, Hapach said this time she knew she would need concrete proof before speaking up again. "I started keeping tabs of the names of defendants that were on Ron's sheets, and noticed all of the same names kept appearing. These same cases were having hearings over and over and over again. I thought to myself, how many times is this person possibly going to court? I kept a tally of the names for a few months. By July I'm like, this is too much."
Hapach said this time she knew she had a responsibility to make waves over the problem.
"I knew Assistant Chief Mark Smilek was close to Ron, and I suspected that he already knew what Ron was doing. I knew [Officer Nevin Beatty] was on the up and up and went strictly by the book. I also trusted [Officer Nick McHenry], so I decided I was going to ask one of them to look at these court slips to see if they saw the same problems I did. It just so happened the day payroll was here Nevin was the one working."
Hapach approached Officer Nevin Beatty and showed him the court slips that Chief Ronald Lutton had been submitting to justify overtime pay. "Officers see these court documents all the time, I'm a layman so I really wanted to be sure about what I was looking at. I asked Nevin, does this look right to you, am I seeing things? He said no, no, no, those are wrong. He told me he would check into it."
On August 1st 2012, Officer Nevin Beatty met with Pennsylvania State Police Trooper Joseph Olayer in a parking lot of the Brady's Run Ice Arena to provide information about alleged forgery and fraud by Ohioville Borough Police Chief Ronald Lutton.
Maureen Hapach would later do an extensive examination of the Borough's records. She alleges the fraud perpetrated by Chief Ronald Lutton began all the way back in 1992 and continued uninterrupted until shortly before his arrest. By her calculations, Lutton has stolen over $250,000 from taxpayers.
"Ron is a very vindictive person, he will go after you, he's made it perfectly clear in the past that he would get any person that ever did anything to him. He told me that he would take people out. Nevin and I were both very fearful, and we still are, for our safety and our families' safety," said Hapach. "The next day on August 2nd I met with the State Police to give my statement […] I even borrowed someone else's car so I wouldn't be noticed."
Hapach said the State Police told them both not to go to anyone else because they weren't sure who may be involved in the alleged scheme. "One of the councilmen got an anonymous phone call from someone. So by the next day three of our councilmen knew and [Assistant Chief Mark Smilek] knew, and by the following day [Chief Ron Lutton] knew too."
According to Hapach, Solicitor Paul Steff also learned that she and Officer Beatty had went to the State Police. "He was pissed, he was irate, he was yelling. 'Why would you go to the State Police, I'm above the State Police, the State Police have no authority here, I have more authority than the State Police.' I thought to myself, that was strange, why would a solicitor have more authority than the Pennsylvania State Police? […] That's when I knew I did the right thing, if I had gone through Paul [Steff] it all would have been swept under the rug again."
Hapach said Paul Steff had her gather up all of the evidence against Ronald Lutton and take it to Steff's house so he could give it to Ron. "He's been texting me ever since, Ron needs this, Ron needs that. I was wondering why he was even talking to Ron directly, I felt he should have been going through his attorney […] I saw Ron leaving Paul's house before so I know they've been meeting together in person too […] Paul Steff doesn't have the borough's best interest at heart, he's got Ron Lutton's best interest at heart."
Several Ohioville Borough council members that the Beaver Countian spoke to shared Hapach's assessment. They spoke on condition they not be quoted by name while discussing conversations that took place during executive sessions of council. They allege it was Paul Steff who pushed council into allowing Chief Ronald Lutton to retire instead of firing him, and it was Steff who was helping to orchestrate retaliatory acts against Officer Nevin Beatty. At least two council members have walked out of executive sessions because they believed the things Paul Steff was saying were unethical, or perhaps even unlawful.
Hapach said Steff began threatening and harassing her about cooperating with authorities, and about the alleged corruption in Ohioville Borough becoming public. "I remember September 11th, 2013. He was irate because things were getting out of his control, and he thought Nevin was talking to the Beaver Countian. He wanted me to talk to Nevin because he thought he and I were friends. He wanted me to help make it all go away […] Paul said, I tried to talk to you friend-to-friend but it's getting to the point where you're not listening to me, so things are going to start happening to you, things that aren't going to be so nice."
While Hapach claims she was routinely harassed and threatened, it was Officer Nevin Beatty who took the brunt of the backlash. The Beaver Countian has published dozens of articles since January of 2013 detailing alleged acts of retaliation against him, ranging from dramatic reductions in his scheduled hours and three suspensions from duty, to a private criminal complaint filed against the officer by a man who later admitted he was goaded by the town's mayor. Beatty has been on an indefinite suspension for the past 6 weeks. The officer had no prior disciplinary record with the department before going to the Pennsylvania State Police about Chief Lutton. Beatty has filed a lawsuit against Ohioville Borough and several of its officials alleging violations of the Pennsylvania State Whistleblower's Law, and a second lawsuit in federal court alleging civil rights violations.
"Paul [Steff] knew the cuts in Nevin's hours were causing him financial problems, he told me that he hopes Nevin starves to death and dies […] He told me if I did anything else I was next in line."
Maureen Hapach decided not to wait to find out what officials in Ohioville Borough may have had planned for her. She found a job in the private sector and resigned as secretary late last month. "It came to the point where the work environment was so stressful that my work was suffering immensely. I resisted for a long time but my doctor finally convinced me to start taking anxiety medication […] I used to love to go to work, I just loved it. I never called off once in the 11 years I was there before all of this happened. Not a single time. But I just can't do it anymore, I just can't do it."
Ronald Lutton has pleaded not guilty to the charges filed against him by the Pennsylvania State Police, and is currently awaiting trial on 64 felony counts of forgery scheduled for September.
Ohioville Borough Solicitor Paul Steff, who also serves as the Chief Beaver County Public Defender, did not return a message left for him again today seeking comment. Steff has also ignored numerous other detailed messages seeking comment that have been left for him over the phone and in person throughout the past year. Paul Steff has previously made it clear through an intermediary that he never intends to speak with this publication.