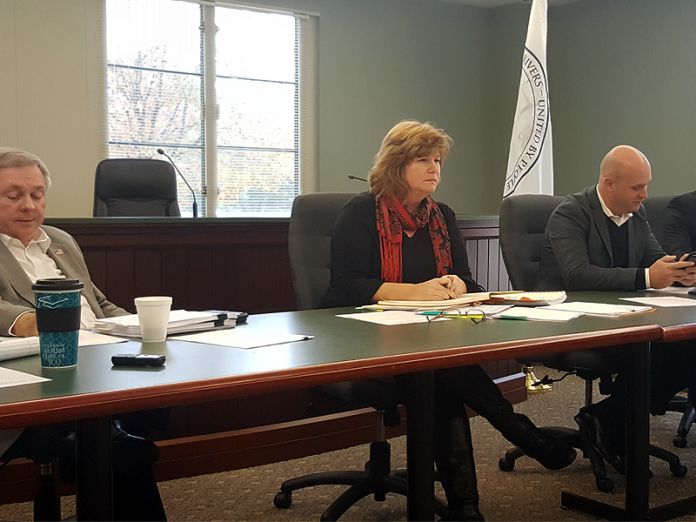 Republican Beaver County Commissioner Sandie Egley says the proposed 2018 budget does nothing to address the county's serious financial problems. Egley's lengthy remarks were made during today's public work session, with her criticizing fellow Republican Commissioner Dan Camp and Democratic Commissioner Tony Amadio for what she called their failure to make the hard decisions necessary to prevent a continued downward spiraling of the county's budget.
"I don't think that we're making the decisions that are in the best interest of the county and where we are right now, and dealing with the things we're dealing with," concluded Egley, who rattled off a laundry list of budgetary proposals she has made that have been rejected by her fellow Commissioners.
Commissioners Camp and Amadio refused to respond to Commissioner Egley's remarks when asked their thoughts about the proposed budget during a question and answer session at the end of the meeting.
Commissioner Sandie Egley's remarks can be heard in this 12 minute recording by the Beaver Countian:
---
Commissioners Camp and Amadio Refuse To Comment When Asked By The Beaver Countian About The Proposed Budget:
---
See Also:
– State-Funded Study Shows County's Budget Is Spiraling Out Of Control – Predicts Yearly Deficits Of $10 Million
– Beaver County Taxpayers Lose $1.2 Million As A Result Of Downgraded Credit Rating Due To Budget Woes
– In-Depth: Beaver Countian Challenges Amadio On Statements About The Budget – Amadio Tells Egley To "Keep Smiling"
– Commissioners Tony Amadio And Dan Camp Issue Joint Statement Vowing Budget Will Include No Tax Increase
– Commissioner Sandie Egley Responds: "This Is A Turning Point For Me."