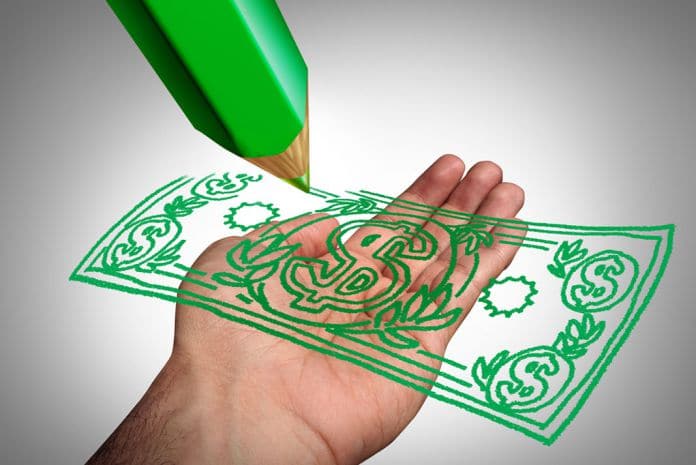 A "wish list" for state funding developed by the new Beaver County Partnership For Community And Economic Development (also known as the BCP Economic Growth Council) contains millions of dollars in proposals that would benefit politically connected developers, including individuals who have donated administrative funds to help get the organization up and running.
The Beaver Countian has obtained a copy of approximately $145 million in project proposals the Partnership was seeking to fund through taxpayer subsidized grants and loans from the state. Among the projects include funding initiatives that would benefit brownfield development sites owned by local real estate tycoon C.J. Betters, and funding that would benefit properties located by the mall and on Rochester's riverfront owned by Pat Nardelli's Castlebrook Development Group (both Betters and Nardelli donated several thousand dollars in administrative seed monies to help with the formation of the Partnership), as well as millions of dollars to fund "studies" and "planning" by a multitude of independent advisory councils and authorities.
The "wish list" also includes hundreds of thousands of dollars in funding for the Partnership itself.
The Beaver County Partnership For Community And Economic Development is a newly formed public/private partnership comprised of organizations including the Beaver County Chamber of Commerce, Beaver County Board of Commissioners, Beaver County Corporation for Economic Development, and Beaver County Redevelopment Authority.
The Beaver County Board of Commissioners sent a Cease and Desist letter to the organization late yesterday afternoon, expressing concerns about the organization's activities.
The Beaver Countian is publishing the Partnership's "wish list" in full below, including project descriptions as written by the organization:
Beaver County Wish List Items – Main List
Study Restructuring of County Government
– County Commissioners and Good Government
$250,000
Beaver County is struggling financially despite significant cost cutting by the County Commissioners. The County faces challenges in managing row office budgets, union contracts, and an historical legacy that makes meaningful administrative cultural change difficult.
Strategic Land Use Exercise ("Lego" exercise)
– BCP Economic Growth Council
$250,000
Funding for a Study to Determine Strategic Land Use across the County, referred to within the Economic Growth and other Councils as a "Lego" Exercise: This concept grows out of the informal discussion that Lance Grable, Rebecca Matsco, and Tim Wetzel had with Mitchell Silver (past president of the American Planning Association) regarding strategic planning concepts in the context of Beaver County. Mr. Silver spoke to Beaver County Municipal officials at the invitation of the Beaver County COG in 2013, having done research into the County and its demographics prior to that event. This exercise engages the municipalities and others in an exercise looking at existing infrastructure and land use; and determining where additional growth of industry, commercial, retail, and various types of housing should be encouraged in order to be ready for coming needs indicated by demographic trends.
Riverfront Towns Master Plan
– County Planning Dept and Quality of Life Council
$250,000
Beaver County has approximately 28 miles of river frontage. Historically, the rivers have been a major asset to development of industry in the County along this frontage. As a result, the County has several large river front brownfield sites. Several of the Partnership Councils have identified the river towns as important to reigniting interest and growth in the County; to creating a "sense of place" that makes Beaver County uniquely attractive to prospective residents and businesses; and as an asset where planned industrial access, mixed use, residential, and recreational access could successfully intertwine. This study seeks to provide the vision for strategically laying out such a plan.
(NOTE: The County owns some of the river front parcels; and developers have invested to remediate or otherwise prepare some of the others. This study needs to identify available parcels; ownership of them; access to them; and cooperative potential with PennDOT and CSX as a prerequisite.)
County Wide Infrastructure (Water/Sewer/Telecommunications) Plan
– County Planning and Redevelopment Authority
$500,000
Beaver County's utility infrastructure literally dates to the 1920's if not before. There are areas (such as part of Aliquippa) where the water system loses as much through leaks as it delivers to customers. Parts of the sewer systems have failed and are temporarily patched, for example in Aliquippa's former J&L brownfield site. In some areas, the power grid is too dated to handle modern loads properly. Internet delivery in parts of the County cripples attempts by businesses to employ web-based tools and resources. This study seeks to identify those areas where these conditions exist, and outline corrective recommendations as well as the associated costs.
Blight Reduction Program Startup including land banking
– County Planning and Redevelopment Authority
$750,000
This program would dedicate funds to a strategic county-wide blight reduction program that would utilize the many different tools and funding streams that are available to implement a sustainable plan that empowers blight removal and seeks to keep the implemented areas from returning to a blighted condition.
Pictometry Data Acquisition, Storage, and related costs
– County Planning and Redevelopment Authority
$750,000
Beaver County is one of relatively few Counties in the Commonwealth that does not utilize pictometry to assist in updating and maintaining its assessment data. Acquiring pictometry would not only facilitate updating of assessment by capturing new or expanded building footprints; but it would also provide additional revenue to the County by capturing these changes and getting them onto the tax roles in a much more timely manner than is possible using only traditional, manual assessment methods.
Develop GIS programming services beyond current contract
– County Planning and Redevelopment Authority
$750,000
This item includes upgrading current subscriptions to enable development of more sophisticated analytical tools; development of tools; and training to enable more effective use of the tools and data.
Process Technology Program Expansion*
– Community College of Beaver County
$1,000,000
Expanded Process Technology Training Equipment and Facilities to Address Shell and Related Petrochemicals Workforce Needs: Community College of Beaver County (CCBC) has developed a Process Technology Associate Degree program to specifically address a primary workforce need of Royal Dutch Shell. The program is operational and growing, but available equipment and lab space is inadequate to meet the capacity need to train this future workforce. CCBC has developed a $4 million plan to expand the current Process Technology lab facility and acquire state-of-the art training equipment based upon the input of Shell and other regional petrochemicals industry leaders. Shell has recently committed $150,000 to this project and local entrepreneur C.J. Betters, CEO of C.J. Betters Enterprises, has contributed $100,000. Two major foundations have met recently with CCBC faculty and staff and toured the campus and site of the facility. These foundations are entertaining proposals for additional funding that will be considered in spring 2017. We are requesting $1 million from DCED, which is expected to complete the campaign when current proposals are acted upon. The funds will be used immediately upon receipt to purchase equipment regardless of the status of other project funding requests.
(NOTE that some funding has already been pledged and contributed.)
Workforce "Fast Track" Funding
– Community College of Beaver County
$250,000
Funds Dedicated for Educational Institutions that Provide Non-credit and/or Workforce Training Programs that "Fast Track" Individuals into Occupations in the Energy and Advanced Manufacturing Business Sectors or Other High Demand Occupations: Typically, these funds are historically limited to the populations that they best serve. Students who are accepted into more traditional (credit/degree) programs have access to financial aid, scholarship dollars, or self-pay. Individuals seeking non-credit or workforce training programs are not eligible for the same type of financial aid and/or may be limited by other types of education program funding provided for workforce training that does not align with the costs associated with that training. This funding would also allow these educational institutions to respond in real time to develop or maintain relevant workforce training programs in response industry demand and job seeker needs.
Funding to Promote Beaver County Schools, Housing, Employment to Prospective Employers
– Community College of Beaver County
$100,000
Marketing Funds to Promote Beaver County Schools, Housing, and Employment to Shell and Other Prospective New Workforce Members: As construction of the Shell ethane cracker plant moves forward and the project impacts every area of the Beaver County and regional economy over the next five years and beyond, there is a new and growing need to effectively promote Beaver County schools, housing and other community assets to prospective new county residents and workforce members. These funds would enable Beaver County leaders to use the latest marketing technology to reach prospective new consumers through an organized and effective ongoing outreach campaign. The project will be focused on realizing the fullest possible local impact of the economic benefits of the new and emerging regional manufacturing and industrial growth.
Final funding to enable mixed use development behind Beaver Valley Mall*
– County Planning and Redevelopment Authority
$1,000,000
Castlebrook Development is working on plans for mixed use development in the area between the Mall and Target. Final funding is needed to facilitate completion of a roadway which is the catalyst for this concept.
(NOTE: Castlebrook Development has some funding already in place.)
Route 51 Improvements between Monaca and Aliquippa*
– County Planning and Redevelopment Authority
$1,000,000
This stretch of Route 51 is expected to be an alternate, if not primary, route for truck traffic between Shell's laydown yard for their petrochemical facility and that facility itself. The announced primary route for this truck traffic involves steep grades and safety concerns. Improvements to Route 51, if expedited to meet the Shell construction schedule, would allow use of this route; and this item will also improve traffic flow through Monaca at the 17th street intersection in anticipation of the Crows Run project developing additional traffic.
(NOTE that this is partial funding; this is on PennDOT and SPC lists but needs funding.)
Beaver County Wish List – Additional Items
Implementable Planning Consultation, County-Wide
– County Planning and Good Government Council
$500,000
Funding for a beginning the Implementable Planning Process as described by Jim Pashek and Denny Puko, as an update to the County's pre-cracker plant Comprehensive Plan. This process would include surveying the needs of the municipalities and communities within the County, and would include cultural and systemic concerns.
Rochester Riverfront Redevelopment Planning and Implementation*
– County Redevelopment Authority
$10,000,000
The Rochester Riverfront is the logical cornerstone for river town revitalization to create a sense of place. Discussions are underway regarding a strip district style market possibly having food service on an upper level on the river front; potential adaptive reuse of an existing riverfront structure; the possibility of a riverfront amphitheater; revitalized retail along two blocks of Brighton Avenue; housing at the upper end of this mixed use, walkable district; and possible re-use of an adjacent old hotel into mixed use.
(NOTE that some of this property is owned by developers whose willingness to put up funding is expected to be positively impacted by a cohesive plan.)
Study Feasibility of Light Rail Transit between Beaver County and Pittsburgh
– County Planning Department and County Transit Authority
$250,000
Often discussed but never implemented, this item addresses the difficulty of access to downtown Pittsburgh via the Greentree Hill and Fort Pitt Tunnels. This concept envisions commuter rail from Beaver County to the Pittsburgh Airport, continuing into downtown Pittsburgh.
Study Viability of a Center for Excellence for Customer Service
– County Planning and Redevelopment Authority
$250,000
Beaver County has an opportunity to improve the manner in which services are delivered. County employers report marked differences in service delivery between facilities located in and staffed by Beaver County residents as opposed to facilities in other areas. Creating a Center for Excellence of this type would constructively impact retail, hospitality, commercial, government; really all sectors in the region and would present a more positive experience in all facets of life in the County.
Create a Coordinated County-Wide Marketing Plan
– BCP and Chamber of Commerce
$250,000
This item is intended to attract new businesses, residents, and developers to the County.
Additional Server Capacity to Support Municipal GIS Activity
– COG
$100,000
Economies of Scale can be achieved by leveraging the County's GIS platform to support municipalities' GIS use, as opposed to the municipalities contracting for separate GIS service from an outside vendor. The County and the COG have met and studied the needs. Additional hardware and support are required. However, this cost is a fraction of the cost that will be incurred by the municipalities if they continue to procure separate GIS services.
Contract to Build a GIS Floorplan Model of Schools for First Responders
– County Planning Department
$500,000
(self explanatory)
Feasibility Study on Center for the Trades or Workforce Development Training Complex
– County Planning and Redevelopment Authority
$100,000
This concept involves creating a major "magnet" training facility, perhaps in Aliquippa and perhaps involving adaptive reuse of structures, to provide an upward career path for youth and retraining workers. One particular beauty of the Center for the Trades concept is the potential opportunity to redevelop parts of Aliquippa as training projects.
STEM Focused Technical Training Program
– County Planning Redevelopment Authority and Community College of Beaver County
$500,000
This concept is intended to provide additional funding for STEM-related career path training for high school students, consistent with the Community College's landmark College in High School Academies program.
Midland Brownfield Redevelopment
– County CED
$10,000,000
This item is for redevelopment of river front property in Midland, surrounding the currently closed ATI plant. The municipality has interest in mixed use redevelopment; and this is one site available on the riverfront for redevelopment during the Shell facility construction which will utilize much of the County's riverfront brownfield inventory.
Big Beaver Site Development
– County CED
$5,000,000
(description needed)
Truckstop Plaza along 376 as Recommended by SPC
– County Planning Redevelopment Authority
$2,500,000
This item is for development of a truck stop along I-376, most likely off of the Aliquippa or Hopewell exits. The need for this project has been identified by the SPC.
County Convention Center
– County Redevelopment Authority
$25,000,000
There is a desire to locate a major convention center in Beaver County.
Identify and Develop a Mixed Use Complex
– County Redevelopment Authority
$25,000,000
There is a desire to locate a mixed use complex along the lines of Southpointe in Beaver County.
Emergency Repairs to County Park Assets
– County Parks and Recreation
$1,500,000
This item includes repairs to the ice arena, to Brady's Run Beach and Bath House, and Sugar Shack repairs.
Items within 2008 Park Master Plans
– County Parks and Recreation
$1,000,000
This item includes restrooms, shelter upgrades, etc.
Implement Ohio River Trail Segment from Monaca to Aliquippa
– BCP Quality of Life Council
$5,000,000
(self explanatory).
Parks & Recreation, Current Needs
– County Parks and Recreation
$604,000
See attached detail, tier 1.
Parks & Recreation, Future Small Projects
– County Parks and Recreation
$335,000
See attached detail, tier 2.
Parks & Recreation, Future Large Projects
– County Parks and Recreation
$38,000,000
See attached detail, tier 3.
Parks & Recreation, Unsure of Cost
– County Parks and Recreation
$12,650,000
See attached detail, tier 4.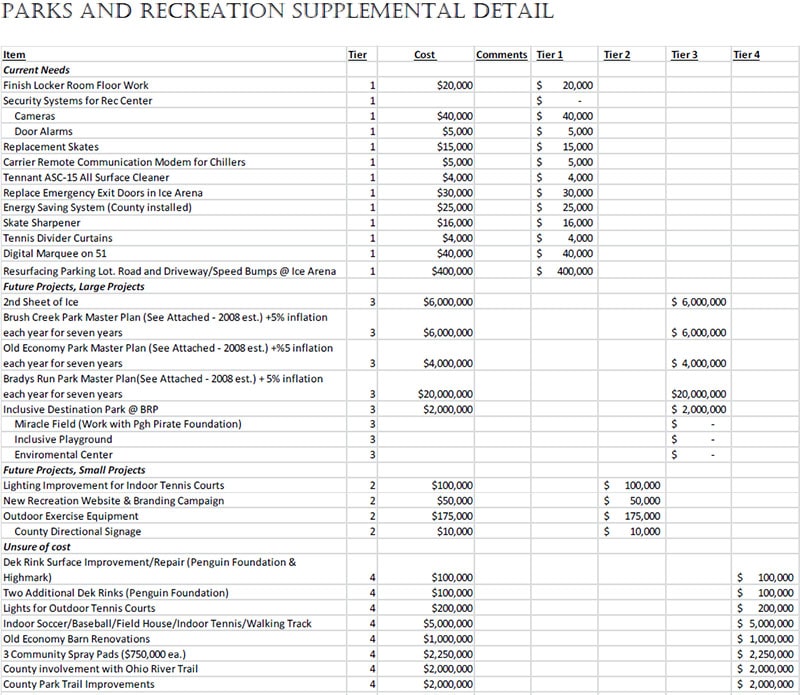 [Note: A list of founding board members for the Beaver County Partnership For Community And Economic Development aka the BCP Economic Growth Council includes: Charles "Skip" Homan (Larson Design), Valerie McElvy (Franklin Center), Tim Wetzel (Bridgeworks, LLC), John Hayward (Michael Baker/Robert Morris University (retired)), Rebecca Matsco (Leaders Serving Beaver County), Dr. Chris Reber (Community College of Beaver County), Jack Manning (Beaver County Chamber of Commerce), Norm Mitry (Heritage Valley Health System), Mario Leone (Monaca Borough Manager, Brusters), Jim Palmer (Beaver County Corporation for Economic Development), and Bethany Williams (City of Beaver Falls Community Development). Commissioner Sandie Egley serves as the Board of Commissioners' representative to the Partnership.]