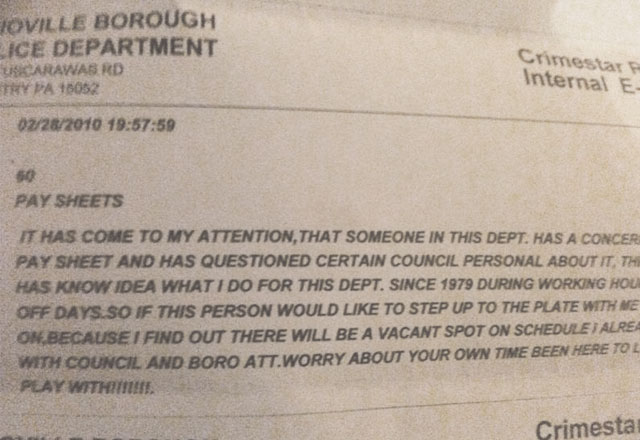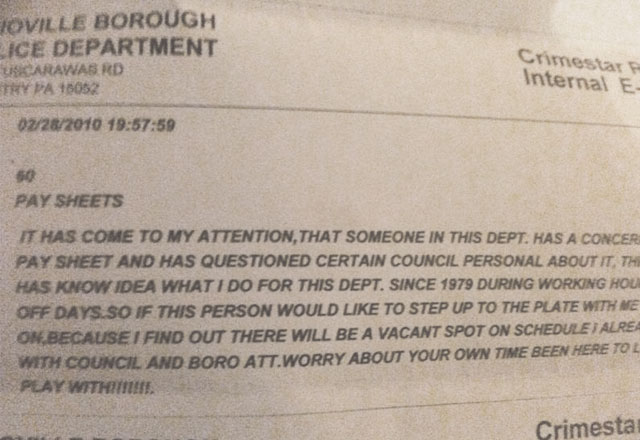 The Beaver Countian has obtained what purport to be several internal emails from the Ohioville Borough Police Department. The emails appear to be from the department's CrimeStar Records Management System, a law enforcement software package used to compile incident reports and criminal complaints. The messages were reportedly sent from Ohioville Chief Ronald Lutton to other officers in the department.
The Beaver Countian has been unable to independently verify the authenticity of the communications, but several sources within Ohioville Borough have identified them as being legitimate. Those sources spoke on condition they not be identified by name, due to the sensitive nature of the system the emails were sent through. Other sources in the Borough have independently attested to the validity of the information contained within the emails.
One of the emails appears to show Chief Lutton threatening his officers after someone allegedly reported irregularities with his time sheets, all the way back in 2010.
02/28/2010 19:57:59
PAY SHEETS
IT HAS COME TO MY ATTENTION,THAT SOMEONE IN THIS DEPT. HAS A CONCERN ABOUT MY PAY SHEET AND HAS QUESTIONED CERTAIN COUNCIL PERSONAL ABOUT IT, THIS DEPT. HAS KNOW IDEA WHAT I DO FOR THIS DEPT. SINCE 1979 DURING WORKING HOURS AND MY OFF DAYS.SO IF THIS PERSON WOULD LIKE TO STEP UP TO THE PLATE WITH ME BRING IT ON,BECAUSE I FIND OUT THERE WILL BE A VACANT SPOT ON THE SCHEDULE I ALREADY SPOKE WITH COUNCIL AND BORO ATTY.WORRY ABOUT YOUR OWN TIME BEEN HERE TO LONG TO PLAY WITH!!!!!!!.
[sic]
Law Enforcement sources have told the Beaver Countian that Chief Ronald Lutton is currently under investigation by the Pennsylvania State Police. Those sources say Lutton has been accused of falsifying time sheets and altering hearing notices.
The Beaver Countian has been investigating allegations that several officials within Ohioville Borough have been retaliating against Officer Nevin Beatty, who sparked the public corruption probe. Beatty was recently removed from the schedule after a citizen he pulled over on a traffic stop, William C. Pittser, filed a private criminal complaint against the officer. Pitter has told the Beaver Countian that he was encouraged to file those charges by Ohioville Mayor John Szatkiewicz. Mayor Szatkiewicz has denied those assertions, and has categorized the criminal investigation into Chief Lutton as a "witch hunt"
09/03/2011 12:33:02
TRAFFIC CITATIONS
AFTER DOING MY MONTHLY REPORT SEEMS TRAFFIC CITATIONS TOOK A DEEP DIVE,I DID PUT A ORDER OUT AWHILE BACK I WANT A LEAST TWO TRAFFIC CONTACTS A SHIFT IF NOT BUSY. THERE'S ONLY A COUPLE OFFICER'S CARRYING THE LOAD AND COUNCIL KNOWS WHO THEY ARE!
[sic]