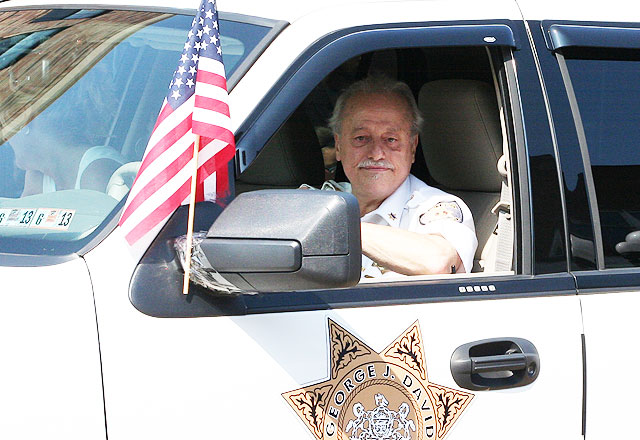 Following a contentious day of testimony from current and former county officials, Senior Erie County Judge John Bozza said the Beaver County Sheriff's Office is violating state law, and indicated he will likely be issuing an injunction against Sheriff George David.
After an investigative report by the Beaver Countian last August, County Commissioners filed a lawsuit against Sheriff David attempting to stop him from having his Deputies perform private security services for outside entities, which they deemed a violation of state law. A preliminary audit conducted by the County Controller's Office subsequently showed David has been underbilling for those services, costing taxpayers nearly $100,000 to date.
Today's hearing was set to determine if a preliminary injunction would be issued against Sheriff David, compelling him to cease and desist from having his deputies perform those outside activities.
The day started with Assistant Beaver County Solicitor Bernie Rabik calling Sheriff George David to the stand. David didn't get much further than stating his name before Sheriff's Solicitor Myron Sainovich, who had recused himself from the case, stood in the spectator's gallery. "I recommend Sheriff David not answer any questions […] pursuant to the Fifth Amendment," said Sainovich. The Fifth Amendment protects witnesses from being forced to incriminate themselves while on the stand. Attorneys for the county didn't object, and Sheriff David was excused from testifying by Judge Bozza.
"It was nice to finally meet you Sheriff David. I've read a lot about you," said Judge Bozza as the Sheriff left the stand. Sheriff David replied, "Everybody has, thanks judge." The exchange garnered laughs from the crowd that came to watch the proceedings.
The County's second and final witness was Riccardo Luckow, a contracted Certified Public Accountant who works in Controller David Rossi's Office. Luckow testified about a report of preliminary findings he compiled, detailing private security services being performed by the Sheriff's Office.
Attorney Eric Stoltenberg, who represented the Beaver County Deputy Sheriffs' Association, called union president Sergeant Michael Tibolet to the stand as his sole witness. Tibolet testified that the majority of the county's Deputies perform extra duties, which include providing security services for corporations. He said Deputies use county cars and dress in full uniform while performing those services. Tibolet told the judge he makes an average of $15,000 per year in overtime by doing the outside work.
Attorney John Havey, who represented Sheriff David, next called County Financial Administrator Vince LaValle to the stand. LaValle testified that previous audits did not mention any problems with the deputies performing outside services. He said that he was provided with a copy of the preliminary findings generated by Controller Rossi's office. LaValle said he took action after reading that report. "Based upon what I read, and the information that I had, I cut his overtime budget," said LaValle.
Havey next called former Republican County Commissioner Charlie Camp to the stand. Havey appeared stunned after Camp testified that he didn't recall a conversation held 6 years ago between himself, former Commissioner Dan Donatella, former Financial Administrator Rob Cyphert, Sergeant Tibolet, and others. "I was expecting him to say something different than what he did," Havey told the judge. Camp was excused after just moments on the stand. "Welcome to Beaver County," he quipped to Judge Bozza as he stepped down, with the courtroom again breaking out into laughter.
Commissioner Joe Spanik was next to be called to the stand by Attorney John Havey. Commissioner Spanik testified that he had meetings about the Sheriff's Office doing security work for Cinemark under the previous Sheriff, Felix DeLuca. "We didn't know if we could do Cinemark," he said. "There was suppose to be an agreement […] to this day I have never seen that agreement." Spanik said that any agreements with entities outside of the county should be drafted into a contract, which would need to be reviewed by the county's law department, then passed as a resolution at a public meeting. Commissioner Spanik testified that procedure had not been followed for any private security work being conducted by Sheriff George David and his Deputies.
Attorney Havey then tried to call County Solicitor Joseph Askar as a witness. Havey had subpoenaed Askar's testimony, but the county's law department subsequently motioned to have that subpoena quashed. Judge Bozza granted their motion from the bench, freeing Askar from having to take the stand.
Controller David Rossi was next to take the stand. Havey attempted to question Rossi about how he distributed documents to the press, and about the Right-to-Know law. Judge Bozza ruled that line of questioning irrelevant to the case. Rossi testified he attempted to contact the Sheriff's Office with an offer to help them calculate an hourly rate for his Deputies that wouldn't leave a deficit for taxpayers, but never received a response.
Havey concluded by calling a series of witnesses to testify about security services that the Deputies have been performing. Hopewell High School Principal Michael Allison, Hookstown Fair Organizer William Laughlin Jr, and Chippewa Police Chief Robert Berchtold all said the services provided by the Sheriff's Department were important for their individual organizations. On cross examination, they all conceded there may be other entities that could perform those services in place of Sheriff's Deputies. Judge Bozza precluded Havey from calling additional witnesses to testify on the subject, deeming them redundant.
Judge Bozza declined to hear closing arguments from the parties, and instead issued a finding from the bench.
"There is almost no disagreement that the Sheriff and Deputy Sheriffs are performing services, or official duties, for a person, association, or corporation" said Judge Bozza. "That is what the statute seems to prohibit."
After a few remarks about a preliminary injunction, Judge Bozza directed both parties to begin formulating thoughts on how one should be crafted. "I'm going to ask you all to do some serious thinking about how you would like to have this structured," said the judge, who gave both sides fourteen days to submit their opinions.
"If the provisioning of law enforcement services is dependent on whether they are being paid for," concluded Judge Bozza, "[…] that would fundamentally change the course of policing."
Assistant County Solicitor Bernie Rabik said he was pleased with what he heard from Judge Bozza today. "I think it was clear to the judge the statute was being violated. It is not yet clear how he is going to craft the injunction."
Note: In the interest of full disclosure, the Beaver Countian has released a statement regarding an incident involving Sheriff George David and this reporter.