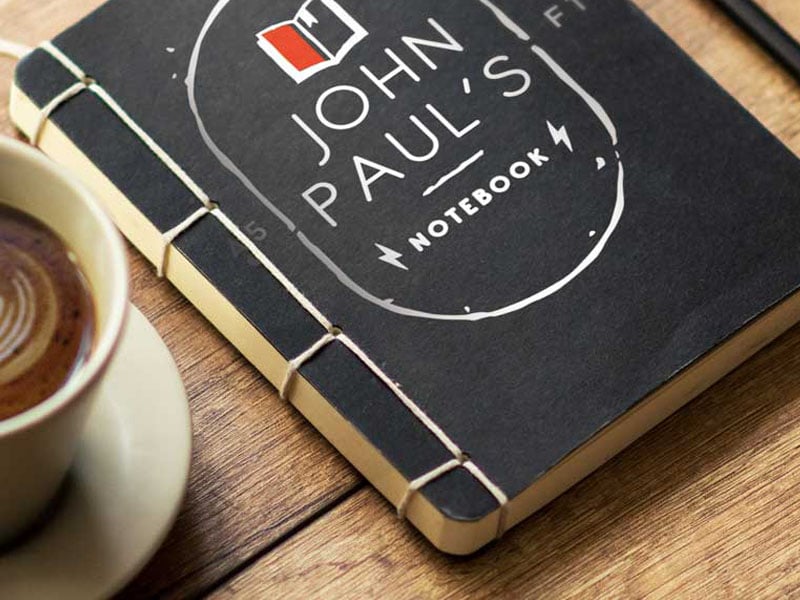 As I continue work on some long-running investigations, here are the latest entries from my reporter's notebook:
Swihart Faces A Challenger
It looks like Magisterial District Judge Janet Swihart will have at least one opponent in the judicial elections this year. According to records maintained by the Beaver County Bureau of Elections, attorney Rebecca Puhac has opened up a campaign committee in support of her candidacy for District Judge of areas including the City of Aliquippa, Independence Township, Hanover Township, Frankfort Springs, Hopewell Township, and South Heights.
Attorney Puhac is a registered Republican who will be cross-filing as a Democrat, as is standard practice in judicial races.
Election To Take Place For Late Magisterial District Judge William Livingston's Seat
County officials were just notified by the state yesterday that an election will be held for a Magisterial District Judge seat (36-1-02) vacated by the death of William Livingston last year. The state has decided that the election will be for a new 6-year term, rather than appointing an interim District Judge to fill the seat or holding an election for just the remainder of Livingston's term.
The district covers areas including the City of Beaver Falls, Fallston, Patterson Heights, Patterson Township, Eastvale, West Mayfield, and White Township.
Ron
Already announcing their candidacy for Livingston's seat is Beaver Falls resident Ronald Miller. Miller retired as Chief of Police of the Beaver Falls Police Department in 2001 and is currently on the Big Beaver Falls School Board.
Although Miller is not an attorney, he completed an instructional course and passed a state examination by the Administrative Office of Pennsylvania Courts that would allow him to serve as Magistrate if elected.
Commissioner Sandie Egley's Bipartisanship Raising More Republican Ire
The local Republican "in crowd" is once again lashing out about Republican Commissioner Sandie Egley, this time for her open support of a Democratic candidate for the Superior Court.
Egley posted an image to her Facebook page this week promoting local Common Pleas Judge Deborah Kunselman (who happens to be a Democrat) for the Superior Court, much to the dismay of the hierarchy of the local Republican Committee. Kunselman is one of only two candidates from Western Pennsylvania running for the Superior Court (both are Democrats), and the only candidate from Western PA who comes "highly recommended" by the Pennsylvania State Bar Association.
Unlike local races for Magisterial and Common Pleas Courts, judicial candidates for the Superior Court can not cross-file in both parties.
The Republican "in crowd" apparently had conniption fits after they saw Egley's latest post, and sources tell me they're planning another intervention in hopes of having her stick to toeing the party line. The cool kids at the Republican table last held an intervention for Egley back in January, after she nominated former Democratic sheriff candidate Wayne Kress to a Drug and Alcohol Advisory Board (sources in the Republican party tell me Sheriff Tony Guy is still fuming over that one, bringing the issue up yet again at the last Committee meeting).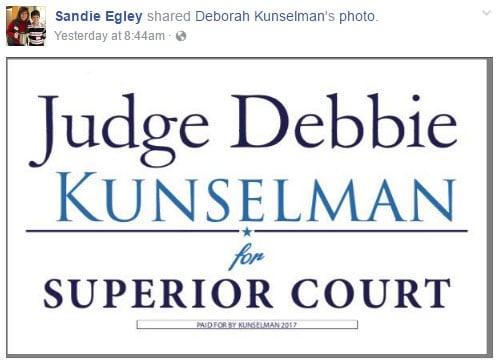 Don't Tell The "In Crowd" But Camp Did It Too
Don't tell the Republican "in crowd" but it looks like Commissioner Sandie Egley isn't the only Republican Commissioner in Beaver County to tip a hat to Democratic Superior Court Candidate Deborah Kunselman.
It appears Camp had the nerve of retweeting a post made by attorney Michael Nalli congratulating Kunselman for garnering the "highly recommended" rating by the PA State Bar.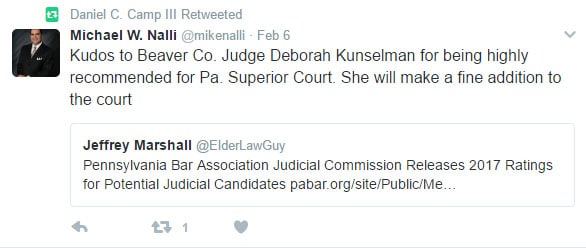 Beaver County Times' Extreme Vetting Of Commissioner Dan Camp's Tweets
Speaking of Commissioner Dan Camp's Twitter account, the Beaver County Times once again bolstered their reputation for hard-hitting investigative journalism — this time by calling out Commissioner Dan Camp about a Twitter discrepancy.
Commissioner Camp happened to mention during last week's "State of the County Address" that he's taken to using Twitter and that his first Tweet was directed toward President Donald Trump and Shell Chemical. Camp was attempting to encourage Shell to use local steel in the production of their highly anticipated Ethane Cracker Plant.
The Beaver County Times actually took the time to investigate Commissioner Camp's Twitter claim, discovering that Camp's tweet involving Trump and Shell was actually his SEVENTH and not his FIRST! *gasp*