A Beaver patrolman wrote in a report that he was forced to deploy his K-9 on an uncooperative suspect after the man attempted to attack him with a hand-drill following a brief vehicle chase — witnesses who know the man allege to the Beaver Countian that the officer was acting in a fit of rage and allowed his police dog to brutally maul and "eat" the man even after he had been secured in handcuffs. Photographs depict horrific looking injuries the suspect allegedly sustained as a result of the encounter.
According to a charging affidavit filed by Beaver Patrolman Jeffery Wijnen-riems, the encounter began at approximately 10:00pm on August 19th as he and another officer in a separate patrol car were both responding to an unrelated call in Industry. On the way to the scene, Wijnen-riems describes a chance encounter with a man named James Edward Cicco:
"As we were driving on Route 66 by Barley Hill Bridge a white 2-door Explorer bearing registration […] was driving slow and kept pressing his brakes. Police vehicle #292 passed him and I pulled behind him to see what the problem was that he wouldn't pull over earlier to an emergency vehicle with lights and siren activated. My vehicle was almost stopped when the white Ford Explorer sped away with me following with lights and sirens activated. He finally pulled over in a driveway and I could see him reaching over to the passenger side of the vehicle. I attempted to take him out of the vehicle and he was pushing me back and attempted to strike me hitting my shoulder. He grabbed a yellow drill in his right hand as I attempted to pull my gun stepping back from the vehicle calling for assistance. He closed his door and stated I don't have anything. I opened his door again to extract him from the vehicle and he still refused. He would not exit the vehicle or show me what was in his hands, which later fell out was car keys. K9 Czar was deployed to extract the defendant from the vehicle and the defendant was striking my dog. I was yelling, stop fighting my dog and show me your hands. The defendant stopped striking my K9 and the K9 was removed. I was attempting to handcuff the defendant as I had one hand secured he was still moving on the ground he wouldn't straighten his arm so that I could place that one in the other handcuff. Czar was deployed again and the subject placed his other hand behind his back to be secured and the K9 was placed into the vehicle as backup arrived."
Officer Wijnen-riems subsequently charged James Cicco with felony aggravated assault against a law enforcement officer, 54 felony counts of possession of a controlled substance (one count for each pill of prescription medication Cicco allegedly had in his possession that was in a bottle not labeled and without his name or a prescription), misdemeanor counts of resisting arrest, fleeing and eluding, driving under the influence, and summary counts of careless driving and driving on a suspended license.
Court records show James Cicco is not currently represented by an attorney in the case.
It was not James Cicco's first encounter with law enforcement, with a string of prior convictions including retail theft and multiple instances of disorderly conduct — along with additional arrests for charges which were later withdrawn including aggravated assault and robbery.
But according to Leon and Debra Cichoski, who live nextdoor to James Cicco, there is more to the story than what Officer Wijnen-riems wrote in his charging report. They say the incident occurred on the night of August 18th, when they were sitting outside together on their deck.
"James Cicco is my neighbor, I call him Jimmy," Debra Cichoski told the Beaver Countian. Cichoski also said she is distantly related to Cicco by marriage, describing the man as the nephew of her niece's husband.
"My husband and I were sitting on our deck and police cars go flying past our house which is not uncommon, it happens all the time, it's the main road in Industry," said Debra. "There was a laps of time, I don't know how much, and I heard a brief blast of a siren, and I look at my husband and I said, want to guess if that's a police car or ambulance? He guessed ambulance. I go to the railing to see what it was, when within a half of a second I see Jimmy with his turn-signal on, he turns into the driveway with a cop hot on him, as they turn the police car pulled on the side of Jimmy's car."
Debra said she saw an officer [identified by the Beaver Countian as being Beaver Patrolman Jeffery Wijnen-riems] immediately exit his vehicle.
"He throws the door of Jimmy's truck, it's an SUV, open and grabs his arm and he said 'why didn't you stop you fucking asshole,' I could not hear what Jimmy said in response, there were cars going by that drowned some of the things out. The cop had ahold of Jimmy, he's telling Jimmy to get out of the truck. Jimmy appeared to be struggling with his seat-belt."
Debra's husband Leon separately told the Beaver Countian about the same series of events.
"The officer flung the door open and grabbed Jimmy and he was twisting his arm the wrong way, Jimmy was screaming, stop you're going to break my arm, stop," said Leon. "I didn't see anything in his hand, all I saw was he was screaming that his arm was hurting."
"The officer said I'm going to get the dog," continued Debra. "I heard Jimmy say, I surrender sir, I surrender, the cop ran back to the police car and opened the door to let the dog out anyway. While he was going to get the dog Jimmy was getting out of the car, he kept saying, I surrender sir. Then I heard Jimmy say no, no, no, and Jimmy tried to pull the truck door shut again because of the dog. The officer jerks the door open, drags Jimmy out of the truck and put the dog on him. The cop was yelling, down on your face, down on your face. Jimmy is down on the ground while the officer is handcuffing him."
That, according to Debra and Leon, is when the screams began.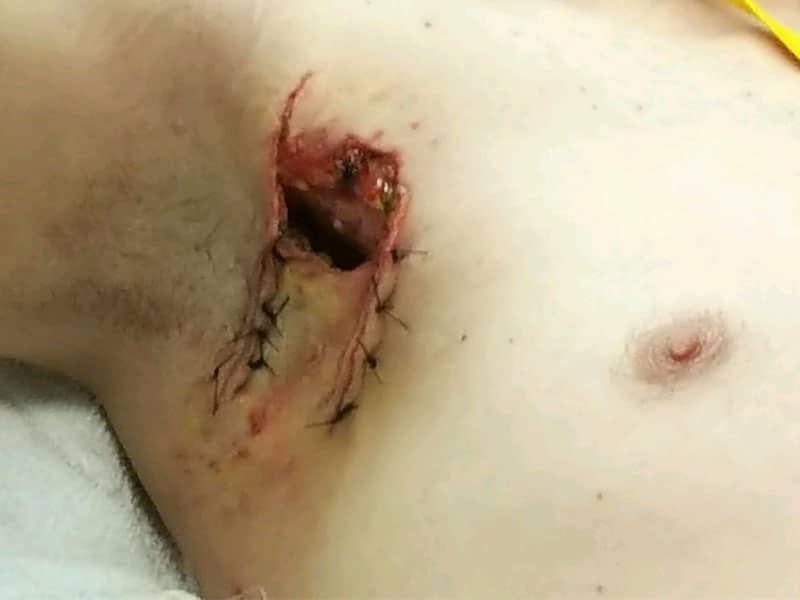 "Jimmy is being eaten alive by a dog at this point, he is on the ground being eaten alive while the officer is standing there," said Debra, who said she was horrified by what she saw. "I yelled at the officer, get that dog off of him, but he didn't, he did not […] Eventually he put the dog in the car but he didn't shut the door all the way and the dog got out and he let him chew on Jimmy some more."
"I saw the dog just biting and chewing and grabbing and pulling him backwards," said Leon. "Then I saw the cop bring his leg up and stomp twice, that's when Jimmy stopped hollering for a couple of seconds, then the hollering started again. It went on for quite a while."
Both Leon and Debra said their view of James Cicco was partially blocked by a car while he was on the ground, and they are unsure where Officer Wijnen-riems had stomped.
"I saw the cop finally grab the dog by the collar and pull the dog off of Jimmy but as he was pulling him away the dog was still biting into Jimmy," said Debra. "He puts the dog back into the car and he calls for backup."
Leon and Debra both insist that James Cicco was handcuffed when the officer twice stomped his foot and while the dog perpetrated much of its attack.
The couple said a second officer arrived at the scene a short time later, followed by a third unit.
"I knew he was handcuffed because when the officer put the dog away and he called for backup, Jimmy just laid on the ground the whole time," said Debra. "The officer never went back again to handcuff him and he was handcuffed when the other officer picked him up and slammed him across the hood."
The couple said officers began searching Cicco's car, having already removed suspected controlled substances out of his pockets.
"Jimmy is sitting in the back of the police car, it seems like 30 minutes goes by, finally one of the cops went to the police car to check on Jimmy," said Debra. "The officer closed the cop car door and said, 'I think we better have that ambulance dispatched down here, he's chewed up pretty bad.' Then the ambulance came and they walked Jimmy to the ambulance and they put him in there. At this point the ambulance leaves."
Leon and Debra Cichoski say they then saw Officer Wijnen-riems walk around James Cicco's house looking up at the eaves, and then walking around looking up at the eaves of their garage. They said officers never took their names or phone numbers, never took a statement, and that they were never contacted by law enforcement about the incident.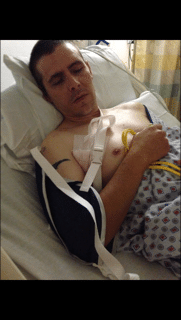 James Cicco was transported to UPMC Presbyterian Hospital in Pittsburgh, where he was admitted with multiple injuries. Photos later taken of James Cicco and provided to the Beaver Countian show large wounds in several places on his body, including a gaping hole exposing his chest cavity. Photos said to be of the shirt he wore that day appear to show pieces of flesh still stuck to it.
"This should not have have happened," said Leon. "It was horrific to see something like that. I don't know what the charges were but it shouldn't have happened this way. I saw nothing that Jimmy did that should have made this happen to him. I don't think that was right, even if he did something wrong."
"I stood there and witnessed this and did nothing because I couldn't do anything," concluded Debra. "It's bothering me a lot, but now I can fight for this. I am prepared to move if I have to."
Beaver County District Attorney David Lozier told the Beaver Countian he had been unaware of the case, but his office will now be taking action.
"The officer's criminal complaint [against James Cicco] has not reached my office yet and wouldn't until after the preliminary hearing," said District Attorney Lozier. "Now that a serious allegation of police misconduct has been brought to light, I have an immediate responsibility to refer the matter to his Chief so he can conduct an internal review. I will then take the results of that investigation and make an independent determination on whether the officer's conduct was appropriate, if it should be investigated further by my office for possible criminal charges, or if the matter should be sent to our citizens' police review board if it is on the bubble."
While this was not James Cicco's first run-in with police, it was also not the first time the amount of force used by Officer Jeffery Wijnen-riems has come under scrutiny. In 2005, five residents of Beaver County sued Officer Jeff Wijnen-Riems and the Beaver Borough Police Department in federal court, alleging they were brutalized by the man and had their civil rights violated. Several of those complaints were later settled after the parties reached out-of-court agreements on financial compensation. The citizens' police review board has previously recommended criminal charges be filed against the officer for excessive force, although the District Attorney's Office at the time never followed through with prosecution.
Law enforcement sources tell the Beaver Countian there have been other complaints against the officer alleging excessive force since that time.
Beaver Borough Police Chief Dan Madgar was unavailable when the Beaver Countian visited the station today for comment.
James Cicco is currently being housed in the Beaver County Jail unable to make bail in his case. A preliminary hearing has been set for August 29th at 10:30am.
A Facebook page for Jeffery Wijnen-riems currently features an illustration of a wolf with blood covering its face and a second illustration of a dog with a caption which reads, "And when I get there, I will arrive violently."