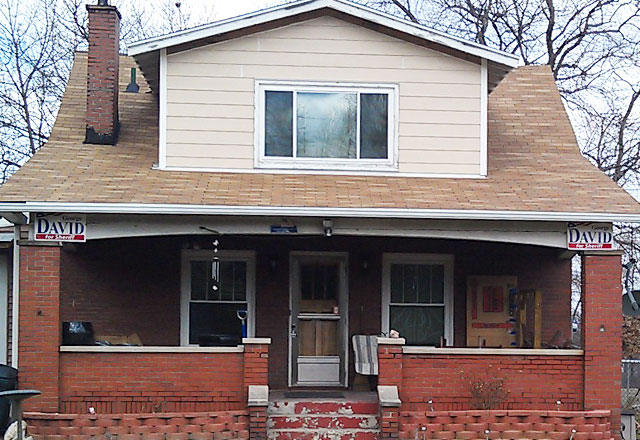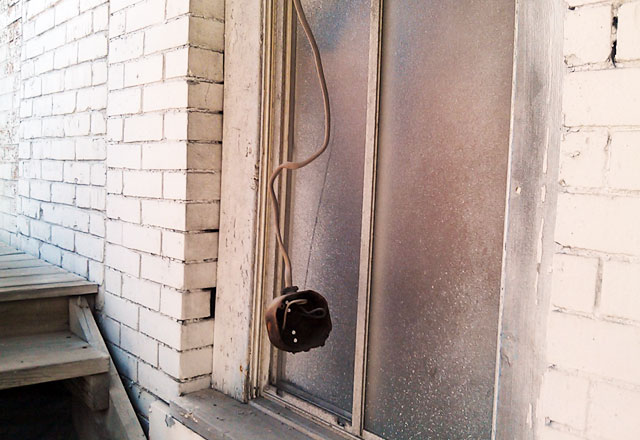 A man who has submitted a petition to appear on the primary ballot for Aliquippa City Council may not even live in the city, an investigation by the Beaver Countian has revealed.
Robert "Bobby" Williams submitted a signed and notarized petition to the Bureau of Elections, seeking to be placed on the May 21st primary ballot as a Democratic Candidate for City Council. On the petition and accompanying disclosure forms, Williams lists his current residence as 269 Station Street, Aliquippa 15001.
The Beaver Countian visited that location today, and discovered a building in a severe state of dilapidation. A knock on doors at the location went unanswered, and a look into several windows, which had no drapery or blinds and were covered in dirt, revealed rooms in disrepair filled with assorted rubble. Large cracks were observed above several outside doors, and old electrical wiring was seen freely hanging from the premises.
An old and faded "For Sale by Owner" sign in a rusted frame hung above rusted out mailboxes. One door had a "beware of the dog" sign hung next to it, although no dog was heard.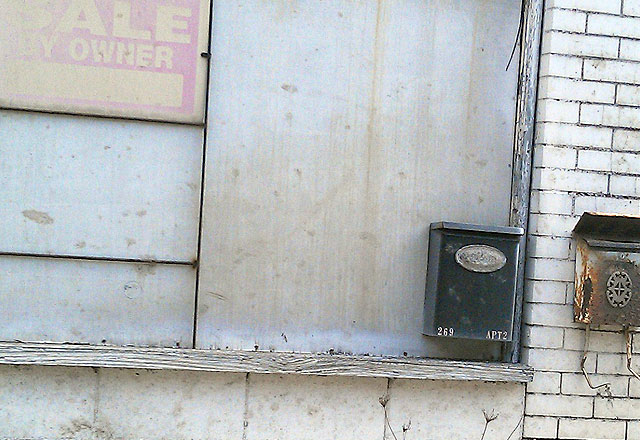 A search of county tax records revealed that Robert Williams owns a second piece of property, located at 1671 Old Broadhead Road in Center Township. The Center Township address is listed as the "owner address" for the property on Station Street in Aliquippa.
Upon visiting 1671 Old Broadhead Road shortly before 1pm, the Beaver Countian found a home that was readily observed to be occupied. After knocking, a woman who identified herself as Bobby Williams' wife answered the door, dogs could be heard barking in the background.
The woman said her husband wasn't home at the moment, and declined to comment when asked about his candidacy for Aliquippa Council. "Don't even bring that shit up to me, I ain't even wanting to make any comments," she said. "He'll be home later tonight, you can come back here and talk to him yourself then."
A phonecall placed to Bobby Williams at the number listed on paperwork submitted to the Bureau of Elections was short. After this reporter identified himself, Williams responded "go fuck yourself," before hanging up the phone.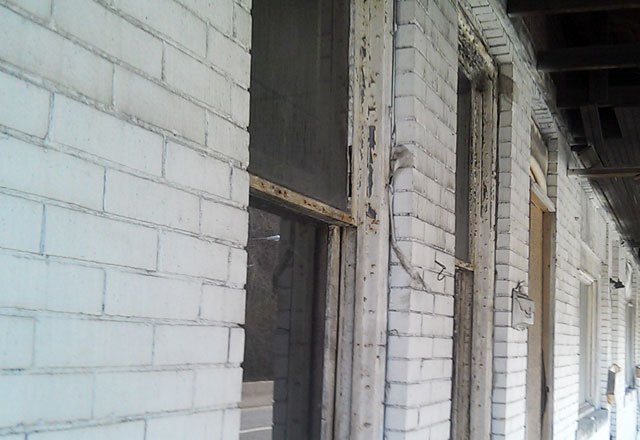 Bobby Williams' petitions and accompanying documents were notarized by former Aliquippa Democratic Chairman Eugene "Salt" Smith. When contacted, Smith said he knew Williams, but wasn't sure where he lived. "I am not aware of where he lives, his paperwork had an Aliquippa address listed on it, I think it was Station Street, but I don't know if he lives there, I only needed to verify his signature," he told the Beaver Countian. Smith added that he was not supporting Williams' candidacy for Council.
Democratic party insiders say Williams is running as part of a ticket supported by Sheriff George David, who is hoping to take political control of the city away from Mayor Dwan Walker and his supporters. David had backed Walker's run for Mayor during the last election. Along with Williams, Vickie Fratangeli is also running for Aliquippa Council on what is being dubbed the "David Ticket."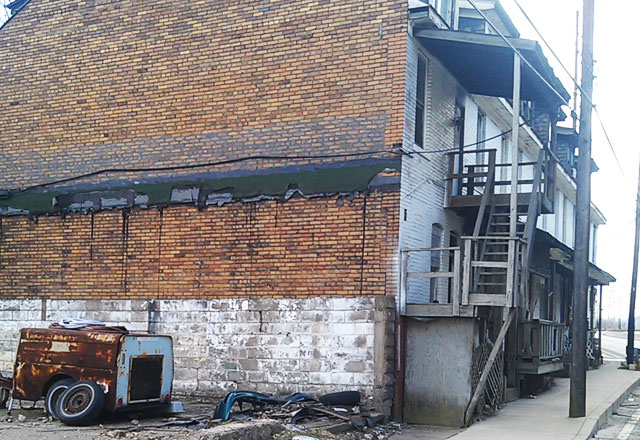 Both Williams and Vickie Fratangeli have a long history of political ties to David.
Williams appeared at the courthouse last year to speak out on Sheriff David's behalf, after County Commissioners filed a lawsuit against him. The Commissioners were attempting to stop David from violating a statute that forbids the Sheriff from performing private security services to outside entities.
Williams' home on Old Brodhead Road in Center Township still had "George David For Sheriff" signs stapled to it when visited by the Beaver Countian today, remnants of the 2011 election.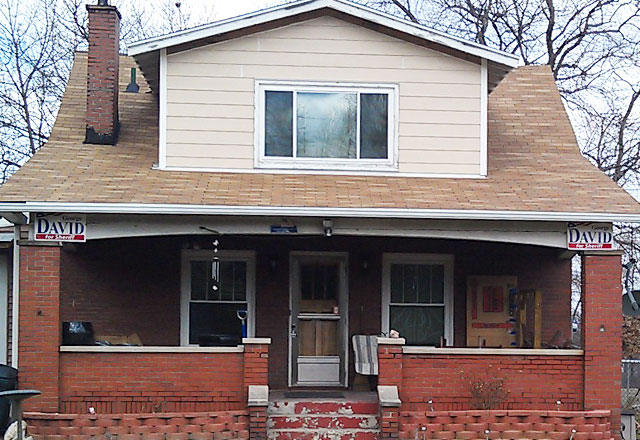 Center Township Home owned by Robert "Bobby" Williams as photographed today
One of the two petition sheets submitted by Williams lists Fratangeli as a signature gatherer for the candidate. Fratangeli's petitions for the primary ballot were also notarized by Salt Smith.
Fratangeli and David's political ties date back to at least 2003, when the Aliquippa Democratic Committee filed a lawsuit against the couple. Beaver County Judge Gus Kwidis ruled that Fratangeli and David had established an ad-hoc Political Action Committee (PAC) together in a manner that violated Pennsylvania Election Code.
The Democratic Committee said the pair were engaged in the "illegal dissemination" of "deceptive sample ballots" that endorsed Fratangeli for Mayor. The lawsuit noted that such a violation of Election Code amounted to a criminal misdemeanor, but neither ever faced criminal charges. Judge Kwidis issued an injunction barring further dissemination of the deceptive ballot, and ordering the Sheriff to confiscate and destroy any remaining copies.
Vickie Fratangeli could not be reached for comment.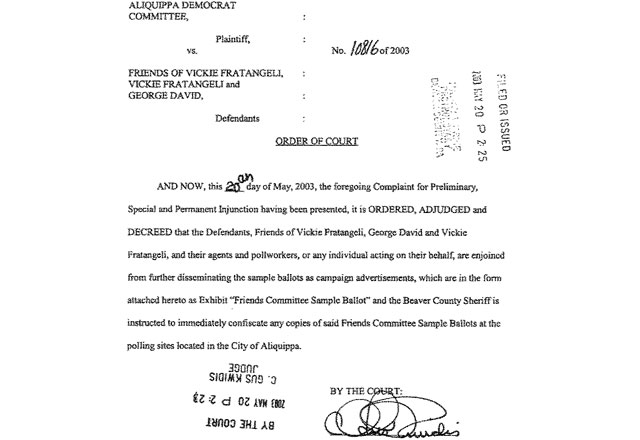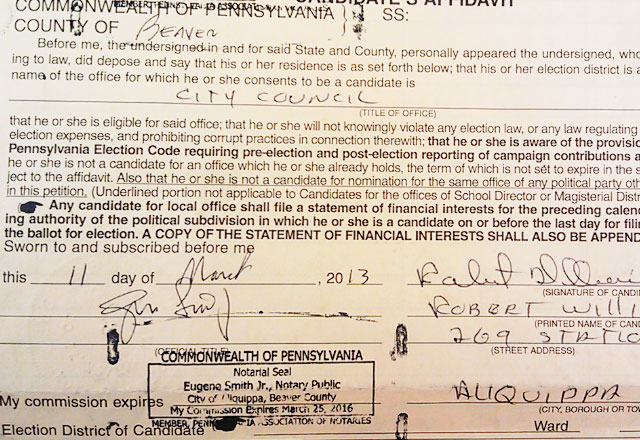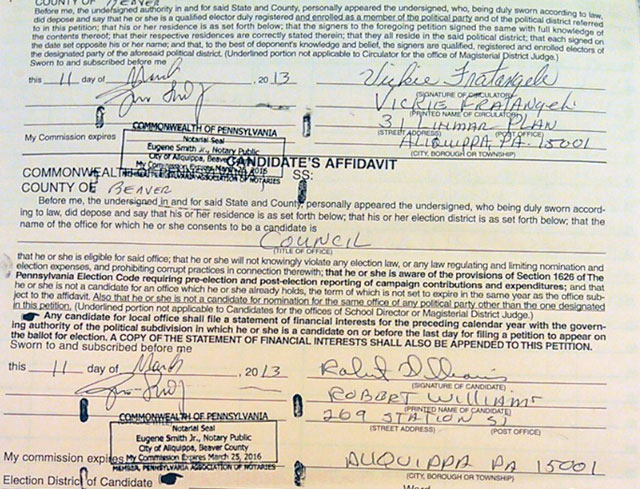 Note: In the interest of full disclosure, the Beaver Countian has released a statement regarding an incident involving Sheriff George David and this reporter.
Editorial Note: For clarification, the Bobby Williams mentioned in this article is not the same man who ran against Jim Christiana for state representative.