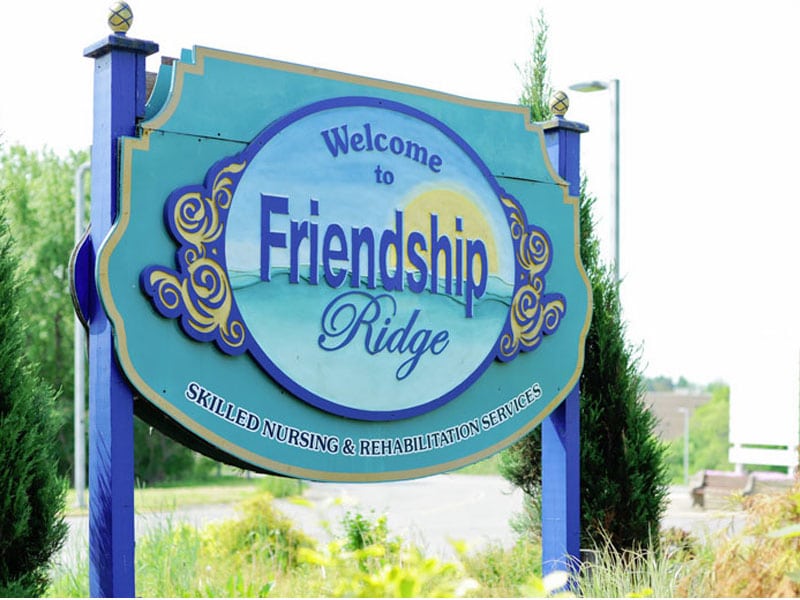 The Chief Solicitor for Beaver County who oversaw a sale of the county-run Friendship Ridge nursing home then began representing the facility's new corporate owners after the sale was finalized but while still serving as an attorney for the county.
An extensive and ongoing investigation by the Beaver Countian into the sale of Friendship Ridge has now revealed that then-Chief County Solicitor Joe Askar was retained by Comprehensive Healthcare Management Services to represent them just months after they finished closing on the facility in March of 2014. Askar attempted to collect well over $1 million in payments from Medicaid on behalf of Comprehensive Healthcare following the sale of Friendship Ridge — money for services provided to patients while the facility was still owned by Beaver County that were inexplicably never billed for at the time.
Several county officials the Beaver Countian spoke with said they had been unaware that Askar developed a business relationship with the new owners of Friendship Ridge while he was still serving as Chief County Solicitor.
"I had no knowledge of that," responded Commissioner Tony Amadio when asked by the Beaver Countian during a public work session this week if he knew Askar had been representing Comprehensive at the time.
Attorney Joe Askar insisted to the Beaver Countian that his relationship with Comprehensive Healthcare Management Services was in no way improper.
"I was a part-time Chief County Solicitor, I wasn't a full-time employee," said Askar. "I was allowed to have a private practice."
Attorney Askar confirmed he never informed the Beaver County Board of Commissioner he took on Comprehensive Healthcare as a client following the sale of Friendship Ridge but while still working as their attorney. Askar said "attorney-client privilege" issues prohibited him from revealing his relationship with Comprehensive to the Board.
"I couldn't say who I represented unless it conflicted with the County," said Askar. "There is no conflict there, it happened after the sale and it didn't involve county dollars."
Attorney Joe Askar told the Beaver Countian he got permission from his client Comprehensive Healthcare to discuss his representation of them for this reporting. He said he was hired by Comprehensive to collect Medicaid funds from the state for services performed by Beaver County that the County never bothered billing for when it owned the facility.
"The claims were never filed by the County with Medicaid. I don't know why," said Askar. "We're talking large amounts of money, over $1 million."
Askar said that under a provision in the sales agreement for the facility — which he helped to draft on behalf of the County in conjunction with outside counsel — those unbilled accounts became the property of Comprehensive Healthcare the moment the sale was finalized.
"In the agreement as part of the sale of Friendship Ridge, [Comprehensive Healthcare] bought the old account receivables," said Askar. "Some were a couple of years old, some were 90 days […] These guys couldn't collect a dime until the sale was finalized."
Beaver County Controller David Rossi told the Beaver Countian he did not know there were well over a million dollars in accounts that had not been billed by the county prior to the sale of Friendship Ridge, and that he had not seen anything documented during the transaction detailing those monies.
"I was completely unaware there were unbilled accounts prior to the sale," said Rossi. "If you look at everything written down pertaining to the sale none of that was ever mentioned. There was a statement in the agreement that Comprehensive gets the account receivables, but no specific details were ever included […] I'm outraged and these Commissioners should be outraged. We need to find out when did these services occur and why weren't they billed."
Controller Rossi described Friendship Ridge as operating almost as an independent entity when it was owned by the county.
"It was basically a subsidiary of the County, they had their own controller, their own payroll clerk, their own lawyer," said Rossi. "How this amount did not get billed is unfathomable to me."
Rossi said the prior Board of Commissioners had contracted Comprehensive Healthcare Management Services itself to assist in managing Friendship Ridge for them in the months leading up to the final sale of the facility.
Commissioner Tony Amadio also stressed that no one ever advised him there were over $1 million in services never billed to Medicaid when Friendship Ridge was still county-owned. Amadio is the only remaining Commissioner involved in the sale of the facility who is still serving on the Board.
"The lawyers negotiated this sale, we set the general parameters but we weren't involved in the day-to-day stuff," said Amadio. "So the answer is no, I didn't know about this. What I know is there were seven different attorneys involved in this sale."
Askar said he began working to collect those unbilled funds after the sale was finalized in 2014 (he remained Chief County Solicitor until he resigned at the beginning of 2015). Askar told the Beaver Countian he was to receive a percentage of all of the monies he was able to collect on behalf of Comprehensive Healthcare.
"I was retained on a contingency fee basis," said Askar. "If I could collect the monies from the state, I could get a piece […] I was provided by [Comprehensive] with the names and dates of the patients."
Attorney Askar detailed the situation in a letter to the Beaver County Assistance Office dated November 2014, an organization run by the PA Department of Public Welfare which provides help with Medicaid issues:
"The issue arose when [Comprehensive Healthcare Management Services] discovered that they were purchasing 'all accounts receivable and payable' inclusive of past due accounts. Simply put, the County by and through Friendship Ridge, failed to timely file for Medicaid reimbursements (within 180 days) of receiving services. And now, the new owners are respectfully requesting the gracious opportunity to be permitted to make application for such services that were rendered."
Pennsylvania State Representative Jim Christiana said attorney Askar also reached out to him in 2014 asking for his assistance in attempting to collect the Medicaid funds. Christiana said he believed at the time that Askar was working in his capacity as County Solicitor.
"My perception was that he was still representing the County, he never disclosed to me he was working on behalf of Comprehensive Healthcare," said Christiana. "In the way he portrayed it, he was aware of these Medicaid dollars and asked me if there was any way that I could be of help getting the money. I told him no, there was no way that a legislator could expedite the money that was owed […] It didn't make sense then and it doesn't make sense now; it's even more bizarre finding out he wasn't even representing the County during that discussion."
Representative Christiana said Askar never provided him with any specifics about the Medicaid funds he was trying to collect and there were no followup conversations.
"Knowing now that he was representing Comprehensive on a contingent basis sheds some light on why he was trying whatever way possible to get that money," said Christiana. "He was trying to do whatever he could to help influence the situation; the problem was he found out I couldn't be of any help […] I wish I had known at the time that he wasn't representing the County. You kind of shake your head and say, what was he thinking?"
Commissioner Sandie Egley said the latest revelations surrounding the sale of Friendship Ridge have added to her level of concern and frustration.
"Nobody had knowledge of anything," said Commissioner Egley. "Nobody knew this person did this, and nobody knew that person did that, and here I am sitting as a new Commissioner having to deal with their lack of knowledge from three years ago […] This will be a new piece of the puzzle that seems to complicate things even more."
Commissioner Dan Camp said he is similarly frustrated by the latest revelations.
"This is the first I'm hearing about this," said Commissioner Camp. "It is unfortunate that the prior Board in its administration of Friendship Ridge did not go after this Medicaid money. Right now the focus of the current Board of Commissioners should be to discuss how we are going to resolve the dispute between Beaver County and Comprehensive Healthcare about who owes who money."
Attorney Joe Askar said he was ultimately unsuccessful in his effort to collect the over $1 million in Medicaid money on behalf of Comprehensive Healthcare. Regulations demand all services for care must be billed to Medicaid within 180 days, and by the time Askar attempted to collect, the monies had already been reallocated by the state, he explained.
"Comprehensive didn't get a dime and neither did I," said Askar. "They took a gamble and they lost."
Attorney Askar's representation of Comprehensive Healthcare did not end with his attempts at collecting Medicaid monies or when he resigned his employment with the County in January 2015.
Although the extent of his professional relationship with Friendship Ridge's new owners is unclear, Askar's name came up during a public work session of the Board of Commissioners held late last year. The Board was considering a request by Comprehensive Healthcare to grant them an easement for a county-owned property abutting the facility.
County Financial Administrator Ricardo Luckow publicly suggested during the meeting that Comprehensive Healthcare should be charged a fee for the easement — as he said would be customary — but the Board of Commissioners ultimately agreed unanimously to grant them the easement free of charge. Questioning by the Beaver Countian of then-Chief Solicitor Andrea Cantelmi (who previously worked as Assistant Solicitor under Joe Askar) revealed that Askar had been the attorney representing Comprehensive Healthcare in their easement request to Beaver County.
Earlier this month, attorney Joe Askar hosted a high-dollar fundraiser for Governor Tom Wolf that was held at the Brighton Rehab And Wellness Center — the facility formerly known as Friendship Ridge. The event was attended by Commissioner Tony Amadio, who was listed as an honorary host. An email sent by the Beaver Countian to a press contact for Governor Wolf's campaign asking to speak to a spokesperson about the fundraiser went unanswered.
The Beaver County Board of Commissioners is currently deliberating with newly appointed Chief County Solicitor Garen Fedeles and Assistant Solicitor Nathan Morgan on how best to respond to an external audit that determined Comprehensive Healthcare Management Services still owes county taxpayers approximately $1.3 million from their purchase of Friendship Ridge. Comprehensive has asserted it is the county which owes them money from the transaction, although has not publicly detailed why they believe they are owed money or how much they claim they are entitled to.
Beaver County Treasurer Connie Javens has been the subject of a year-and-a-half-long investigation by the Beaver County District Attorney's Office after it was revealed she had unilaterally withdrawn millions of dollars in Medicare/Medicaid money from county-controlled accounts for Comprehensive Healthcare — an apparent violation of provisions of the Pennsylvania County Code requiring disbursements contain the signatures of the Board of Commissioners and County Controller. Several of Treasurer Javens' family members secured contracts with the new owners of Friendship Ridge following the sale of the facility. Although District Attorney Lozier has not formally ended his investigation into Javens, he concluded the monies paid out were owed to Comprehensive and strongly hinted during a public meeting in February that his investigation would likely end without the Treasurer facing charges.
The Beaver Countian will continue its years-long investigation into the sale of Friendship Ridge and report as additional information comes to light or new developments related to the transaction occur.