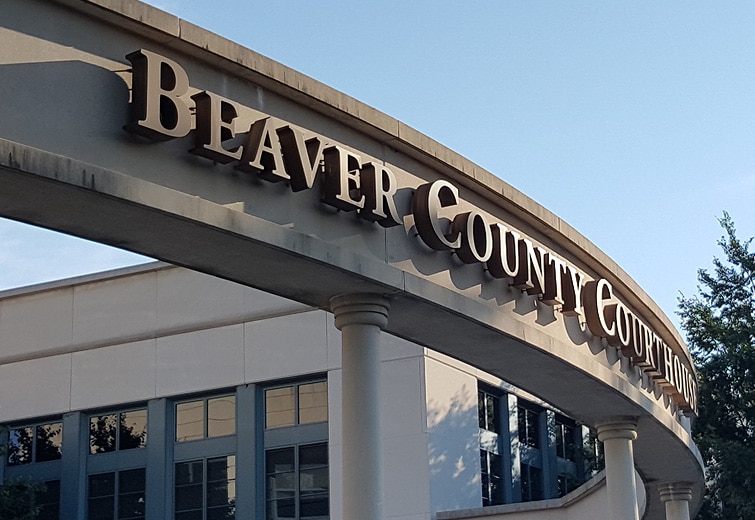 Beaver County Chief Solicitor Bernie Rabik regularly intermingles work for his private law practice with his public office in the courthouse.
An investigation by the Beaver Countian reveals Rabik has been meeting private clients inside of his office in the county's law department, has been using his county computer to work on private casework during regular courthouse hours, has utilized his official county email account to communicate about cases unrelated to his job as solicitor, and has even hired the secretary from his law firm to work in the county's law department while still maintaining a position with his private practice.
The Beaver Countian began its investigation into Rabik's private legal work last year after witnessing the attorney dictate a court filing for a private case in his courthouse office and then handing it off to the county law department's secretary. This publication has since interviewed more than a half dozen county officials and employees who have said they similarly witnessed Rabik engaging in private legal work during the courthouse workday.
Bernie Rabik is paid $131,125 per year in his full-time position as Beaver County's Chief Solicitor. Along with his work for the county, Rabik is also paid by the municipalities of Rochester Borough and Freedom Borough to serve as their solicitors, along with maintaining a position at the Beaver law firm of Reed, Tosh, Wolford & Douglass where his photo appears on the firm's website (Rabik told the Beaver Countian he remains an attorney of record with the firm).
A search in the Beaver County Prothonotary's Office showed Rabik listed as the attorney of record on several active civil cases.
The Beaver Countian filed a Right To Know request with the county earlier this month seeking an index of all emails sent and received by Bernie Rabik using his county email address between September 1, 2015 and February 1, 2016. The county provided this publication with an index of received emails for the 5 month time span, but was only able to obtain an index of emails sent by Rabik after December 13th of last year due to a technical problem in the county.
The emails show Rabik regularly communicating with his private clients using his public email account (brabik@beavercountypa.gov) from his courthouse computer during regular business hours.
Among the emails in the index obtained by the Beaver Countian include ones with subjects such as Rochester New Hire, Jim Tosh – Witness, Borough Of Freedom 2016 TAN Loan, New council members and staff Rochester Borough, Katekovich v Van Buren Homes, Katekovich additional enclosures, Katekovich settlement agreement, Rochester – ordinances for review, and Freedom Press Release. The index shows communications between Rabik and the Chiefs of Police for both Rochester and Freedom Borough along with the Borough Managers of those municipalities, and between Rabik and other private legal counsel on civil litigation not involving Beaver County.
"Yes there are emails on the Katekovich case," admitted Rabik during an interview with the Beaver Countian. "There was no other way for them to contact me."
Rabik also acknowledged there were emails back and forth on his county email account about other private civil litigation work, including a case captioned Tom Sipes vs Donald N Hopper. "There is going to be a trial for the Sipes case on March 31st," he said. "The Katekovich case is completed."
"I also email my wife and I email my pastor," Rabik told the Beaver Countian. "I wish I had some good pornography to share with you but I don't."
Rabik said emails sent from his county account may show him working on private deeds; other indexes show him sending and receiving emails about a lawsuit captioned "Domenic F. Leone vs Borough of Rochester."
Bernie Rabik told the Beaver Countian that officials with Rochester Borough will come to the county Law Department to drop off work, and said Freedom Borough officials email him copies of agendas for their public meetings.
Several emails appear to show Rabik consulting with federal, county, and local officials about a property in Rochester Borough that is currently the subject of a dispute over grant money provided by the US Department of Housing and Urban Development (HUD). Rabik is representing Beaver County which is at odds with HUD over the acquisition and implementation of grant money to renovate the apartment complex in Rochester; he has at the same time been representing Rochester Borough which made allegations about code and occupancy permit violations involving the same building and has been fielding complaints to police about its occupants. Communications between Rabik and officials with both governmental entities have been made through Rabik's same official county email account.
County records show that on April 6, 2015 Solicitor Bernie Rabik hired Patricia Morack, a former secretary with Reed, Tosh, Wolford & Douglass, to work as a part-time secretary in Beaver County's Law Department. Since that time, Morack has been working for Rabik on both his public and private caseload.
"Any typing or what not for my private cases she does at the other office," insisted Rabik. "I pay her $22 per hour for that out of my own money."
He told the Beaver Countian he sees no problem with how he has been maintaining his caseload while serving as the full-time Beaver County Solicitor.
"I am totally transparent about what I do here," he told the Beaver Countian. "I average 55 to 60 hours per week […] I turn down dozens of other people who want me to do work for them."
Bernie Rabik was hired to work as an Assistant County Solicitor on May 1st, 2012 under the previous Board of Commissioners. He was named Chief Solicitor in January 2015. The 73-year-old is a longtime acquaintance of Commissioner Tony Amadio from Center Township.
After the Beaver Countian filed its official Right To Know requests earlier this month — first revealing its investigation into the Beaver County Solicitor — the newly elected Board of Commissioners began questioning public employees on their own about private work Bernie Rabik had been doing from his courthouse office. Sources tell the Beaver Countian that other staff in the county's Law Department acknowledged to county officials this week that Rabik has at intervals spent extensive hours during the workday handling a private caseload.
At a public work session of the Board of Commissioners held yesterday, Solicitor Bernie Rabik surprised the Commissioners by announcing he was voluntarily doubling the percentage of his paycheck that he contributes toward healthcare from 2% to 4%, and that he would be paying for trips to attend training seminars out of his own pocket to help reduce county expenses. "Hopefully some other people can do that in the courthouse," Rabik told the Board of Commissioners at the public meeting. "Whether you agree with that or not that is what I am going to do."
Rabik's public announcement came without prior discussion with the Board of Commissioners, and led to favorable coverage for him in an article appearing in today's Beaver County Times.
At a closed-door meeting with the Pittsburgh law firm of Clark Hill held earlier this week, Bernie Rabik admitted that he had instructed the attorneys to halt their investigation into alleged underpayments and financial improprieties involving the sale of Friendship Ridge at the direction of the previous Board of Commissioners — a fact he had not shared with the new Board of Commissioners. The investigation did not resume until after last year's county elections in November.