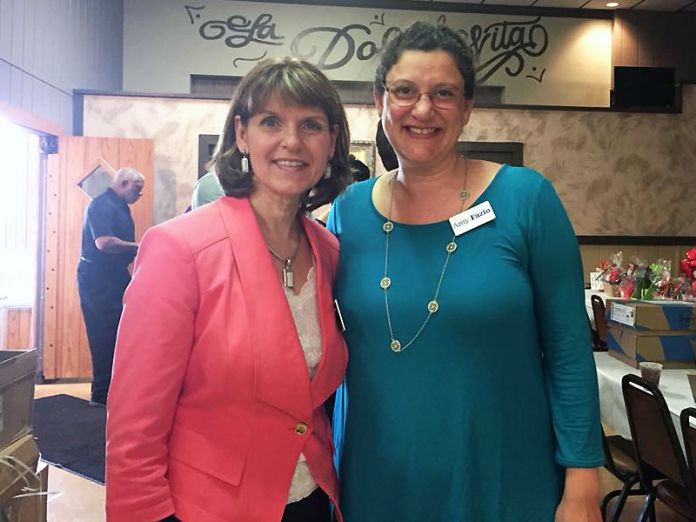 The Beaver County Democratic Committee is disavowing former state representative Mike Veon after BeaverCountian.com learned of an appearance he made at a strategy session for local political candidates.
Democrats Terri Mitko (who is running for state rep in the 15th legislative district) and Amy Fazio (who is running in the 14th) gathered with their campaign managers earlier this month to meet with Mary Isenhour at a restaurant in Robinson Township. Isenhour served as Chief of Staff for Governor Tom Wolf before stepping down last year to serve as senior advisor for his re-election campaign.
BeaverCountian.com spoke to two Democratic operatives with knowledge of the meeting who revealed Isenhour had arrived with Veon in tow. The politicos agreed to speak on condition they not be identified by name.
Veon, formerly of Beaver Falls, served 22 years in the Legislature before losing re-election in 2006. He was found guilty in 2010 and sentenced to six to 14 years in prison for using taxpayer resources for political campaigns. In 2012, he was sentenced to another one to four years for misusing state grants to the nonprofit Beaver Initiative for Growth (BIG), which he co-founded. Veon was paroled in 2015 after serving five years in prison — his conviction on conflict-of-interest charges in the BIG case was later overturned by the state Supreme Court.
Terri Mitko said she was surprised to see Veon arrive at her meeting with Mary Isenhour this month. "I did not know he was going to be there beforehand."
Mitko said Veon stepped out while the rest of the group met about their campaigns, but came back in following their discussions.
"He came back in and said hello, shook hands with me and Amy (Fazio), and he said on behalf of the state Democratic party he appreciated the work we were doing on our campaigns," said Mitko. "It would appear he's working with them but I don't know what his role is … I did not ask for or accept any help from him."
The two Democratic operatives who first told BeaverCountian.com about the meeting say Mike Veon and Amy Fazio had a more lengthy one-on-one discussion following the strategy session, which Mitko also confirmed.
"I am not involved with her campaign," said Mitko. "I do not know what they discussed."
Amy Fazio told BeaverCountian.com she also did not ask for, and was not offered, assistance with her campaign from Veon.
"I agreed to meet with Governor Wolf's campaign team," Fazio said. "Mike Veon made an appearance and I exchanged pleasantries with him just like Terri. I just happened to go second speaking with him is all."
Fazio said her exchange with Veon was short and he will not be involved in her campaign. "I am working hard to run my full-on grassroots campaign strategy."
Beaver County Democratic Committee Chairman Stephen Dupree said he has no idea what Mike Veon is up to, but he has no formal involvement in local party politics.
"He is no way involved with the Beaver County Democratic Committee," said Dupree. "I have too many other things to worry about than some guy who is not even living in Beaver County. He is what he is, he is a lightning rod … I am aware of what he is and we don't have any official or unofficial relationship at all."
Dupree said he was in attendance at the meeting with Mitko and Fazio when Veon showed.
"He was in no way involved in the strategy meeting," insisted Dupree, who said his only communication with Veon that day was to extend a cordial greeting. Dupree confirmed that Veon arrived together in the same vehicle with Isenhour, but said Veon got a soda and occupied himself elsewhere on the phone while the rest of the group talked.
"We were meeting with Mary (Isenhour), she is helping (Governor Wolf) find candidates who would be friendly to his agenda and who are viable. I think it's exciting that Governor Wolf is looking at Terri and Amy and thinking they have a possibility of coming to the state house. I think it's exciting he wants to play in Beaver County."
Dupree had a conversation with Wolf at a recent fundraiser in the county, and said he expressed interest in helping local Democrats do well in November's elections.
"Terri and Amy are working really hard," said Dupree. "They are raising money, they are getting their message out by knocking on doors, making phone calls, sending out postcards, and doing all of the things they need to do."
Veon appears to have become increasingly involved in Beaver County politics since his release from prison, including behind-the-scenes efforts in support of then-Common Pleas Judge Deborah Kunselman's successful candidacy for State Superior Court Judge.
As previously reported by BeaverCountian.com, Veon recently attended a private meeting with Republican Commissioner Dan Camp and Democratic Commissioner Tony Amadio about a proposed casino — a meeting meant to be kept so under wraps that Camp and Amadio were made to sign non-disclosure agreements before participating. Veon was at the meeting on behalf of local developer Pat Nardelli, father-in-law of former county solicitor Joseph Askar — who was also present at the meeting in his capacity as attorney for the Beaver County Economic Development Authority. The BCEDA may consider helping to float a bond to fund development of the project.
Mike Veon could not be reached for comment and did not return a message left by BeaverCountian.com on his cellphone voicemail.
See Also:
– In-Depth: Veon Attends Private Meeting About Possible Beaver County Casino – Faces Deposition About A Prior Failed Casino Venture
– Investigative Report: Camp & Amadio Signed Nondisclosure Agreements – Met Privately With Veon & DeNaples About Casino Project
– Beaver County Democratic Party Fractures Further After Mike Veon Makes Featured Appearance At Annual Picnic
– Democratic Chairman Gentile Calls Veon Courageous – Touts Trombetta's Job Creation – Defends David Relationship