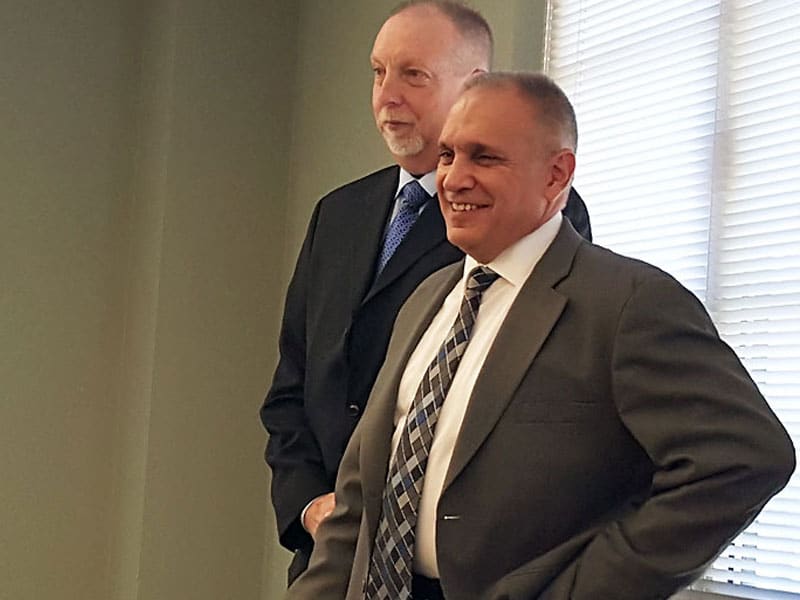 Beaver County's Law Department determined the Chief Sheriff's Deputy violated provisions of a county Sexual Harassment Policy last year, failed to cooperate with its investigation into his conduct, and recommended the man be suspended without pay for his alleged behavior, according to county documents — information that did not come out during questioning of Sheriff Tony Guy as part of a sworn deposition for an ongoing lawsuit brought by former deputy Curtis Larrick.
(See: Former Deputy Who Testified Against Sheriff George David Files Federal Lawsuit Against Sheriff Tony Guy)
Transcripts filed as an exhibit in federal court detail questions posed to Sheriff Tony Guy about allegations involving Chief Deputy Dean Michael and a secretary in the Sheriff's Office. Larrick's attorney had engaged in the series of questions in an apparent attempt to help establish their claim that Sheriff Tony Guy employs a double standard when dealing with personnel.
"[S]ince Dean Michael has been there, has there been accusations against him regarding inappropriate contact with female employees," asked Larrick's attorney?
"I don't believe that he was accused by anyone of having inappropriate contact with them," Guy responded.
The attorney then asked Sheriff Guy about an article published by the Beaver Countian concerning allegations of sexual harassment that had been made against Chief Dean Michael. Sheriff Guy acknowledged being aware of the article, and explained a discussion he had with Michael prior to its publication.
"It was brought to my attention that members of county government were encouraging one of my female employees to make a complaint against Dean Michael. They never made that complaint. An investigation was conducted by myself in regards to what took place and by the County's legal department," testified Guy. "And the results of that investigation clearly show that there was no sexual harassment. I spoke with Dean Michael about, reminded him of the appropriate way to interact with employees and reminded him of the County sexual harassment policy. And in conjunction with the County's legal department, closed the case."
Larrick's attorney asked Sheriff Guy if it would have been appropriate to discipline Chief Michael.
"Would it have been appropriate to discipline Dean Michael for his actions there? (…) For the incident of an unfounded sexual harassment case," asked the attorney?
"No," Sheriff Guy testified.
Guy revealed more about the incident as a result of additional questioning by Larrick's attorney, "The investigation that I conducted into the Dean Michael issue was clearly unfounded, other than what I thought was inappropriate language in conversing with subordinates."
"What was the inappropriate language," asked the attorney in response?
Sheriff Guy answered, "Maybe a reference, I don't specifically recall, but a reference to some sexual innuendo, of which the employee told me that she took no offense to."
The Beaver Countian has been in possession of a copy of a report, titled "Beaver County Solicitor's Office Response to Allegations of Sexual Harassment / Inappropriate Conduct toward (a Sheriff's Office secretary) by Chief Deputy Dean Michael," written by the County Law Department that summarizes the results of its investigation into the alleged incident. The June 27th, 2016, correspondence was originally sent by then-County Solicitor Andrea Cantelmi to Sheriff Tony Guy, then-Human Resources Director Rick Darbut, then-Chief of Staff Joe Weidner, and the Board of Commissioners.
The County had become aware of the incident involving Chief Dean Michael and a Sheriff's Office secretary that occurred one Friday evening after she discussed it with another county employee, who then approached the Board of Commissioners expressing concern about the way the woman had been spoken to by her superior.
Then-Solicitor Cantelmi informed other county officials that there was an obligation to investigate the incident, even though the secretary never made a complaint to the county about the alleged conduct, "[I]t should be noted, that once an employer is becomes (sic) aware of such conduct, it must investigate it, even when the individual who was allegedly harassed has made no complaint."
"On or about the end of April, 2016, Mr. Michael sent several messages via Facebook Messenger to (a secretary in the Sheriff's Office)," wrote Cantelmi. "They were along the lines of: There is snow on the roof top and fire down below; I won't kiss and tell; You need a spanking; I don't know what you see in that guy. In response, (the secretary) replied 'you are being an ass.'"
Then-Solicitor Cantelmi noted that she felt Chief Michael had been uncooperative with her investigation into the matter.
"Efforts to interview Mr. Michael were hampered by his absence from work at the county for training," wrote Cantelmi. "Nonetheless, in an effort to conduct a proper investigation, (I) sought to set up a phone conversation with him to discuss the matter. These efforts were questioned and challenged via an email from Mr. Michael to (me). Therein, he indicated that the Sheriff had addressed this matter internally and further characterized the situation as a 'misunderstanding.' He further offered to discuss the matter with me at 10:00 p.m. that evening. I found his response disrespectful to me and the process established by the County under its Sexual Harassment Policy. Consequently, I concluded that he was uncooperative."
The law department determined that Chief Michael's conduct "does not rise to the level of sexual harassment which would result in legal liability" for the county because it was not severe or pervasive enough, but that, "such conduct, particularly by a high ranking County official is NOT appropriate. The County's Policy clearly prohibits such conduct. Further, it is stated therein that the County will not tolerate such harassment. In such instances, an employee who violates the County policy, will be subject to disciplinary action, up to and including discharge."
Then-Chief Solicitor Cantelmi went on to say that it was the responsibility of Sheriff Tony Guy to take "prompt and appropriate action" against Chief Dean Michael, and recommended how the situation should be handled in accordance with the county's Sexual Harassment Policy.
"First, Mr. Michael should be required to attend a counseling or educational session on how to treat/manage women in the workplace," wrote Cantelmi. "Additionally, this incident should be documented in his personnel file with an indication of the action taken by the Sheriff. Lastly, it is suggested that a day suspension without pay be issued to Mr. Michael. This is particularly in light of Mr. Michael's status with the county."
(See: County Investigation Determines Chief Sheriff's Deputy Violated Sexual Harassment Policy)
Sheriff Tony Guy did not discipline Chief Michael as recommended by the law department, but replied to Cantelmi's letter — nearly a month later — on July 21st, 2016.
"I agree with your assessment that no actionable sexual harassment occurred," wrote Guy. "Additionally, the facts as developed through my investigation, including discussion with the employee, did not disclose the extent of messages cited by you. The Supervisor was reminded of appropriate professional demeanor and comportment in dealing with other employees, including subordinates. Both Supervisor and Employee were referred to and reminded of the county's Workplace Harassment and Sexual Harassment Policies available on the intranet."
Guy's letter went on to say that his response to the law department should not be disseminated because the "employee issue is privileged and confidential."
Sheriff's Chief Deputy Dean Michael had previously refused comment about the alleged incident when approached by the Beaver Countian.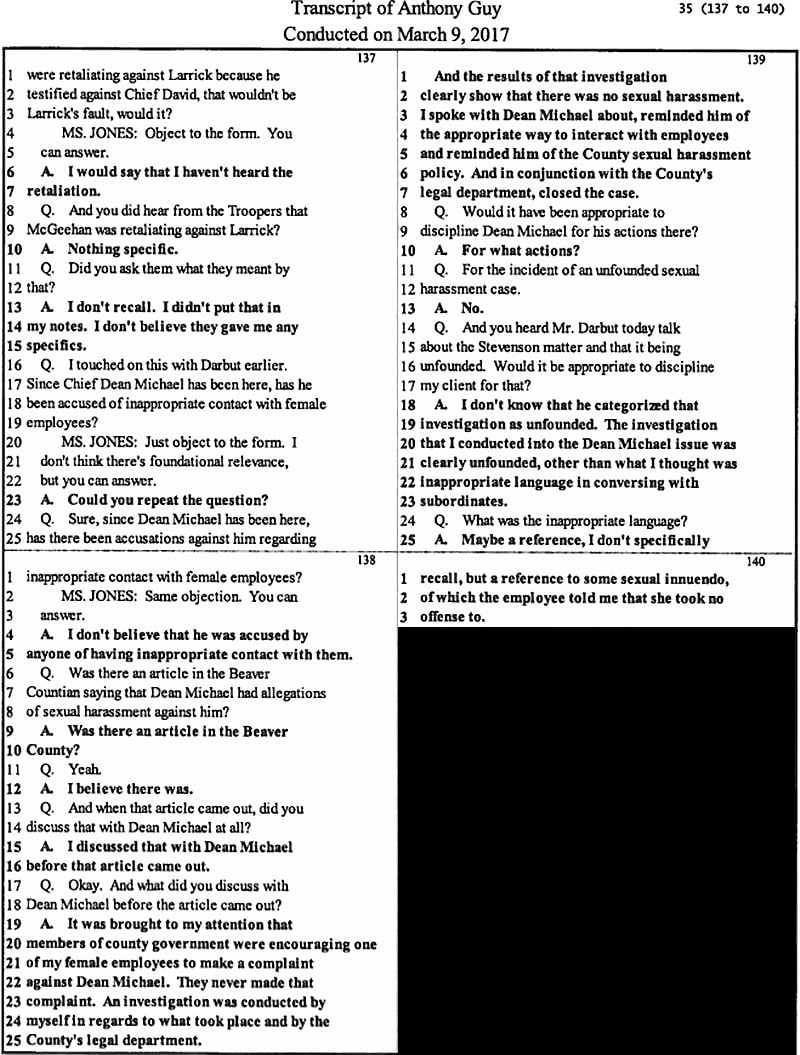 See Also: Court documents filed by both sides of this pending litigation were previously published in-full by the Beaver Countian as part of an article titled, "Court Filings Allege Sheriff Tony Guy Ignored Warnings By State Police About Deputies Who Supported His Election."