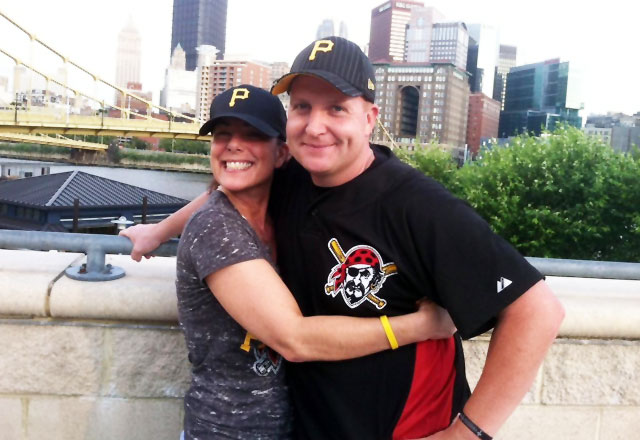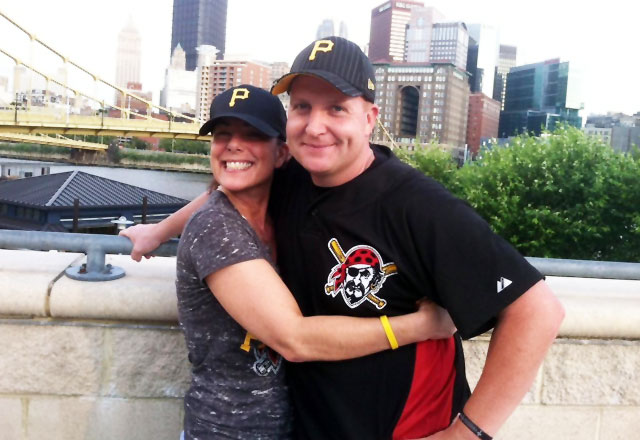 One of the married officer's girlfriends said he had become suicidal and harassing while on duty. Citizens in the community said they warned the town's Chief he was becoming obsessive. The officer had a temporary Protection From Abuse order filed against him, that he later agreed to have extended by a month. But just days later, with the PFA still in effect, Beaver Sergeant Kenneth McCoy is back behind a desk in the Beaver Police Station — Many in the community where he serves now want to know why.
The Other Woman
They called her mentally unstable, a liar and a whore; a homewrecking slut who was out looking for trouble. Such denouncements were common when asking various members of the law enforcement community about Christine Cilli, the woman brazen enough to seek a Protection From Abuse Order against Beaver Police Sergeant Kenneth "Ken" McCoy. But a review of over 100 text messages provided to the Beaver Countian, along with dozens of photographs, emails, and hours of interviews with nearly a dozen individuals, began to paint a much different picture.
Christine was still wearing her nurse's uniform when she arrived for our scheduled interview, having just left the OB/GYN office where she works.
"He's the one that really tries to mentor the young guys when they come in" Christine said of Sergeant McCoy, who is also the local chapter President of the Fraternal Order of Police. "His whole line of how a police officer should do their job sounded great. But all of this time, the type of things he said a cop shouldn't do, was exactly the type of person he was."
Over the next several hours, the woman would describe her committed relationship with Officer Kenneth McCoy, and a troubling series of events she claimed exclamated an end to that relationship.
Christine said she met the officer while he was on duty one day. "Very early on he told me that he and his wife were getting a separation, that he never wore his wedding band, that they had discussed their breakup plan."
He told her his attorneys, Cordell & Cordell, and his wife's attorney, Theresa Dukovich, were in negotiations to draft the final paperwork. "He said he told his children that mommy and daddy were getting divorced."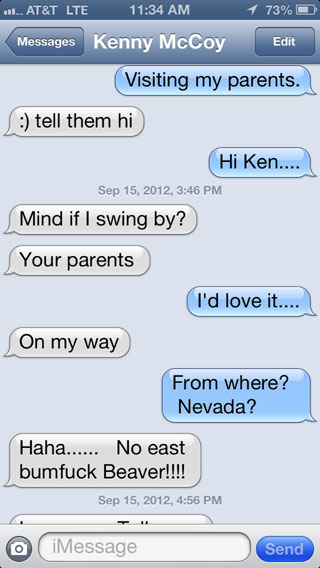 She said they would go out to Pirates' games together, go bowling with his friends, or just spend quiet evenings at her place. She said he had a good relationship with her parents who live in Vanport. "He even came to my mother's surprise birthday party."
"He brought his kids to Brady's Run Park one day to meet me and play with my grandson" said the 43 year old grandmother. "I had no reason to believe what we had was not real."
Christine shared dozens of photographs with the Beaver Countian, which added validity to many of her very specific claims. "I posted pictures of he and I to Facebook, they were up for months and months" she added. "He had no problem with me doing it."
"I would make him dinner and take it down to the police station and eat with him" said Christine. "I've been in the police station dozens of times, all of the guys know who I am […] The relationship we had was not a secret."
An officer in the Beaver Police Department, who spoke on condition they not be quoted by name, verified Christine's claims. They said the relationship Ken had with Christine was widely known in their department — And that officers knew he would spend long hours over at her apartment in Beaver while on duty.
"When we first got together, I was living with my parents because I was finishing up nursing school" she said. "We would sit together in his cruiser every night for hours, because the only opportunity we had to spend time together was when he was on duty."
After graduating from nursing school and getting her apartment, Christine said Ken would come over every night, parking his police car nearby. "He would spend hours over my place, and yes at times we were intimate while he was on duty" she admits.
A couple who lives near Christine began to notice the cruiser parked out front each night, and eventually started to take notes. "He starting waking people in the neighborhood up" said John Parelli. "He was coming and going at all hours, slamming the police car doors 3 or 4 times a night."
"We live here minding our own business as citizens of the town and this guy was making our life hell" added Joan Pease. "He was there so much, at one point we thought he moved in and was living there."
Eventually, the couple said they became concerned for their neighbor, who they had never met or spoken to before. "I called Chief Dan Madgar, I said this guy is out of control, he's becoming more and more obsessive, he was sneaking around in people's yards" said Pease. "I warned him, I warned him before all of this happened. We saw a problem, this was affecting our lives, and I don't know her, but it was obviously affecting her life too […] He didn't follow up with us, he didn't do anything about it."
Beaver Police Chief Dan Madgar said he had a talk with Ken after receiving the complaints. "He told me that he had just dropped by her house for 5 minutes, and that they were just friends. I told him what he did on his own time was his own business, but while he was at work he needed to stay away from there."
Just thirteen days after neighbors began calling Chief Madgar, Christine Cilli would place a call of her own, alleging that Sergeant Kenneth McCoy had become suicidal.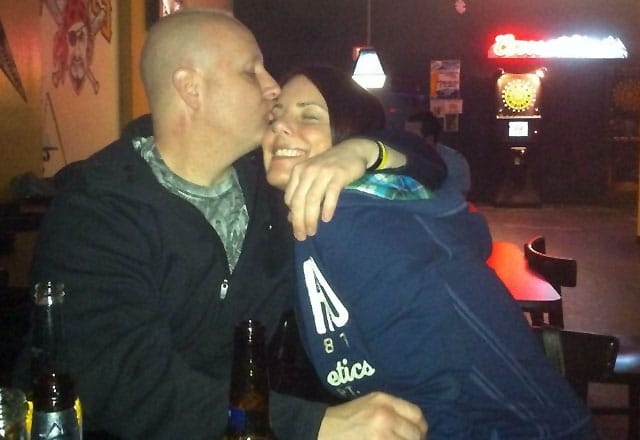 The Other, Other Woman
Unbeknownst to Christine Cilli at the time, she was not the only one living in Beaver who Officer McCoy was in a relationship with. Just a few blocks away from her apartment lived another woman, who Ken had first started dating long before Christine came into the picture.
When that other woman was reached by phone, she threatened to have her attorney Myron Sainovich [who is also an attorney for the Fraternal Order Of Police] file a lawsuit against the Beaver Countian and hung up the phone. She called back moments later agreeing to speak on condition we not quote her by name. We will call her Jane Doe.
Jane said she had been in a relationship with Ken for many years, but that relationship became less steady before Christine came into the picture. "It's not like she thinks. We weren't serious anymore. We would just be together here and there, our relationship had a hard time ending, we cared for each other."
Like Christine, Jane said she would meet with Ken while he was on duty, and often cooked him dinner — Her lasagna became legendary in the police department.
Eventually these two women would meet, exchanging stories of their respective relationships with Sergeant Kenneth McCoy.
Jane believes many of the problems Ken is now having are because of Christine. "She is a woman scorned, the bottom line is she didn't get the guy. I know he was a man probably afraid of getting busted by his wife […] She wants to air her dirty laundry and that's embarrassing for her […] She's taking everyone down with her […] Look at what she's doing to his wife and his kids."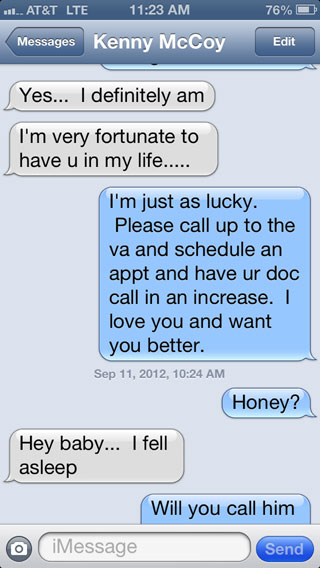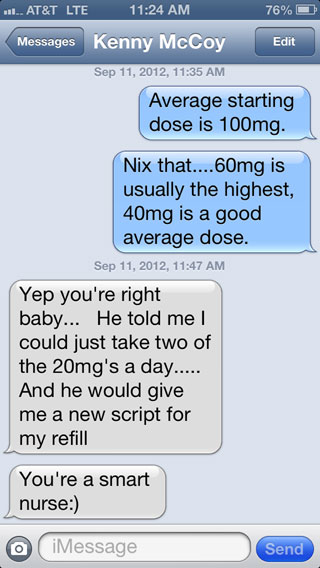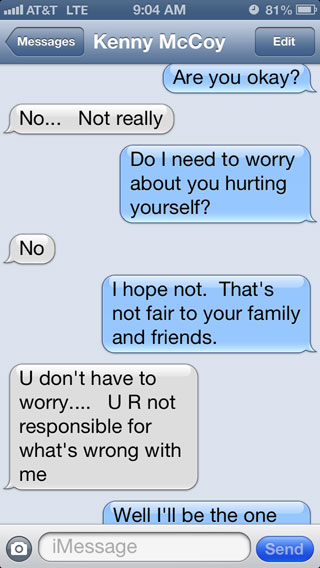 Threats Of Suicide
Christine Cilli said that toward the end of their relationship, Sergeant Ken McCoy began becoming suicidal, and he started exhibiting erratic behaviors. She said as a nurse she began to recognize the signs of clinical depression, and convinced Ken to see a doctor. "He decided that because of his job, he wanted to see someone outside of the county. So he said he started going to the VA in Pittsburgh […] I wanted to make sure he was actually going, so he took photographs of himself heading into the VA, we obviously had some trust issues at this point."
Christine said Ken eventually showed her the antidepressant Celexa that he said had been prescribed to him. "Ken showed me the pills, but he said he took them out of the bottle they came in and put them in a bottle that was for an antibiotic. He said he didn't want anyone at work or [his wife] to know he was taking them. I looked them up on Pill Identifier, they matched the 20mg pill he said he was prescribed."
She said in retrospect, she never actually saw Ken swallow the pills, so could not say for certain if he was truly taking them.
Looking back, Christine said she believes his mental state was also impacting the performance of his duties, and concedes she probably should have taken other actions sooner. "I remember one time he came into my apartment, took his belt off, took his vest off, and put his radio beside him. He is getting calls that he didn't hear. I'm like Ken, listen, I think I just heard 292 [his radio identifier] called. He was falling asleep."
Chief Dan Madgar said to his knowledge, the department never received any complaints about Officer McCoy missing calls, but acknowledged he was unaware of the extent of Ken's alleged activities with Christine Cilli while on duty.
Christine said Ken expressed many emotional problems during their relationship. "There was always a crisis with Ken. The childhood trauma he said he suffered, the PTSD he said he had from when he was a Peacekeeper in Albania, there were a lot of issues […] Now I don't know how many of them were real, or how many of them he just made up."
Toward the end of their relationship, Christine said Ken's behaviors became more alarming, and the things he told her were causing her great concern. "When I was out of town at a friend's one night, he said he let himself into my apartment, and laid in my bed and fell asleep with his gun in his mouth."
On another occasion, she said Ken just seemed to break down out of nowhere. "Ken is a runner, and he left my place one day for a jog. But he came right back in, and told me that he couldn't run. He sat down on my floor crying and shaking. I said, that medication isn't working is it? He said no, it isn't."
Truths Discovered
Christine said she discovered Ken had another girlfriend, and talked to her on Facebook. She said she learned his claims of having filed paperwork for a divorce were untrue, that the relationship she thought she had with him was nothing but an unending string of lies and manipulations — She told him she was done.
"He shows up in uniform, with his badge and gun on. He was on duty" began Christine Cilli, as she described the night of September 26th. "He goes on and on about how he would have never let me post pictures of us together on Facebook if he didn't really love me" said Christine. She plays a brief clip of audio she said her daughter, who was in the apartment along with her grandson, inadvertently recorded on her new iPhone. The officer can be heard using a variant of the word "fuck" some 15 times in a minute and a half.
"He leaves and barrages me with text messages" continued Christine. "He shows back up and asks me to take a ride with him in his cruiser. I agreed because I didn't want anything else to occur in front of my daughter."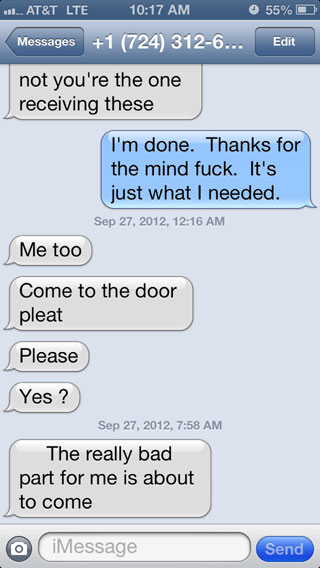 She said Ken began driving the patrol car through Beaver towards Industry. "He starts talking about the intimate relationship he had with this other woman, that he said was years ago. I told him, you need to take me home." She said he pulled his cruiser behind the Drug and Alcohol building in Vanport. "It's dark, I'm asking him, just please take me home. I just wanted to go home […] He reaches up and shuts off the recording device that's in the vehicle […] He said, I will fucking kill myself right here, right now. I thought, he's going to kill me and then kill himself. I'm trying to get out of the vehicle because I have a psycho beside me."
Christine said she made her way out of the car and began walking through the rain towards Beaver. "Ken's driving up beside me in the cruiser. He's yelling at me to get in the car, get in the fucking car. I get back in."
Looking back, Christine said she probably shouldn't have gotten into the car again. She said she was concerned what he might do if she didn't, and felt she might be able to calm Ken down as she had several times in the past when he had become suicidal. "He stops the car by Clark Park, it's well lit there, so I get out of the vehicle again. He parks the cruiser and starts following me on foot. I keep saying, I just want to go home […] He got up in front of me, he's trying to keep me from going home. I start to beg."
Christine said Ken eventually calmed down, and she made her way home. "I get home and my daughter and grandson are still there, they were spending the night. I poured myself a glass of wine, I got on my couch and went to sleep. He shows up at my door again, but it's locked. I don't answer it, and eventually fall back asleep."
"I woke up the next morning, and he was next to me." He left after she told him to get out.
The Fallout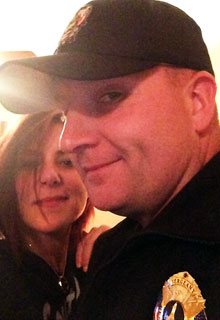 Christine said she called Beaver Police Chief Dan Madgar to tell him Ken had become erratic and suicidal and needed help. "Dan told me he was afraid to call Ken himself, because it might put him over the edge […] We tried to get ahold of his mother, who is also a nurse, to see if we could have her get to him […] Eventually I guess Dan went ahead and called him, he told me everything was going to be OK."
Christine said she went and stayed at a friend's house for several days, and then filed for a Protection from Abuse order against Officer McCoy — Advice she got from a friend who talked to her father who is a judge in Ohio. Attorneys for both sides negotiated an agreement to have a PFA in place for 30 days.
Beaver Police Chief Dan Madgar said after the incident he met with District Attorney Anthony Berosh, who determined there was no actual criminal wrong doing on the part of Officer McCoy. District Attorney Berosh told the Beaver Countian he had reached no such conclusion. "Chief Madgar met with me, telling me they had a problem with Ken. I told him I wanted him to contact me to discuss it after the PFA hearing […] That meeting has not occurred."
Beaver Police Sergeant Ken McCoy has weeks remaining on the Protection From Abuse order that was issued against him by a judge. He's back at work in the Beaver Police Department, performing administrative duties out of uniform. Beaver Mayor Tom Hamilton has not yet made a decision as to what disciplinary action may be taken against the officer — Neither has Beaver Council, who is scheduled to meet again on November 13th at 7:00pm for its next regular session.
Officer Ken McCoy declined to grant an interview as part of this report. His attorney, Myron Sainovich, did not return a message seeking comment.
"I do not believe that Ken should be a police officer" concluded Christine Cilli. "I don't think it's safe."
Editorial Note: Story updated to correct the date of Beaver Borough's next regular council meeting, which is on November 13th.