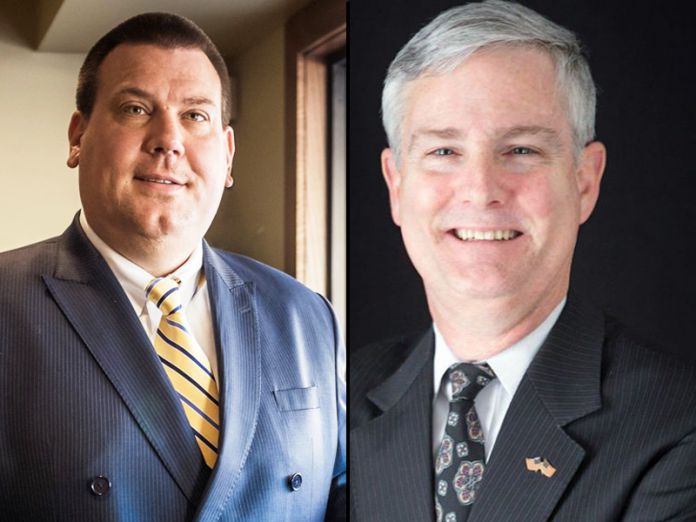 An inmate at the Beaver County Jail who received a letter allegedly detailing the murder of Rachael DelTondo was given a plea agreement in his case today and will be released from jail next week.
District Attorney David Lozier told WPXI's Amy Marcinkiewicz that Wayne Cordes was offered the plea deal — which saw multiple felony charges reduced to misdemeanors — in exchange for agreeing to testify truthfully in all court proceedings related to the Mother's Day murder of Rachael DelTondo.
"The letter and the inmate could become key in the Rachael DelTondo case," WPXI reported after speaking with Lozier.
But Wayne Cordes' own defense attorney alleges to BeaverCountian.com that prosecutors agreed to the plea deal in order to avoid a court hearing scheduled today seeking sanctions against the District Attorney's Office.
BeaverCountian.com published an in-depth investigative report about the "DelTondo Murder Letter" on June 12 in conjunction with a team of reporters for the Daily Mail out of New York City ("EXCLUSIVE: Mysterious DelTondo Murder Letter Leads To Raid Of Attorney's Office – Court Gags Defense Lawyer"). A second investigative report published by the Beaver Countian on June 16 called into question the authenticity of the letter ("Discrepancy Discovered In DelTondo Murder Letter Mystery").
Rachael DelTondo's mother, Lisa, told BeaverCountian.com that following its reports Beaver County Detectives confirmed to her they had conclusive information that the letter was not authentic.
The letter led to a flurry of activity by Beaver County Detectives who worked to obtain the original document which had been torn in two by Cordes. Search warrants were executed on Wayne Cordes' jail cell as well as the offices of defense attorney Gerald Benyo.
Benyo alleged that county detectives seized confidential documents pertaining to Cordes' upcoming trial during the raid, something Lozier insisted to reporters was false. After a county judge unsealed some court records in the case it was revealed that defense documents related to Cordes' trial had in fact been taken by detectives (Judge Unseals Some "DelTondo Murder Letter" Court Records – District Attorney Made False Statements To Reporters).
Benyo sought sanctions as a result (Defense Attorney Seeks Sanctions Against District Attorney Lozier Over DelTondo Murder Letter Raid).
Gerald Benyo provided the following statement to BeaverCountian.com following today's plea agreement by Wayne Cordes:
"The truth of the matter is, on May 30 in a meeting with the district attorney and county detectives, an offer was made by me on behalf of Wayne Cordes that in exchange for reduced criminal charges he would provide complete cooperating and truthful testimony as to the DelTondo homicide investigation. At that time, Mr. Cordes' offer was refused and I commenced active litigation defending Mr. Cordes from the illegal search and seizure that was conducted on his jail cell, along with violations of his 4th, 6th, and 14th amendment Constitutional rights.
"Over the course of 5 weeks, I filed numerous documents outlining the violations of the rules of criminal procedure as well as the District Attorney's Office exceeding the limited authority to seize documents from the jail cell of Wayne Cordes.
"Today a hearing was to be held on the motion for sanctions against the District Attorney asking the criminal case against Mr. Cordes be dismissed in its entirety.
"Prior to the hearing, the District Attorney's Office offered a plea bargain that was too good for Mr. Cordes to refuse and the court accepted Mr. Cordes' plea to misdemeanor simple assault and misdemeanor theft, rather than the numerous felonies charged in the criminal information. Mr. Cordes will be leaving the jail next week, having already served his minimum sentence.
"It is in my opinion as defense counsel for Mr. Cordes that the plea bargain offered by the District Attorney's Office related primarily to the District Attorney's violation of the criminal rules and Constitutional protections, rather than any information Mr. Cordes had as to the DelTondo homicide investigation.
"Since my involvement with Mr. Cordes, and the original offer of cooperation in the DelTondo homicide investigation 6 weeks ago, the District Attorney's Office has consistently taken the position that Mr. Cordes did not have any knowledge of the homicide that was of any significance.
"Although the district attorney does not appear to be bound by his own gag order, I can not comment further based upon President Judge Mancini's direction to me not to discuss matters concerning Wayne Cordes and the DelTondo homicide investigation in detail.
"After viewing the WPXI Channel 11 news broadcast, I was surprised by the comments of District Attorney Lozier. I can only assume that his version of what occurred in Courtroom 5 today was different than mine in that I was actually in the courtroom and involved in the negotiations, where as he was at the 2018 District Attorney's Association Conference at the Omni Resort in Bedford Springs."