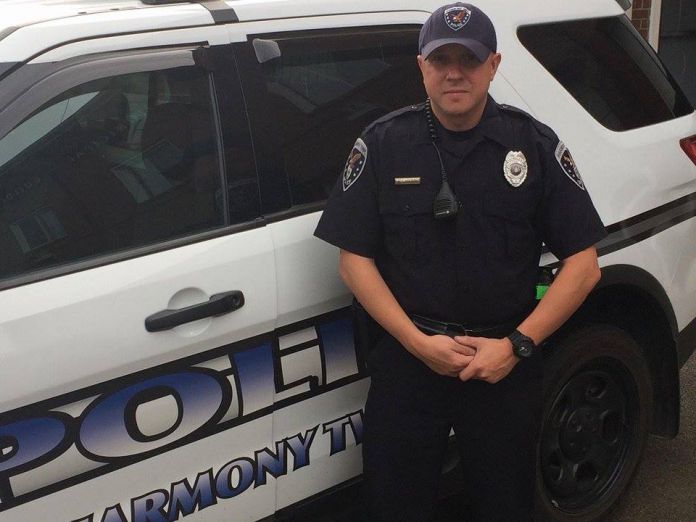 The text message arrived last week from a number I did not recognize, "Please call important." The next day I was sitting across from a man I had never met. "There's been two times I had my gun to my mouth," he said to me with tears in his eyes. "That's me being very truthful to you."
It has been nearly two years since Harmony Township patrolman Alan Loskoch was shot in the line of duty. The officer's life was spared when his ballistic vest caught a bullet that struck his chest, but the shots which rang out that fateful day still continue ringing in his ears. Now suffering from permanent hearing loss, haunting memories that replay endlessly in his head, and experiencing financial difficulties from entering into a disability retirement earlier this year, the man says he feels broken in every way.
Alan Loskoch told me the last thing he ever thought he would find himself doing was contacting a reporter.
"I'm really shy and hate causing disruption," he said. "It took everything I had to come in here; I actually threw up before I came in, I got sick. I'm not this type of person (…) I needed to get ahold of someone. I feel so ashamed about all of this."
Officer Alan Loskoch was on patrol in Harmony Township at about 3:45 a.m. the morning of October 28th, 2015, when he noticed a man who appeared to be trying to break into some parked vehicles. The officer approached, a shot smashed through his car, just missing his head. The officer returned fire from inside of his car, another bullet smashed through the vehicle, this time finding its target — the officer's chest. Officer Loskoch lost consciousness and was found by his brother officers minutes later laying in his unmarked cruiser which had driven itself off the side of the road.
His assailant had fled into the early morning darkness.
Officer Loskoch was discharged from the hospital that same day and met with investigators at the Beaver County Emergency Services Building to aid in their efforts tracking down his attacker. The officer released a statement telling everyone he was OK and thanking the community for their concern; law enforcement chalked up another life saved by a Kevlar vest.
Loskoch said he was sore with bruised ribs but took just a short period of time off before returning back to duty. He attended a counseling session provided to him by the Pennsylvania State Police, not initially seeking additional therapy for the ordeal.
"I had people who I had arrested sending me get well cards," he said of the support he received from the community. "That was crazy."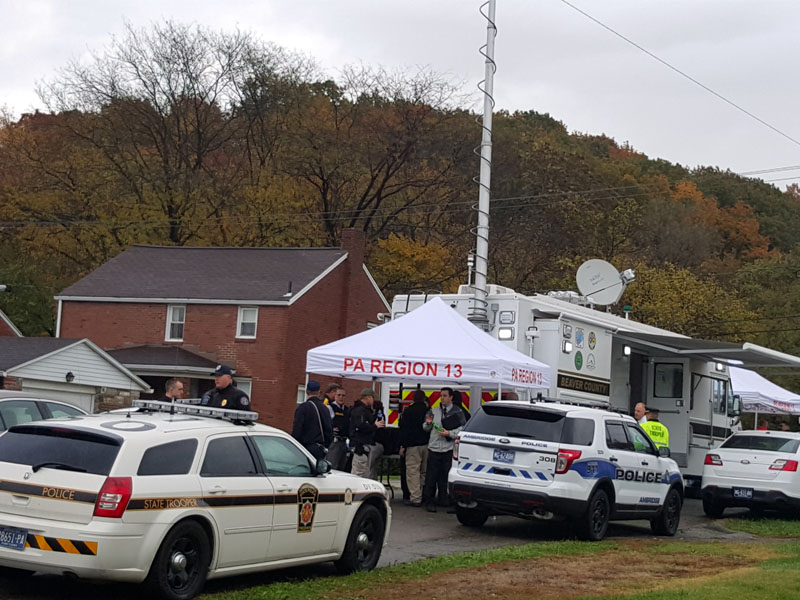 Although his bruises quickly healed, Officer Loskoch turned out not to be as OK as he had originally thought.
"I have tinnitus (a ringing in the ears) and hearing loss which occurred from the shooting," Loskoch told me. "I shot several times from the interior of my vehicle, shooting from inside of the cabin intensified that sound. If you have ever been swimming you know that muffled sound in your ears — that just never went away. About a month and a half after the shooting I reached out to the township and said I needed to get a medical opinion on my ears, this ringing isn't changing, it's still there, and I can't hear as well."
Officer Loskoch was eventually referred to a specialist at UPMC Pittsburgh, and a few months after the shooting, was fitted with high tech hearing aids designed to help enhance his auditory range and diminish the incessant ringing. He said he felt well and settled out his workers' comp claim, ending future benefits which could have been available under Pennsylvania's Heart & Lung Act (providing law enforcement officers with their full salary for temporary disability due to a work related illness or injury).
Loskoch continued working on the job for over a year after his shooting, believing he had a good handle on his physical condition but admittedly suffering from the psychological effects of what he had been through. He said at one point another officer in his own department called him "weak" for talking about the feelings he was experiencing, and that his Chief openly ridiculed him about the physical disabilities he had been trying to overcome.
"(Chief Sivewright) made fun of me," Loskoch said. "He had an app he put on his phone that had this real piercing noise, and he would put it up behind my ear and laugh and giggle (…) I was made a spectacle of in a sense."
Loskoch said one night he was working as a field training officer getting a recruit up to speed when his Chief offered the new hire a word of advice, "He goes to him, 'don't be like this idiot and be out there at 4 o'clock in the morning and get yourself shot' (…) This guy I was training was in the army infantry just like I am, and when (the Chief) left, he was like, 'I can't believe he said that to you.'"
What may have been thought of as harmless acts of departmental camaraderie were having a profound impact on the struggling officer.
Loskoch said he eventually became too weary to ask for help, or even admit to the difficulties he was experiencing from an event he could not stop reliving, "I was more afraid to bring it up towards the end because I thought, man, if I say I have any sort of PTSD (post-traumatic stress disorder) issue I'm really going to be screwed (…) I'd have to get another evaluation from another doctor and I'm already under the microscope."
While he said he felt little support from his own small 5-man department, there were others who tried reaching out to him. Among them, Monaca Officer (now Chief) David Piuri, then-President of the Beaver Valley Lodge of the Fraternal Order of Police (FOP).
"Dave Piuri did an amazing job from the moment I got shot," said Loskoch. "I had breakfast with him. He has been there for me and my family. That man to me, I have nothing but respect for him, he is an awesome individual and he went to battle with me."
Loskoch said he began feeling so isolated that even calls from strangers were treasured encounters, "A really great person who I have spoken to a couple of times is Hopewell (Township's) Chief, he's a squared away guy. He called me out of the blue and I had only ever met him one time. He called me and said, 'Hey Alan, I'm here for you.' I can't tell you how important that call was for me."
It was last November when Loskoch's doctor recommended a course of tinnitus retraining therapy that could help him to better cope on a long-term basis with the symptoms of the ringing in his ears.
"By no means when I left was it because my hearing was affecting my job," insisted Loskoch. "My doctor suggested I go out of work for a couple of months, just to put me through (the therapy) so I had no distractions. I went to the township and they were like ya, we can do that (…) I signed a form and was under the impression I was going to be gone for two months. I came back about three days prior to the day I was suppose to start back and (the township) said I couldn't come back until the doctor cleared me (…) He didn't clear me. He said I was medically unfit to come back to work."
Not long after, Loskoch said he got another phone call from FOP President Piuri.
"He's the one who contacted me and said (…) 'we want to make sure you get everything you're entitled to,'" said Loskoch.
It was through his discussions with Piuri and the FOP that Loskoch said it began to really sink in for him that his career as a police officer was coming to an end, "Having my job taken away from me, I can't even describe to you, nothing will ever replace me being a police officer (…) I never in a million years thought I would go out on a disability pension."
Officer Alan Loskoch's last official day with the Harmony Township Police Department was March 15th.
The man again became emotional during our discussion, tears dripping from his face, "I think my family would be better off without me."
He told me the psychological issues he was struggling with have gotten worse since losing his job. Adding to his anxiety is an upcoming criminal trial scheduled next month for Earl Louis Hollins, a.k.a. "Nitty," the man who is alleged to have shot him.
"I don't drink, I don't do drugs, my way of self-medicating was keeping busy, going to work," he said. "In a sense after everything, if it wasn't for the military, my identity was completely taken away from me. I loved my job, and financially my family is suffering."
The former officer said he feels the ground has been pulled out from beneath his feet.
"I'm having my electric shut off, my truck was repossessed, I am to the point where I was going to go to the food pantry," he said.
Loskoch has a 4-year-old stepson who is autistic.
Officers say he was known as a hard worker on the job, taking all of the overtime he could get, participating in a DUI Taskforce and the county's Drug Taskforce to bring in extra income. In May of 2015, just months before the shooting, then-District Attorney Anthony Berosh recognized Officer Loskoch's efforts during an awards ceremony at the courthouse. He was similarly honored with the 2015 DUI Top Gun Award by the Pennsylvania DUI Association.
"When you go from making that much money to being on disability, it just doesn't really go far," he told me. "Hopefully I'll be able to get another job and just go forward."
While his separation agreement with Harmony Township calls for Loskoch to be given healthcare benefits for the next ten years, the former officer said he is now without insurance — although there is an apparent disagreement on where the fault lies. Whether it was the municipality that failed to notify their insurance carrier about a disability retirement, or a troubled officer who repeatedly failed to complete required paperwork, the end result remains the same, Loskoch is currently uninsured.
"All I am asking for is what I am entitled to," Loskoch said.
People in the law enforcement community now say they are redoubling their efforts. The Pennsylvania State Police is once again making arrangements to get Loskoch into the counseling needed for the psychological trauma he has suffered; the Fraternal Order of Police — now under the leadership of Center Township Police Captain Jon Hall — is working with Harmony Township to get the officer insured; the District Attorney's Office is helping to make sure nothing else falls through the cracks; his peers are reassuring him there is no shame in needing help.
Officers who know Alan Loskoch are hoping public recognition and community support can assist in helping him to regain his footing.
"I just was out doing my job," Loskoch told me. "If October 28th never happened, if I had made a right instead of a left turn, what would I be doing today? I would be patrolling Harmony Township."
Harmony Township Solicitor Richard Start's office returned a call from the Beaver Countian saying he is unable to comment on personnel matters. A voicemail message left for Harmony Police Chief Robert Sivewright was not returned.
---
Author's Note: I did not feel comfortable leaving the parking lot from my interview of Alan Loskoch that day before first making several phone calls to people in law enforcement who I trust. Not long after Loskoch left our meeting, his fellow officers began grasping the arms of a man who had reach out for help.
---
Listen to emergency personnel respond to the call of an officer down as dispatched by Beaver County 911