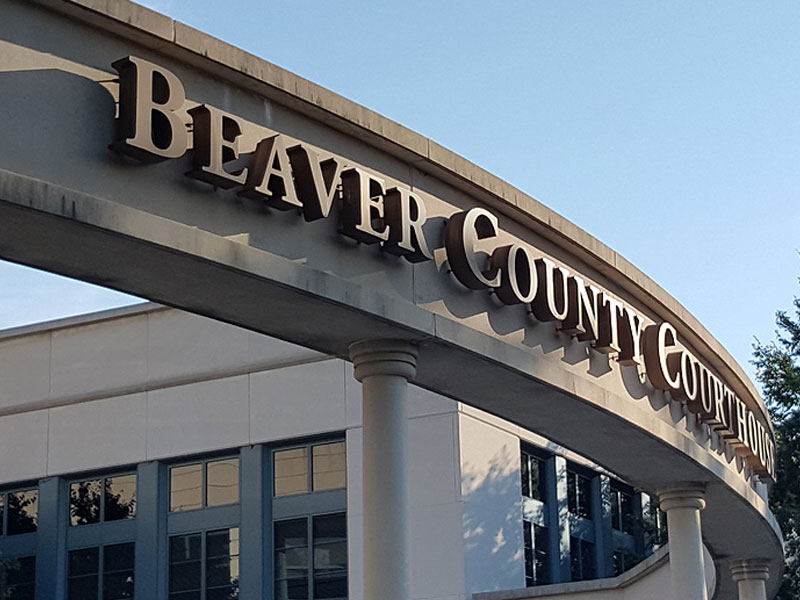 "County government is a matter of simple math, it's all about learning to count to two."
It is a turn of phrase often heard repeated by those in political circles, a reference to the two votes required to achieve majority of the three-person Board of Commissioners. Andrea Cantelmi, Chief Solicitor and long-time staff attorney in the county's law department, found herself on the bad end of that equation this week when her employment was terminated by Democratic Commissioner Tony Amadio and Republican Commissioner Sandie Egley.
Republican Commissioner Dan Camp also found himself betrayed by the simple math, a minority in the majority who was kept in the dark as part of a calculated bipartisan move by his fellow Commissioners. Together, Amadio and Egley had grown to view Camp as part of a problem rooted in the County Law Department, and together acted in a fashion that ensured he would not be a negative factor against what they perceived as the one solution.
The termination of Andrea Cantemli came as a shock to many in the courthouse and business community who had positive interactions with her on a regular basis, but it was in many ways a firing done in slow motion. Commissioners Egley and Amadio declined to give a reason for Cantelmi's termination — even refusing a request by Camp to provide him with insights into their thinking — but Cantelmi herself had been fearing for months that her days in the courthouse were numbered.
Dan Camp had grown close to attorney Cantelmi since he took office; a trusted adviser who had the formal education and governmental experience that the young Commissioner lacked. Cantelmi was also a source of institutional memory for Camp, having seen county controversies over the past 15 years from her vantage point in the law department. For her part, Cantelmi talked of Camp's youth as a unique asset for the county, hoping his energy, enthusiasm, and decisiveness would become part of a foundation upon which she could help to construct a more responsive county government.
That professional working relationship would often see Camp and Cantelmi piling into a car together at lunch time — becoming a regular fixture at Mario's Woodfired Pizzeria in Beaver. At times they would be joined by others, like former County Solicitor Joseph Askar (who oversaw the sale of Friendship Ridge), or Askar's law partner Joshua Kail (a recently announced Republican State Rep candidate).
Camp could routinely be found down in the law department during the workday, going over the this and thats of county government with Cantelmi. It became a source of annoyance for Amadio and Egley, both of whom regularly joked about Camp's basement office. Some county employees would poke fun at how much time Camp was perceived to be "spending with mommy." Camp's regular interactions with Cantelmi became the subject of sophomoric caricature in the Commissioners Unit and beyond, and were often blamed for a backlog of work piling up in the Law Department.
In reality, that backlog of work started piling up in February of 2016, the moment Commissioners Camp and Egley broke the news to Commissioner Tony Amadio that they had both decided to fire then-Chief County Solicitor Bernie Rabik. Commissioner Amadio cried foul about the termination of his long-time friend from Center Township, dubbing the move one based on politics not performance. Camp and Egley provided no public reasons for Rabik's termination at the time, but privately had been expressing concerns about how the law department responded to news about Treasurer Connie Javens' unilateral withdrawal of millions of dollars from county accounts, and of revelations about Rabik using his public office to do work for his private practice.
Tony Amadio and Bernie Rabik both partially blamed Andrea Cantelmi for the move by Camp and Egley, which county officials say was undeserved. While Amadio had felt Cantelmi was a competent component of the law department, he never believed she had what it took to be the lead attorney for the county, feeling she lacked the strong work ethic, intellectual vigor, and cantankerous nature of a zealous advocate, all things he saw in his old friend Bernie.
Commissioner Tony Amadio was a vote-in-waiting to fire Andrea Cantelmi as Chief Solicitor on the day she became Chief Solicitor — Commissioners Sandie Egley and Dan Camp knew it and so did Cantelmi.
Although several politicos had advised against it, the Commissioners gave Cantelmi free reign to structure and staff her office as she saw fit. Cantelmi ultimately decided she would hire one full-time attorney to serve as her number two. After publicly advertising for the position, and conducting interviews, Cantelmi then made a decision that may have been the first step toward her last day with the county.
Cantelmi announced that to save money for the county (which was suffering through a financial crisis caused by a false budget passed by the prior Board) she would wait to hire that second attorney for her office. For months, Cantelmi was the only staff attorney in the county to deal with the daily grind of attending meetings, reviewing contracts, preparing resolutions, and engaging in various labor negotiation and arbitration work in conjunction with outside counsel. She was also the only staff attorney available to tackle major legal problems like litigation brought against the county by real estate tycoon CJ Betters and the fallout from a mishandled sale of Friendship Ridge.
Legal work quickly began backing up, Cantelmi was stressed, and county government became bogged down in substantive ways felt throughout the various departments and row offices.
While Cantelmi's official story was that she delayed the hiring of a second attorney to save the county money, most officials in the courthouse believe she was in actuality stalling to hire a woman named Jessica Sullivan — a former law clerk for Beaver County Common Pleas Judge Deborah Kunselman — who was pregnant at the time of her interview. Coincidentally, or perhaps not, Cantelmi finally made the decision to hire her number two just as Sullivan completed maternity leave from her previous employer.
Cantelmi now had Sullivan by her side and Sullivan seldom left it. Inexperienced in municipal law, Sullivan shadowed Cantelmi nearly everywhere she went. Instead of one attorney at public commissioner meetings there were two, as there were now two attorneys sitting in salary board meetings, prison board meetings, work sessions and executive sessions. While the number of attorneys in the law department had doubled, the workload remained far from being divided in half.
Someone more experienced than Cantelmi in the managing of people may well have predicted what came next from her chosen protégé. Sullivan is intelligent but early in her career, still young and largely inexperienced yet unmistakably confident, outspoken, and ambitious. She is not the figure one would imagine as likely content sitting second fiddle in a small two-person law office, whose first chair was still a decade or more away from retirement.
Cantelmi waited nearly eight months for Sullivan to be available for work, then spent another five months getting her up to speed on county business, before Sullivan submitted her resignation at the beginning of this month. A private company Sullivan had interviewed with before being hired by the county contacted her with an offer of a more prestigious position and salary to match.
Commissioners Amadio and Egley were beyond frustrated, both recognizing deja vous all over again as Cantelmi began lining up another round of candidate attorneys. It was in some ways the opportunity each Commissioner had been waiting for; while they joined together to achieve a common purpose when signing Cantelmi's termination slip, they each had disparate motivations for doing so.
With complaints from county department heads and row officials about lengthy delays in paperwork, and the muddled opinions and questionable management of the law office itself, Commissioner Tony Amadio felt he had been publicly vindicated — he had known Andrea Cantelmi was no Bernie Rabik and in his mind everyone else could now see it too.
Commissioner Sandie Egley remained steadfast that ridding the county of Rabik was the right move, but had developed her own concerns involving Cantelmi. While Dan Camp saw the long-time attorney's experience in the county as an asset, Egley began to take a more critical view.
Egley reasoned that Cantelmi had been there as the problematic Friendship Ridge transaction took place, played a role in the acquisition of bank notes that were ultimately used to transfer debt effectively hiding budgetary shortfalls, was a public attorney during a time county employees and others were facing unmitigated abuse by out of control officials. Many of the legal problems Chief Solicitor Cantelmi was now dealing with involved issues that former Assistant Solicitor Cantelmi may have previously touched in one small way or another.
Although Assistant Solicitor Cantelmi was not then the top decision maker for the law department and may not always have had an entire picture of ongoing events, Egley began to doubt the advice Chief Solicitor Cantelmi was now providing; fairly or unfairly Egley continuously wondered if there were ever any unseen motivations afoot.
Chief among Egley's concerns was how the law department was handling the outstanding legal issues with Friendship Ridge, quietly ongoing legal problems involving the Department of Housing and Urban Development (HUD), and an unrestrained Sheriff's Office — all matters Egley had been wanting to deal with far more aggressively.
It was Human Resources Director Sidney Shaw who had to break the news to Cantelmi that she had been fired by Amadio and Egley. Shaw herself was astonished when first told the long-time County Solicitor was being let go, even attempting to reason with Egley that perhaps the matter might need a little more thought. Both Amadio and Egley were out of the courthouse as Shaw began to carry out her orders in formalizing the termination. Camp was conducting other county business, unaware of events that were transpiring around him. Cantelmi was in the building with one of her children to get a passport — Shaw backed away into a hallway to wait for an opportunity to speak with her alone.
Commissioner Camp is perceived by some officials in the county as being extremely protective of certain workers, including Cantelmi; Amadio and Egley were expecting him to react poorly to the news they had fired her.
Camp admittedly got angry.
Commissioner Egley did not answer her phone the first several times Commissioner Camp tried to call her, but eventually picked up, her voice shaking as she told him she did not want to speak to him while he was mad. Camp told Egley he was more upset about the "how" than the "what."
Camp later reminded Amadio of how he had been notified before, not after, then-Chief Solicitor Bernie Rabik was terminated.
Commissioner Camp is now convinced that Tony Amadio has been playing the two Republican Commissioners against each other for his own political gain and for the benefit of an old Democratic Party in future elections — having little to no regard for the effects his actions are having on the county. It is a notion flatly rejected by Amadio, but a feeling that has been shared by even some of his own closest political allies. Former Democratic Sheriff candidate Wayne Kress has repeatedly expressed his own frustrations about Amadio's seemingly unending deference toward Republican Sheriff Tony Guy during times the Republican Commissioners have attempted to rein in the Sheriff's Office.
Feeling ever more manipulated by Amadio following this week's events, Dan Camp has extended an olive branch to Egley, sending a text message inviting her to lunch — a small first step toward establishing a relationship that has failed to find a common footing since the beginning of their term.
In the meantime, the county is now left without a law department.
"Ask Bernie The Attorney" Rabik has suddenly reemerged from the shadows, contacting Commissioners in futile efforts to reprise his former role. While there are viable names floating about for a new Chief Solicitor, and perhaps more than one assistant, there are no plans in place. The firing of Andrea Cantelmi was a leap of faith — or a step into an abyss — for a county which has been watching stagnant puddles being stomped in by two new Commissioners who were elected on a promise of change.