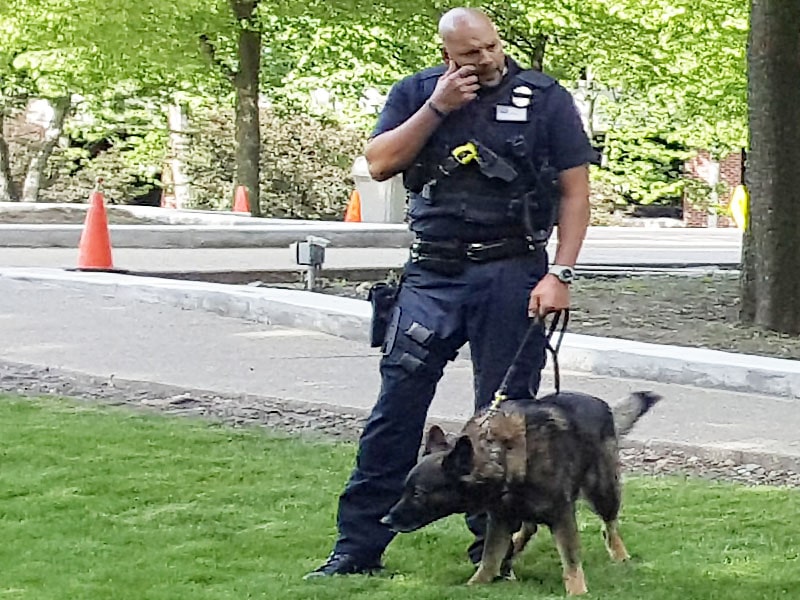 Beaver Borough Patrolman Jeffrey Wijnen-Riems and his K-9 partner Czar exhibited a lack of proper training and decision making during a controversial arrest from last year captured on police dash cam video, according to experts in the use of police dogs. The Beaver Countian spoke with experienced K-9 trainers not involved in the case, who believe a lack of competency effectively led to an excessive use of force against the suspect while placing the officer and his police dog at unnecessary risk.
Officer Wijnen-Riems testified during the trial of James Edward Cicco that following a brief, low-speed pursuit of the suspect in August of 2016, he deployed his K-9 to help him extract Cicco from his vehicle after the man allegedly resisted arrest and grabbed for a drill (charges dismissed by a judge in pretrial hearings).
According to Kyle Heyen, a court certified expert with more than 35 years of experience training K-9s, the problems with the traffic stop began even before Officer Wijnen-Riems made a decision to deploy a police dog to extract Cicco from his vehicle — something Heyen insists should not be done in any situation.
Heyen is a former law enforcement officer and founder of Detector Dogs International, a company that has trained dogs and their handlers for state and municipal law enforcement agencies across the country, as well as for the U.S. Department of State's Antiterrorism Assistance Program, U.S. Border Patrol, U.S. Immigration Inspections, and the U.S. Department of Defense.
"In all of my years of being a professional trainer, I have never trained a dog handler to use his animal to remove a suspect from a vehicle, because quite frankly, it's a stupid thing to do," said Heyen.
"If this is a normal traffic stop, you ask to see the man's license and registration," continued Heyen. "From an officer survival perspective, if you are on what you believe to be a high risk stop, you should be using the standards that have been in place since the 1970s that continue to be used today. You maintain your distance, you maintain your cover, you wait for backup if you can, and you get on your loud speaker. Driver, roll down your window, do it now. Driver, turn off your vehicle, do it now. Driver, drop your keys outside of your window… do it now."
Heyen said his review of the dash cam video showed Officer Wijnen-Riems did not follow any standard protocol he was aware of, but instead engaged in a series of actions that dramatically escalated the situation, putting everyone at the scene in greater danger.
( WATCH: Beaver Police Dash Cam Video Shows Officer Deploying K-9 During Arrest Of James Edward Cicco (Warning Graphic) )
"This officer didn't do any of the things we would expect," said Heyen. "You can see on the video he walked right up to the vehicle within seconds, opened the driver's door, and just started tugging on the suspect while he still had his seat belt on. Then the officer walked away, turning his back to a man who he alleges just tried to attack him with a drill, and goes to get his dog. Then you see him walking right back up to the door again and open it back up […] You can see the suspect has his hands up in the vehicle at this point, but the officer then sends his dog into that small enclosed environment where there is a man he claims has a weapon in the form of a drill. The officer is there at the vehicle grabbing at the suspect at the same time. What's the point of all of that? If the suspect turned out to have a gun what do you think could have happened to the animal and the officer?"
Michael Gould, who is also a court certified expert and a dog trainer with more than 30 years of experience, agreed that police dogs should not be used to extract a suspect from a vehicle. Rather than analyzing dash cam video of the arrest, Gould spoke to the Beaver Countian in broader terms of the proper use of dogs in law enforcement.
Gould was a founding member of the NYPD's canine unit, a United States Navy Law Enforcement Certified Instructor, and a Certified Canine Trainer and Examiner of Police Patrol Dogs for the New York State Bureau of Municipal Police. He started his own K-9 consulting firm after retiring from law enforcement as a command officer with the Nassau County Police Department. Gould was one of the first to deploy K-9 teams to Ground Zero following the September 11th terrorist attacks. He is also the founder of Hounds Town USA.
Michael Gould noted a practical problem with sending a police dog to a driver's side door.
"We don't send dogs to driver compartments of cars to extract suspects, we just don't do it," said Gould. "That's like using a hammer when you should be using a screwdriver, it is not only a bad decision it's patently absurd. You're ordering a suspect to get out of the vehicle, then you're placing a trained attack dog between the suspect and where you just ordered him to be. This makes compliance impossible, you just can't do that. You're putting the dog and the suspect in a lose-lose situation […] When human beings get bitten by a dog they are going to react, they are going to resist that, they're going to pull away from the dog, it is a natural physical response. Professional K-9 handlers are trained to know that. Expecting a person not to resist when their flesh is getting torn by a dog is absurd. It is patently absurd to send a dog in a vehicle because a man has a weapon. Even if the suspect had a gun in the car you're not going to send your K-9 there after him. This is a no-brainer."
Officer Wijnen-Riems testified during the trial that after his K-9 partner Czar latched onto James Cicco, it did not disengage from biting the man because he was continuing to move.
"As long as the suspect is moving, the dog is not going to release," Wijnen-Riems told the jury.
Officer Wijnen-Riems' testimony is contrary to well-established standards which require properly trained police dogs to disengage from a suspect immediately upon a verbal command by its handler, according to both Heyen and Gould.
Kyle Heyen said his review of the dash cam video shows the officer and his dog both have an incorrect understanding of how to disengage a suspect following deployment.
"What you're seeing on the video, the pulling at the dog's collar while he's biting the suspect, that is really only seen as a training technique used to help a new dog build its confidence, to build its bite," said Heyen. "This is something you do periodically in training to help maintain a dog's deep, full-mouth-pressure bite. But this is a technique that you never use on the street, and it is not a technique used to disengage a suspect for several important reasons. First is officer survival, you are now engaging directly with the suspect so why are you even bothering to use the dog? The officer should be stepping back 20 feet, ordering the dog from there, creating a buffer of space necessary for officer safety. Secondly, when you're using this as a technique to disengage, the dog isn't going to learn to let go it's going to learn to bite down even harder — you can actually see the dog doing this on the video. This leads to the third major problem, you're going to end up inflicting more serious injuries to the person being bitten."
"The act of physically removing a dog from a bite is contrary to every certification, a dog that does not disengage on verbal command is a dog that should not be on the streets," concluded Heyen.
Michael Gould agreed that well trained police dogs release on verbal command and if they fail to do so they are unfit for service as a bite dog.
"Properly trained police dogs respond to all verbal commands and that must include the command to release, the command to disengage," said Gould. "If the dog is not releasing on command then you do not have proper control of your dog, so you end up using excessive force against a suspect, by that I mean force which is no longer necessary to get the suspect to comply."
Kyle Heyen said another serious problem he saw while reviewing the dash cam video was the second deployment of the K-9 that occurred following Cicco being handcuffed by Officer Wijnen-Riems.
"The officer alleges that the suspect kicked the dog, which led the dog to engage," said Heyen. "I don't see that happening on this video but let's assume that it did. A dog will defend itself and a dog will defend its handler, that's perfectly ok, but a dog can not attack a suspect that has been secured into custody."
Heyen said several very basic techniques and protocols should have prevented the second unnecessary deployment from ever occurring.
"If the suspect did kick the dog that means the dog was within reach of the suspect," said Heyen. "That's an error by the handler. That dog should have been back in its patrol vehicle after the handler took the dog away physically the first time. If it is being kept out of the vehicle for some reason, a safe distance is to place the dog about 15 feet away from the suspect. You order the dog into a controlled position. Sit is not good, down is better, because it takes a fraction of a second longer for the dog to motivate, which gives the handler a fraction of a second longer to control the situation. This is the next major error by the handler. You can see he placed his dog behind him, having it to his back where he can't see what the dog is going to do. That's not how handlers are trained […] Now we are back to where we were before, with the dog biting the suspect and again refusing to properly disengage."
Michael Gould said that while some smaller police agencies continue to implement dogs trained in bite work, almost as something of a novelty, many larger departments with more established K-9 programs have actually been phasing out the tactic.
"Back thirty years ago when departments were putting dogs on their forces we were using them as a kind of voice activated tool to apprehend fleeing felons who were a danger to the public," said Gould. "But since then we have learned a lot and there have been a lot of advances in technology — the taser as one example — that are making the use of dogs to attack suspects less and less popular. A dog's real value is its nose and that is where we are focusing our training as an industry."
Kyle Heyen agreed, and said he is starting to see more small police agencies requesting detection-only dogs for their departments.
"There is an unwritten standard in the industry that for each discipline, 4 hours of maintenance training is required per week," said Heyen. "So if a dog is trained to do both detection and apprehension, that's a total of 8 hours of training per week, that's an entire shift for the handler — a big burden on a small department. Having a dog that does bite work takes things to another level from a continued training perspective, because now you need a second person who knows what they're doing to work 4 hours per week as an attack decoy for the handler […] For smaller departments none of this makes any sense."
Heyen said some communities he has seen attempt to take shortcuts around the 4 hour standard by gathering groups of K-9s from an area to train together.
"Each dog should have 4 hours of training work being done per week per discipline," said Heyen. "It should not be 15 dogs meeting together once a week for 4 hours."
The trial of James Edward Cicco ended in a mistrial this month, with the jury foreman telling the Beaver Countian he would never agree to find the defendant guilty of the charges remaining against him in light what he witnessed on the dash cam video. District Attorney David Lozier has told the press he will not likely seek a second trial in the case. Attorneys for Cicco have notified Beaver Borough of their intention to file a federal civil rights lawsuit as a result of the encounter.
District Attorney Lozier has said an investigation by the Pennsylvania State Police into the incident found no wrongdoing by Officer Jeffrey Wijnen-Riems. K-9 Czar remains on active duty. The Beaver Borough Police Department has not commented publicly about the incident.