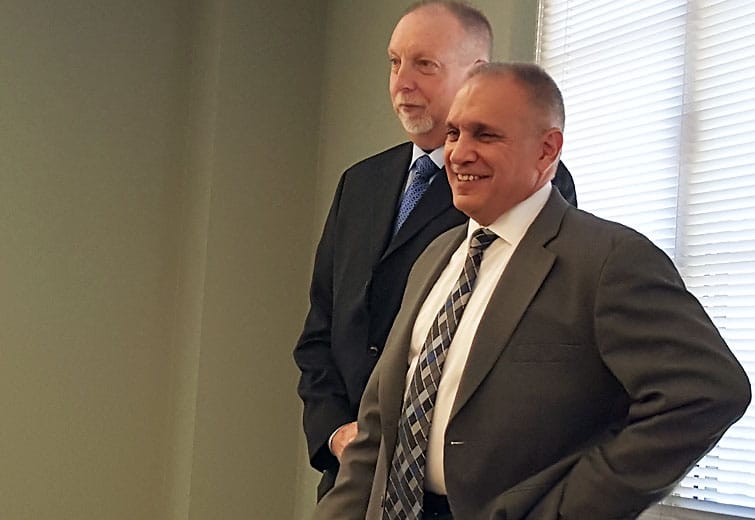 The Beaver County Board of Commissioners are working to find ways to reign in Sheriff Tony Guy after one of his off-duty deputies was injured over the weekend when ordered from his home to respond to a drug bust involving Hopewell and Aliquippa. Guy has worked to utilize his office's resources in the county's newly revamped war on drugs since becoming Sheriff, while County Commissioners say the important task of fighting the county's heroin epidemic is simply not a job that falls within the legal purview of the Sheriff's Office.
Leading Up To The Controversy
Sheriff Tony Guy attended work session meeting for the Board of Commissioners back on February 10th, where he raised concerns that proposed cuts to his budget may impact the Sheriff's Office ability to carry out certain services that it is providing to the public, primarily its work in assisting with narcotics investigations.
"Are we providing services that are optional? Yes we are," Sheriff Guy told the Commissioners. "But I also need you to understand that some of those services at this time, with the heroin and opioid epidemic that is going on this county, are not serving the citizens of Beaver County well if we retract those services […] I am taking my stance that these are legitimate services that we provide to all citizens of Beaver County. Although not essential, I think they are a legitimate function of county government."
The Commissioners raised concerns that the "optional services" the Sheriff's Office was engaging in were outside the legal mandate outlined by the Pennsylvania County Code, which defines the Sheriff's Office as an arm of the courts and not a policing agency. The County Solicitor warned Sheriff Guy of a court order set in place as a result of certain activities performed by former Sheriff George David that were contrary to state law.
"Sheriff, are you aware that there is a court order regulating what you can do by way of exercising optional services," asked then-Solicitor Bernie Rabik of Sheriff Tony Guy. "Judge Bozza issued a court order, I'll give you a copy of that later today, and it basically tells you what you can do in terms of providing optional services. Part of his reasoning was this: Individual municipalities have a police department. That police department is to function efficiently. That it is not the duty of the Sheriff's Department to provide police services to those individual communities."
Rabik stressed it is contrary to law for Sheriff's Deputies to be performing police services, a notion Sheriff Guy agreed with.
"Absolutely, absolutely 100%, that is not our function," Sheriff Guy told Commissioners. "We are not providing police services as much as we are providing assistance to those law enforcement agencies who have primary jurisdiction […] Municipalities don't have the ability to provide certain functions within the law enforcement field and we have that availability to provide that to them."
Sheriff Guy noted that the Board of Commissioners ultimately has final control of what "optional services" the Sheriff's Office provides, "You can not fund me and take away my ability to provide these services to those municipalities."
Removing funding from the Sheriff's Office to stop him from performing "optional services" was the precise decision the Board of Commissioners ultimately made, decreasing Sheriff Guy's final budgeted expenses by approximately $800,000 for 2016. Even with the reduction, the Sheriff's Office budget remains at approximately $3 million, or about $1 million more than other 4th class counties.
Sheriff Guy was warned that under the current court order, the county had the right to review logs of activities performed by the Sheriff's Office to ensure compliance.
The Accident
Approximately two and a half weeks after the Commissioners' work session, at approximately 11:40pm on Saturday, February 28th, a Hopewell Township Patrolman made a traffic stop in his jurisdiction, according to public documents obtained by the Beaver Countian. The Hopewell officer requested a Sheriff's Office K9 unit respond to his location, as the department does not have a K9 of their own. Deputy James Brown responded and his K9 subsequently alerted on the suspect's vehicle, leading to the seizure of a small amount of alleged narcotics. Hopewell Police made the decision to get a warrant for the suspect's house, with Deputy Brown then calling Sheriff's Chief Deputy Dean Michael to request two additional Deputies to help with the search. Deputy Michael approved the two additional units and Sheriff Guy was notified.
Deputies Mike Matzie and Kristen Chapes, who were both off-duty at the time, were each called at home and directed to respond to Aliquippa to assist with the drug bust. As of approximately 2:30am, the Sheriff's Office now had a total of four Deputies on duty.
En route from his home in Ambridge to Aliquippa, Deputy Matzie crashed into a barrier while swerving to miss an individual who was attempting to flag him down in relation to another motor vehicle accident which had occurred a short time before. Sources tell the Beaver Countian that Matzie suffered an injured wrist and contusions as a result of the crash and his patrol unit sustained damage.
The Fallout
The Beaver County Board of Commissioners held a meeting with Sheriff Tony Guy today, reiterating their position that the "optional services" he was attempting to have his Deputies perform were contrary to Pennsylvania law and a judge's injunction against the Beaver County Sheriff's Office. They also stressed that he needed to begin limiting the services provided by the Sheriff's Office so that he can stay within his newly reduced budget.
Figures obtained by the Beaver Countian show that as of the end of February, Sheriff Guy had already spent approximately $26,000 of the $80,000 overtime budget he has been allotted for the entire year.
"There's no doubt Sheriff Guy has a difficult task running his office," Commissioner Dan Camp told the Beaver Countian. "I think he can best serve the taxpayers by sticking to his duties as defined under Pennsylvania law and leaving the police work to police."
It was a sentiment shared by fellow Commissioner Sandie Egley. "This is really simple, I want Tony Guy to do his job, and only his job, as defined by Pennsylvania County Code. I will do my job as Commissioner, Dan will do his job as Commissioner, and Tony Guy will do his job as the Sheriff […] He is not a State Trooper anymore, he needs to realize that. That's it, really simple."
County Solicitor Andrea Cantelmi said she is preparing to take legal action if ultimately authorized by the Board of Commissioners.
"This is an issue that has been going on for a long, long, time… since George David was Sheriff," said Cantelmi. "The Sheriff's Office has lost this issue at every turn. They're not police officers, they're not sheriffs like we think of them in other states; they are sheriffs in Pennsylvania which is an entirely different thing […] The Sheriff Office's defined duties in Pennsylvania are to transport prisoners, serve warrants and civil papers, have some involvement in the tax sales process, and to guard the courtrooms."
Solicitor Cantelmi said she shares in the Board of Commissioners' concerns about the Beaver County Sheriff's Office involving itself in narcotics work. "In situations where they are patrolling, or they are getting involved in drug work with their dogs and things like that, they are acting contrary to an existing court order," Cantelmi told the Beaver Countian, citing the same injunction issued by Judge Bozza that was discussed at the Commissioners' February 10th work session. "The county will take whatever steps are necessary to ensure compliance with that order and with state law."
While the Board of Commissioners is weighing their options on how best to stop Sheriff Tony Guy from involving his office in narcotics work, Beaver County District Attorney David Lozier is working on ways to more fully integrate the Sheriff's Office with his newly expanded County Drug Task Force.
"I am working through the County Controller's Office to establish a fund so that when we use a Sheriff's Office K9 for narcotics work it is paid for with [County Drug Taskforce monies] and not out of Sheriff Guy's budget," District Attorney Lozier told the Beaver Countian.
Lozier went on to say that he has "absolutely no problem" with the Sheriff's Office serving a supportive role in narcotics investigations initiated by municipal police departments, and that he believes it is entirely legal for them to do so under "mutual aid" provisions of Pennsylvania law.
Beaver County Sheriff Tony Guy declined to comment for this report, saying, "I'm concerned that any discussion we have would be taken out of context or misused to paint an inaccurate picture."
Sheriff Tony Guy has previously met with other elected officials, including Commissioners Camp and Egley, attempting to convince them to cease all communications with the Beaver Countian by repeating his assertions that reporting by this publication about his candidacy before last year's general election was comprised of untruths.