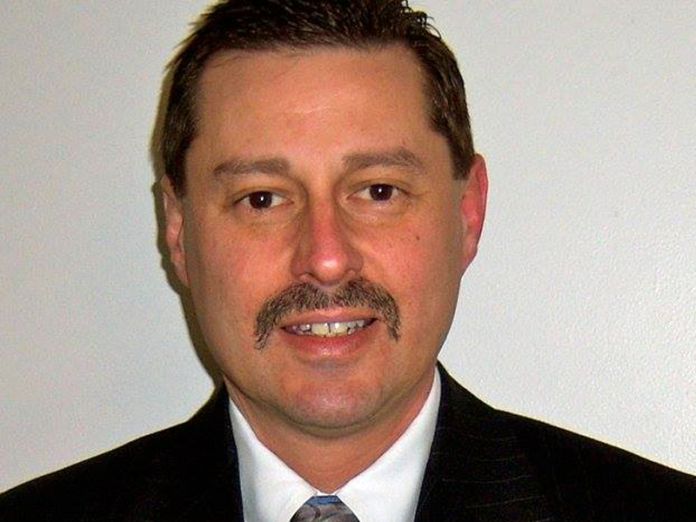 The race for Hopewell Township Commissioner has heated up on social media after an attorney who is running for office posted what he believed to be the home address of one of his detractors to a Facebook group. The family who actually lives at the address says the attorney got the wrong man and are irate they have now been dragged into a social media flame war.
Attorney Mark Galzerano is running for Hopewell Commissioner as part of a Republican ticket along with Tyler Pajak and Robert Tournay. They will be facing off this November against Democrats Rich Bufalini, David Scooch Ciccone, and Joe Kusnir.
Galzerano had been posting to the Facebook group Hopewell Township Connect (Beaver County, PA.), where he was promoting his own competing Facebook group, Hopewell Township, Beaver County, PA. Galzerano was banned after posting a comment calling one of the group's moderators an "asshat."
After being blocked from the other group, Mark Galzerano made a post to his own group at 2:30 a.m., listing people who he alleged had been insulting his candidacy. He accused one of the individuals of defamation and published what he believed to be the man's home address:
"In the early hours of this morning, several Members of the Group 'Hopewell Connect', including Jay Eric, Christopher Thomas, Ryan Douglas Martin, Holly Agesti-Rhodes, J.W. McLaughlin, Kathleen Evanochko, Joanna Haskins, Barry N. Felix and others unnamed, have been using their page to try to bash me as a Candidate for Hopewell Township Commissioner. Christopher Thomas, of [home address redacted by the Beaver Countian], I believe, actually DEFAMED me. If you are friends with them, or if you are really my friend, I would appreciate if you would please eliminate them from your friend list. Thanks. Mark Galzerano."
Several of the individuals listed by Galzerano had publicly denied having posted anything about the candidate. The home address that attorney Galzerano posted to Facebook was the address of a man named "Chris Thomas," but not the same Christopher Thomas who had made posts about him on the social media platform.
Christopher Thomas told the Beaver Countian that he had posted a screenshot of Galzerano calling the moderator an "asshat" after the original post had been deleted, and was dismayed to see the attorney react by posting what the candidate thought to be his home address.
"That's not my address," said Thomas during a phone interview. "When I saw the post I said wow, he picked the wrong house, he guessed and he guessed wrong. I feel bad for the person who got dragged into it […] I don't know what he was trying to accomplish. I think he was trying to make himself feel good that he could go after me, but he really stepped in it now and lot of people are angry with him being that petty […] This guy is running for public office, if he can't handle Facebook criticism what's going to happen if he gets elected? He's defaming himself as far as I'm concerned."
The wife of the misidentified "Chris Thomas," whose home address was erroneously posted by attorney Galzerano, later began making posts of her own to the Facebook group, irate that Galzerano had posted the address of her family when they had nothing to do with the situation.
"Talk about defamation of character! The Christopher Thomas at [home address redacted by the Beaver Countian] is not this one," wrote Carla Thomas. "I insist that my address be removed from this immediately! Signed the really ticked off wife of Chris Thomas!"
The Beaver Countian also spoke to Carla and Chris Thomas on the phone, who both said they were disappointed by Galzerano's actions.
"I don't even go onto Facebook," said Chris Thomas. "I have a page but I haven't been on in 6 months, and I haven't posted on anybody's site regarding Mark — I'm a little unhappy he didn't do a little bit of research. That just shows him as being incompetent."
Carla Thomas said Galzerano's post caused her concern for her family, "We have kids and my address is posted all over Facebook and there are crazy people out there […] I don't appreciate what he did. I am not in the political world and I don't want to be in the political world."
After being banned from the Facebook group, Galzerano began encouraging his friends to spy on the discussions for him, "I need one of my friends to get on Hopewell Township Connect and tell me what they are doing to bash me. Now Please."
Galzerano has made other posts to Facebook that have raised eyebrows, including what he described as a "satirical" post comprised of fake quotes he made up of his political opponents speaking highly of him. In another post, the attorney offered prizes to the first 5 people who reposted the phrase, "Mark Galzerano is Awesome."
It is unclear if the candidate's various Facebook antics may be part of a deliberate campaign strategy — Galzerano earlier this month directed his followers to watch a show about how Donald Trump was able to use social media to help catapult himself into the White House.
Attorney Mark Galzerano did not return a voicemail message left by the Beaver Countian at a phone number published on his Facebook page.
Update 11:00 PM: Mark Galzerano sent a text message to the Beaver Countian at 10:31 p.m., saying he had just received the message left at "[his] office." The Beaver Countian called Mr. Galzerano, noting that the text message from him had originated from the same number to which the voicemail message seeking comment was left. When asked, Galzerano responded that his "cellphone hasn't been working too well today." When given the opportunity to speak about the matter, he declined comment, saying, "I will talk to you about it later."
Update 11:37 PM: Mark Galzerano has sent the Beaver Countian the following response: "I apologize for my error in judgement and particularly to the innocent people who were affected by this."
---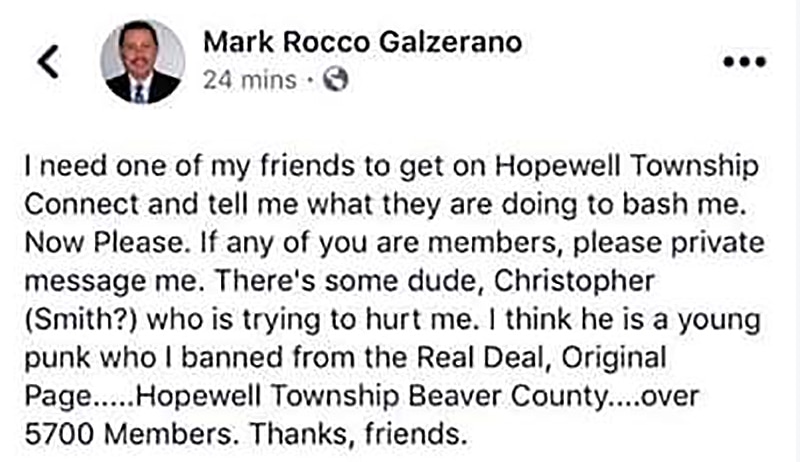 ---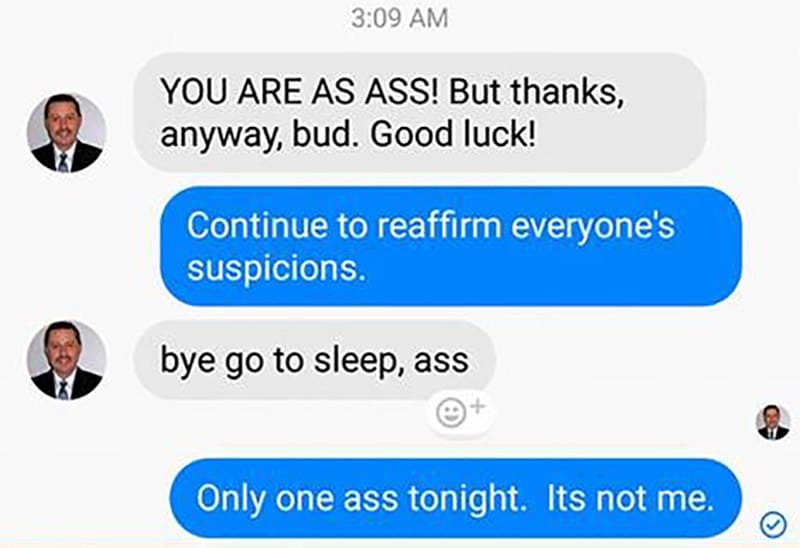 ---