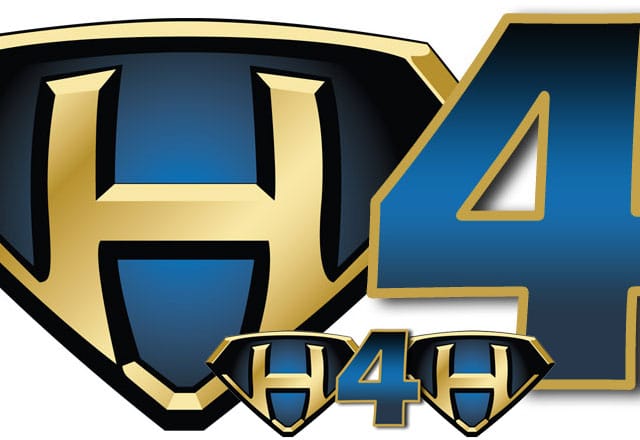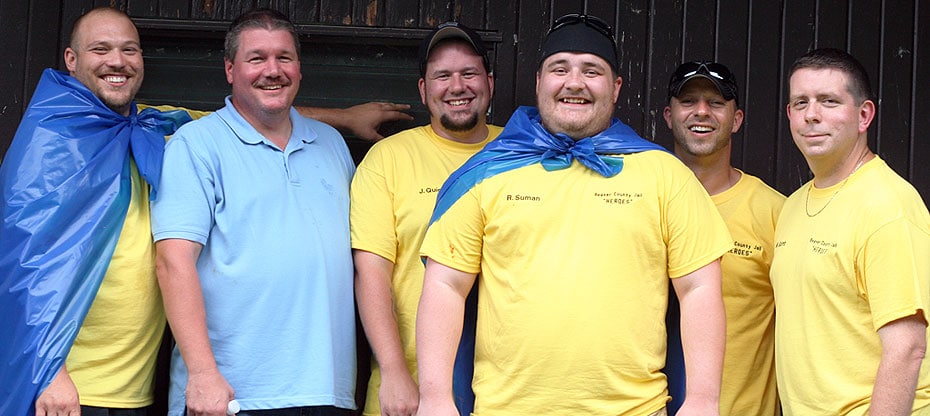 Sixteen teams comprised of law enforcement and emergency services personnel met at a sweltering hot Brady's Run Lodge tonight for the first annual Heroes4Heroes Pizza Eating Championship. The fundraising event brought in over $5,000 for the Heroes Program which provides financial, educational, and emotional support to terminally ill children and their families.
The two division tournament pitted the Police & Law teams against the Fire & Corrections teams, who faced off against each other after 3 rounds of division championship eat-offs. All of the pizza for the competition was donated by Pizza Joes, with the company's founder "Mr. Pizza Joe" Seminara on hand to help cook up the pies.
Beaver proved they could eat more than just cake as they devoured enough pizza to become the Police & Law Division champions. The Beaver County Jail Guards, aided by matching uniforms which included yellow shirts and blue capes, easily took the championship spot for the Fire & Corrections Division.
Beaver County District Attorney Anthony Berosh said he was disappointed his team got eliminated in the first round, but already began making plans for next year's competition. "Next year I'm going to get some interns on my team. I'll have to update my interview process for them. What? No, I don't care about your grades, I want to know how much pizza you can eat" he joked.
The Beaver County Jail Guard Team, made up of Mike Glomb, Jed Quigley, Brandon Delon, Ricky Suman, and Mario Monac, were favorites to win from the beginning. Their performance didn't disappoint, at times finishing up their pie over twice as fast as the competition to take home the title of Pizza Eating Champs.
The Competition:
Round 1: Teams competed in head to head challenge – First to finish 16 slice pizza advanced.
10 Minute Break
Round 2: First to finish 12 slice pizza advanced.
5 Minute Break
Round 3 Semi-Finals: First to finish 8 slice pizza advanced. Winner of each division was announced.
10 Minute Break
Round 4 Championship: First team to finish 6 slice pizza.
About The Hero Program:
Established in 2009, The HERO Program was developed by Steve Wetzel, after watching a student battle cancer and desiring to do more to help him. The organization currently supports seven families and nine children through providing basic needs and services such as, but not limited to, financial assistance, vehicles, medical hospital beds, mortgage/rent payments, gas, and food. Currently, there are 34 children on the waiting list for sponsorship in the HERO Program.
[nggallery id=34]
[divider /]
Heroes 4 Heroes Pizza Eating Championship Bracket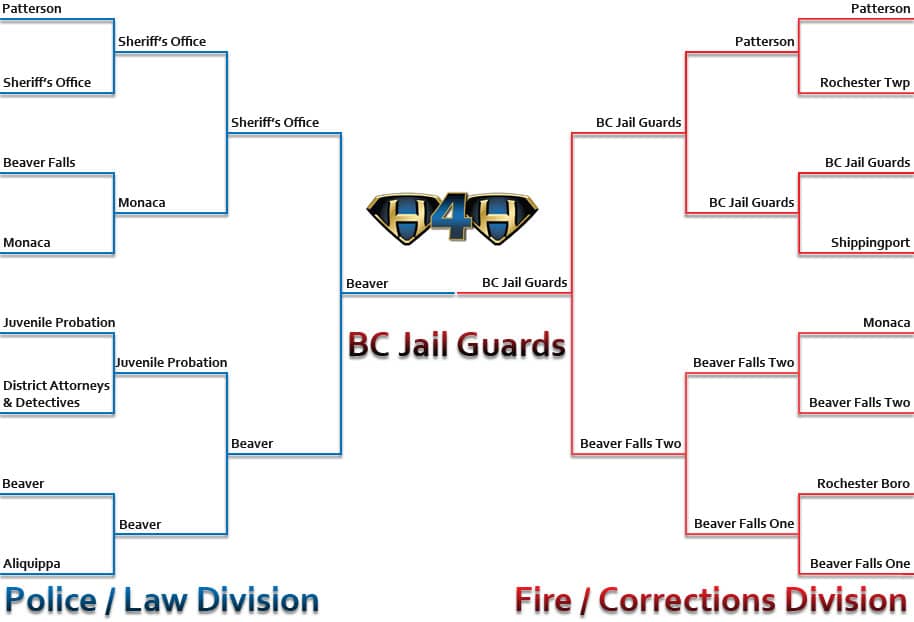 [divider /]
Official Pizza Eating Team Rosters
(As listed during registration.)
[two] Aliquippa Police:
Eric Mcphilomy
Doug Edgell
Steve Roberts
Don Lane
Austin Lane
Beaver County DAs & Detectives:
Timmie Patrick
Kevin Kindred
Chad Parks
Robert Chamberalin
Beaver County Juvenile:
Billie Eaton
Marshal Clark
Charles Rossi
Damon Neal
Beaver County Sheriff's Office:
Allan Shaffer
Mike Matzie
John Bialik
Beaver Falls Police:
Jeff Lansberry
Jim Cipriani
Beaver Police:
Jame Degori
Jeff Wijnen-Riems
Rob Turyan
Paul Clark
Monaca Police:
Josh Himes
John Antoline
Patterson Twp. Police Department:
Joseph Sharpless
Nick Bathgate
Keith Girting
Aliquippa Bureau of Fire:
Joseph Trone
J.T. Pennington
David Foringer
Beaver County Jail:
Mike Glomb
Jed Quigley
Brandon Delon
Ricky Suman
Mario Monac
Beaver Falls Fire Department (Team 1):
Chief Mark Stowe
Firefighter Chris Crawford
Bruce Minamyer
Beaver Falls Fire Department (Team 2):
Scott Evans
Chris Reed
Derek Lang
Nic Marcinko
Monaca Station 57 VFD:
Michael Siegel
Mathew Wilkins
Jeff Hubert
Frank Matteo
William Shiring
Aaron Smith
Patterson Twp Fire Department:
Phil Graser
Dillion
Rochester Borough Fire Department:
Chris Davids
Brian Mortimer
Rochester Twp Fire Department:
Tony Marchitelli
Lea Siget
Nick Kurtz
Brandon Dishler
Grant White
Shippingport Volunteer Fire Company:
Timothy Goughnour
Nathon
Dad
Photographs by John Paul