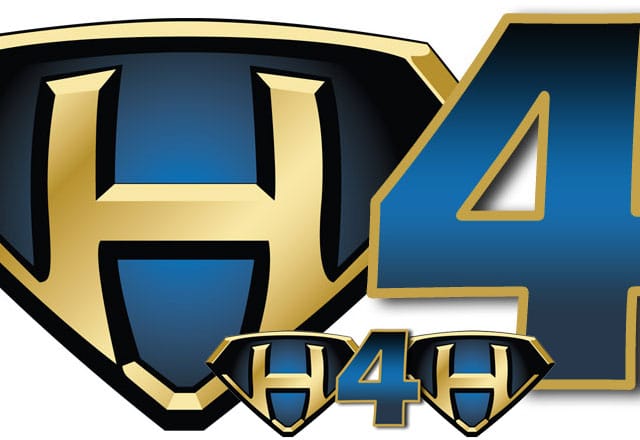 The Internal Revenue Service has revoked the nonprofit status of "The Hero Program," a charitable organization in Beaver County dedicated to raising money for the families of significantly ill children.
The Hero Program was founded in 2009 by Steven Wetzel, the former varsity baseball coach for Freedom High School. Wetzel started the nonprofit in memory of John Challis, a player on his team who tragically died from cancer at the young age of 18. The organization sought to raise funds to provide for the everyday practicalities of families with ill children — Vehicle donations and gas cards so parents could get back and forth from hospitals, medical furniture to make children as comfortable as possible at home, holiday photo-shoots to capture memories for a time when that is all which remains.
A trendy website, accompanied by heart-wrenching photos and videos of terminally ill children with their desperate parents, demanded a call to action from the community. The good people of Beaver County responded en masse.
Dozens of police officers and firemen answered Wetzel's pleas, holding pizza eating competitions and other events to bankroll his worthy cause. Police officers from Aliquippa, Beaver, Beaver Falls, Bridgewater, and Patterson police departments, along with the Beaver County Detectives, Assistant District Attorneys, Juvenile Probation Officers, Sheriff's Deputies, and Beaver County Jail Guards, all raised money for the Hero Program. So did firemen from Aliquippa, Beaver Falls, Monaca, Patterson, East Rochester, Rochester, and Shippingport.
"We are honored to have these local heroes who risk their lives for us daily come along side these children whose lives are also at risk every day," Wetzel told the Beaver Countian in an interview back in 2011. The organization's name stood just as much for those who helped to raise funds, as for the struggling children who so critically needed them.
The plights of children the Hero Program raised money for were detailed publicly on social media, the heartbreaking last moments of young lives tweeted for the world to see and respond to.
While local emergency services personnel were Wetzel's first responders, they were soon joined by organizations like the Penguins, Pirates, and the Steelers, along with large corporations like PNC Bank and Giant Eagle.
Golf outings, poker tournaments, marathons, and charity meal nights at local restaurants soon followed.
Among the Hero Program's biggest cheerleaders was State Representative Jim Christiana. "There's a family that I lived close to that I knew in Beaver for a while," Christiana told the Beaver Countian. "The Hero Program had helped their daughter and grandchild some, that's how I first became introduced to the organization."
Christiana acted as M.C. at a pizza eating competition, ran in the marathons, played cards in the tournaments, served as a charity bartender, and helped at the Christmas drives. His name helped to add credibility to Wetzel and Canavesi's fundraising efforts. "I was a proud participant," said Christiana, "but it's important to note that I never sat on their board, and had nothing to do with running the charity."
What many didn't realize about the organization, was that the Hero Program wasn't a nonprofit of its own. Steve Wetzel had started the effort as a subsidiary of a Brighton Township based nonprofit called "The Frontline Initiative." That organization, also established in 2009, was founded by Wetzel's good friend Brooks Canavesi. The two had been close for years, both graduating from Blackhawk High School and Penn State University.
Then a full-time Financial Advisor with his family-based team, The Canavesi / York Group in Beaver, Brooks was the logical choice to handle the business aspects of the nonprofits. It was Brooks Canavesi who established the legal entity, and it was Canavesi who filed the appropriate paperwork with the IRS which entitled them to collect funds as a public charity.
Like Wetzel, Brooks Canavesi received great attention and accolades for his philanthropic efforts. In 2011, he was nominated for the prestigious Jefferson Award for charitable work and leadership within the community, and just last year he was named a grant recipient of the Bill & Melinda Gates Foundation.
Along with the Hero Program, the Frontline Initiative is also the umbrella organization for "Poison Free," Canavesi's program to build self-esteem in young people facing substance abuse problems. That organization was named not-for-profit Business of the Year in 2009 by the Beaver County Chamber of Commerce.
While it is clear Wetzel and Canavesi have been able to raise considerable funds from the community, what turns out to be far more difficult to discern is where all of that money is going.
After receiving an anonymous tip in April of last year from an individual claiming to be a concerned family member of a child supported by the Hero Program, the Beaver Countian began to investigate the organization's finances. Information about the organization's spending on needy children proved to be sparse.
Public nonprofits are required by law to submit annual reports to the IRS detailing the contributions they received and their spending. An examination of the Frontline Initiative's initial filing from 2009 showed they raised a total of $56,097 for the year.
Steven Wetzel did not answer specific questions about his organization's finances, but did engage in a vague exchange with the Beaver Countian via email. "We are group of caring loving people that help terminally ill children as volunteers," he wrote. "Just want to help kids that's it."
But the 2009 filing by Frontline Initiative shows it paid out salaries of $5,000 to Steven Wetzel that year to serve as the group's Treasurer, and $11,270 to Brooks Canavesi to serve as its Executive Director. Roughly 30% of the total contributions their organization received its first year of operation went into their own pockets.
Frontline Initiative also declared $26,886 in "professional fees and other payments to independent contractors" in 2009. While that line item is designed to disclose overhead expenditures nonprofits make on items like accounting, auditing, attorney fees, and fundraising services for its organization, Wetzel insisted it reflected monies that went to the children it sponsors. "That's rent, food, medical bills, gas to get to the hospital, their car repairs, home repairs, gas, electric, clothes, treatments that they need, medical equipment etc," wrote Wetzel.
Only $1,400 was listed in Frontline Initiative's 2009 return as going directly to grants and program services "for the benefit of sick children as they progress through their medical process."
The organization finished its first year of operation with just $3,361 remaining in the bank.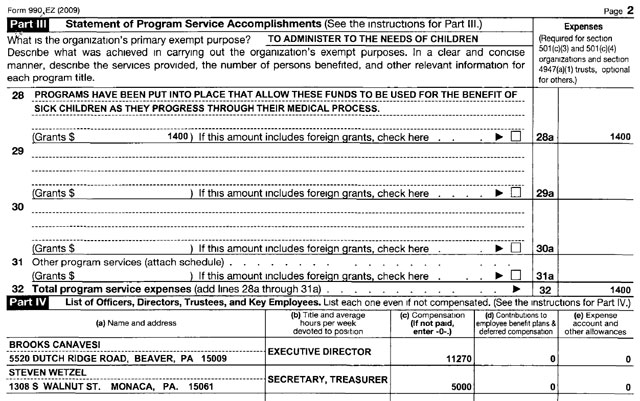 Following an exchange with the Beaver Countian via Twitter last May, Steven Wetzel said that things had "gotten better" since their initial report, and promised to forward along the organization's filings from 2010, 2011, and 2012. Wetzel later deleted his messages on Twitter and changed the name of his account… the financial reports never came.
Exactly how much the Frontline Intitiative has raised since 2009, how much Canavesi and Wetzel have been paid by their organization over the years, and how much the nonprofit has actually given to terminally ill children, all still remain a mystery. The IRS reports the initial filing in 2009 was the last year they received a return from the nonprofit, and that the organization had subsequently failed to file any of its mandated financial statements with the federal government.
In May of last year, the IRS finally revoked Frontline Initiative's nonprofit status (and the Hero Program's along with it) for failure to comply with their filing mandates for 3 consecutive years. GuideStar, an organization which tracks nonprofits nationwide, now lists the Frontline Initiative as an organization of which "Further investigation and due diligence is warranted."
A call made to the IRS today confirmed Frontline Initiative (and the Hero Program) were still categorized as a revoked nonprofit, there is still no record of any returns since 2009. The organization has not been legally permitted to accept tax deductible donations for months.
Even with their nonprofit status revoked for the past 9 months, the fundraising efforts of Steve Wetzel and Brooks Canavesi have been unwavering. They had an event this past weekend at Bocktown in Monaca, and their 5th Annual Charity Poker Tournament and Sports Memorabilia Auction is scheduled for March at The Club at Shadow Lakes. That tournament requires donations of $500 to The Hero Program to participate.
"I did not know that they had not been filing their statements," Representative Christiana told the Beaver Countian. "I am very disappointed. Clearly, some questions need to be answered as related to the last few years of their operation. They need to disclose their revenues and expenses. The families of the ill children and donors who gave to them need an explanation." Christiana added that he hoped Frontline Initiative and the Hero Program would now file the missing reports with the IRS.
Mel Mikulich of Monaca, who acts as the accountant for Frontline Initiative and the Hero Program, insists that the organization has filed all of the appropriate returns with the Internal Revenue Service for the past four years. "Those returns were filed, they were filed on time, and they were sent to the right address," Mikulich told the Beaver Countian when reached by phone. "We got a letter in August stating there was a revocation […] that was just about the time the IRS was running roughshod with every nonprofit that ever existed. Why they don't have the files I do not know."
When asked why the missing returns, which spanned 3 years, weren't simply refiled when Frontline Initiative learned about the problems last August, Mikulich said he was afraid of confusing the IRS. "If the IRS can convince me that they don't have them, then we'll refile them. If we sent them a second one now we'd blow up their computer system, that's just the way it works."
When the Beaver Countian once again requested its own copies of the returns this week, which are a matter of public record because the organization is a charity, Mikulich said professional standards forbid him as an accountant from releasing them. Steven Wetzel sent the Beaver Countian an email a short time later, saying if he received a written and signed request mailed to his post office box, he would mail back a copy of the returns. When asked if the records could simply be sent via email or fax to avoid lengthy delays, Wetzel once again stressed his organization was run by volunteers, and that he could not fulfill any requests on short notice.
Steven Wetzel will be honored as a "Hometown Hero" by KDKA for his administration of the Hero Program at an event hosted by Larry Richert on March 6th at the Lexus Club at PNC Park.
A message left this week for Brooks Canavesi at a number listed on the Frontline Initiative's website was not returned. The Beaver Countian will mail a signed request for financial records through the US Postal Service to Steven Wetzel's post office box this week.
"We will continue to help terminally ill children and their families," concluded Wetzel.
View Frontline Initiative's Complete 2009 Return Here
Update 1/22/2014 @ 4:20am Frontline Initiative Inc. released a summary 2013 Profit & Loss statement for The Hero Program late last night in response to this report. Returns have not been posted for the missing years as of the time of this update. The summary P&L was accompanied by the following statement made by the organization, "2012 and 2013 are the first two years that Hero Program has operated by itself under the Frontline Initiative. In previous years the Hero Program operated in conjunction with Poison Free which had employees and operated as a training and community development organization."