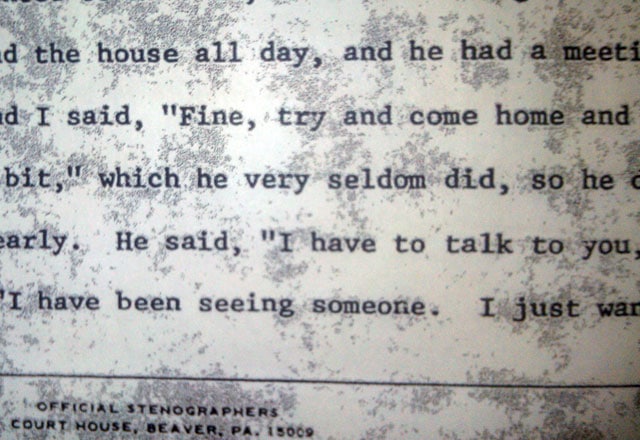 Transcripts of an April 19 1979 divorce proceeding initiated by the first wife of Gregory Scott Hopkins, detailed a troubled marriage marred by infidelity.
Bridgewater Councilman Gregory Hopkins was recently charged by Beaver County Detectives and the Pennsylvania State Police with Criminal Homicide in the murder of Catherine Walsh, which allegedly occurred in September of 1979 — Just months after this divorce proceeding took place.
The hearing was held in Beaver County before Anthony Berosh, who was serving as a Master (a court judicial officer) at the time. Berosh is now Beaver County's District Attorney, overseeing the criminal prosecution of Gregory Hopkins.
At the time of their separation, the couple had been married for 11 years, and had three children together.
Gregory Hopkins was not present for the hearing, although court documents indicate he had been properly notified of the proceeding. During questioning, his wife described their trouble relationship.
She testified problems began just a couple of years into their marriage. "He would be gone a lot; he would go out after dinner and play pool with the guys and come home like two or three in the morning, but, you know, that wasn't anything major at the time" she said.
But according to her, those problems grew more pronounced as time passed.
"When I was in labor with my first child, he left to go on an appointment and left me at home with my mother, who doesn't drive, and said if anything develops to call the police and they would take me to the hospital" she testified, describing Gregory as having "a total lack of consideration and caring of what happened to me."
She told Berosh this lack of consideration and respect continued through their marriage. "Then we would go to parties, and he would totally ignore me. He would pay attention to everyone else and fool around with them like I wasn't there; and through the years, it got more pronounced" she said at the hearing. "I was highly embarrassed that I was left alone sitting and he would be getting up and dancing and I would be sitting there by myself."
The woman said that in April of 1977 she learned she was expecting another child "I found out I was pregnant with my third child, and that just seemed to blow the whole thing apart. He couldn't deal with the fact of having three, let alone having two."
She testified it was in July of that same year, when she learned of her husband's affair "Then it came out in the open, how he was seeing someone else, and how this came about, we were having an Open House at our home for all his business colleagues in the real estate field and bankers and attorneys, and we worked for days getting everything ready for it […] I didn't particularly want to have this because I couldn't see any reason, but he said no, he wanted to have it, so I am working industriously around the house all day, and he had a meeting that night, and I said, "Fine, try and come home and help a little bit," which he very seldom did, so he did, he came home early."
But, according to her, Gregory hadn't come home early that day to help out around the house.
"He said, "I have to talk to you," and he says, "I have been seeing someone. I just wanted you to know because her husband found out and he said he is coming to the party tomorrow and telling you about it in front of everyone here – he is also in the real estate field," and it was awful; I don't know how I got through that party the next day. I stayed, and every time you would walk in the room, I felt everybody was talking about it. It was awful. At the time, I was about five or six months pregnant. It was terrible."
The woman said she tried to make the relationship work after that, including counseling, but things continued to get worse.
"He still continued to go out, and a few times she would come to the house when I wasn't there, and my child at the time was five, and when I would get home, he would say she stopped by — my son had said she stopped at the house to visit; he was five. They would run into her at different places, my husband and my son" she testified.
"Another time, a different person, I was stopped at a place to have lunch coming home from the obstetrician, and my husband and another girl pulled in at the same place for lunch, and I was totally embarrassed" she continued.
The couple separated in June of 1978 — Their divorce was finalized in June of 1980.
Gregory Scott Hopkins is currently being held in the Beaver County Jail — His defense attorney has stated his client does not wish to speak with reporters. Attempts to reach his first wife were unsuccessful.
Note: The Beaver Countian has chosen not to identify Hopkins' first ex-wife by name in this reporting.