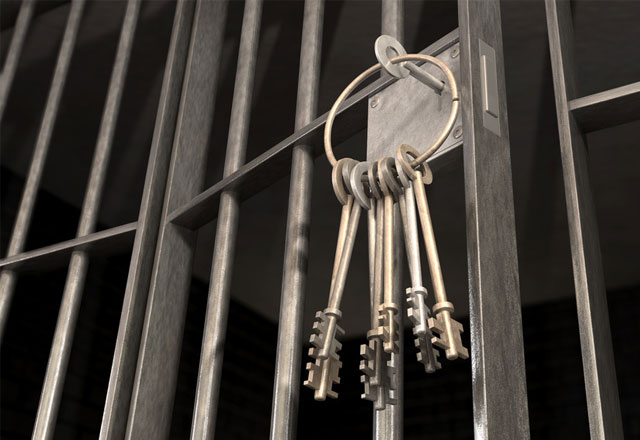 A criminal defense attorney is alleging that his wife, who is currently an inmate in the Beaver County Jail, is being retaliated against because he raised serious questions about the propriety of the facility while representing a man who is facing the death penalty. Now sources say the attorney has told a judge he intends to resign from the case.
Gerald Benyo is one of two defense attorneys representing Beau Chermer. Prosecutors are seeking the death penalty against Chermer, and his stepbrother Joseph Arlott, who they say tortured eighty-two year old Daniel Joseph Santia of Hopewell Township during a robbery in April 2012. Santia died three weeks following the attack. Beaver County President Judge John McBride declared a mistrial last week in the capital murder trial for the two men, after determining a county detective in the case had provided false testimony while on the stand. A retrial has been scheduled for March 24th.
Courthouse sources told the Beaver Countian of a previously undisclosed controversy that began on January 27th as jury selection was underway for the capital murder trial. While defendants Chermer and Arlott were in the courtroom, a guard at the Beaver County Jail searched the cells of the two inmates and seized several items. The correctional officer who searched the cells is said to be Sergeant Pete Cipolla, who is related to an officer with the Hopewell Township Police Department which brought charges against the two men; some of the items that were in the inmates' cells are described as "privileged communications" between the defendants and their attorneys.
On January 28th, attorney Gerald Benyo raised the issue to Judge McBride on behalf of Beau Chermer. Judge McBride subsequently ordered the District Attorney's Office to contact the jail and have the matter investigated. In response, District Attorney Tony Berosh made arrangements for the defense attorneys to view items seized from their clients' cells.
It was just hours after attorney Benyo raised the issue about the jail with Judge McBride that the alleged retaliation against his wife began.
Sharon Benyo has been incarcerated in the Beaver County Jail since being convicted of a drunk driving charge from last September. Guards at the facility describe the woman as an inmate who had received no disciplinary actions against her, and who was successfully participating in the facility's work release program.
As Sharon Benyo was preparing to leave the jail for work on the afternoon of January 28th, the same day her husband raised concerns about the search of his client's cell, she was stopped by a correctional officer for carrying papers from other inmates who were hoping to apply for a job at Burger King. Sources say Lieutenant Matthews, who oversees the work release program, determined Benyo may have broken an unspecified rule governing inmates and ordered she be placed on lockdown in her cell for one day. But guards at the facility tell the Beaver Countian that Deputy Warden Carol Steele overruled the Lieutenant's directive, ordering Sharon Benyo be thrown into solitary confinement instead. Lieutenant Matthews objected to the move.
Judge McBride, who was unaware of the issues surrounding Benyo, later directed Deputy Warden Carol Steele to appear before him on January 30th to further address the matter of Chermer and Arlott's cells being searched and to discuss the possible disclosure of privileged communications.
According to several guards at the facility, it was after Deputy Warden Steele returned to the jail from the courthouse that formal action was taken against Sharon Benyo. Benyo was kicked out of her work release program and ordered to remain in restrictive housing, where she has remained under 23 hour lockdown in solitary confinement. Benyo was ordered to be housed in solitary confinement for at least 30 days, and officials tell the Beaver Countian that she will likely lose her time off for good behavior as a result. While Benyo may have been eligible for release as soon as the end of this month, she now faces the possibility of remaining in jail through August.
Several guards at the jail say Sharon Benyo was never provided with a list of the specific rules she was alleged to have broken, and they say Deputy Warden Steele ordered the punishment before a hearing was held in the matter.
"I have never seen an inmate punished in this way, ever," said one guard, who spoke on condition they not be quoted by name because they were not authorized to speak to the press. "This entire thing was blown out of proportion by Carol [Steele]."
Sources tell the Beaver Countian that at least one jail guard has spoken to members of the Beaver County Prison Board expressing concerns about Sharon Benyo's treatment at the facility. Warden Bill Schouppe was also discussing the matter with county officials today.
Other courthouse sources tell the Beaver Countian that Defense Attorney Gerald Benyo has given a letter of resignation to President Judge McBride, saying he can no longer represent Beau Chermer because the alleged retaliatory actions being taken against his wife are creating a conflict of interest for him.
Gerald Benyo declined to provide comment for this article, citing an informal gag order put in place by Judge McBride. Deputy Warden Carol Steele could not be reached in time for publication.