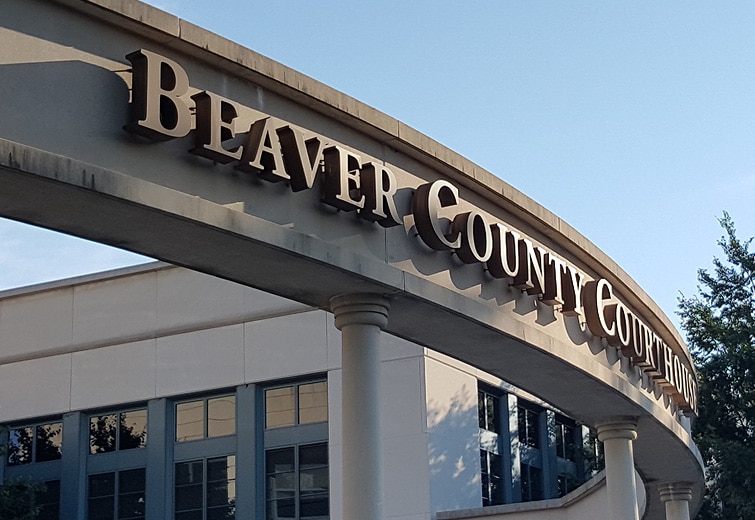 In the interest of full disclosure, the Beaver Countian provides the following in response to recent allegations made against it by the Beaver County Sheriff's Office:
On Friday, March 11th, Beaver County Commissioners notified the Beaver Countian that Sheriff Tony Guy had informed them of a "security breach" that had occurred in the courthouse, and that the breach allegedly involved the Beaver Countian. County Chief of Staff Joe Widener subsequently informed this publication he was told by Sheriff Guy that Lieutenant James McGeehan had witnessed Beaver Countian founder John Paul "going through a bunch of personnel files" while "alone" in the County Human Resources Department.
In response, the Beaver Countian notified its counsel that allegations were once again being lodged against it by the Beaver County Sheriff's Office. The Beaver Countian notified county officials that John Paul was prepared to undergo a polygraph examination and sign a sworn affidavit attesting he had never been left unattended in the Human Resources Office and had never looked through the department's personnel files. This publication provided similar notification to a representative of the Sheriff's Office.
Following the Beaver Countian's communication to the Sheriff's Office, Beaver County Sheriff Tony Guy sent a letter to the Board of Commissioners downplaying his original language that a "security breach" had occurred. Sheriff Guy provided clarification that Lieutenant McGeehan was not alleging he had seen John Paul looking at personnel files, but that he was just seen unescorted near where personnel files are stored. Sheriff Guy's letter stated he simply thought it was something the Commissioners should be aware of.
The county's personnel records are stored in a small number of sliding racks mounted to the floor of the Human Resources Department that are in plain view when entering the department. The racks are situated directly beside Human Resources Director Rick Darbut's office door.
On Wednesday, March 16th, the Board of Commissioners met together with County Solicitor Andrea Cantelmi and Human Resources Director Rick Darbut to discuss the alleged "security breach" reported by the Sheriff's Office. Darbut told the Commissioners that no breach of courthouse security had occurred, that Beaver Countian Founder John Paul has never had opportunity to be alone in the Human Resources Department, and would never have been able to access the office's personnel files. Darbut said McGeehan never raised any concerns to him that a security breach was occurring in his department.
Human Resources Director Rick Darbut provided a similar statement for publication.
"[John Paul] did not do anything of the kind," said Darbut. "He was leaving my office after interviewing me for a story when [Lieutenant James] McGeehan came in. I was in the department so was Tammy [Jones, County Benefits Manager], which is who McGeehan came in the office to meet, and I think Sid [Shaw, Assistant Director] was here too. [John Paul] was never alone and never had access to any personnel files […] This was much to do about nothing which is pretty typical for those guys down there."
County Commissioners have informed the Beaver Countian they have no concerns that courthouse security had been jeopardized in any way.
Sheriff Guy has made multiple attempts at thwarting the Beaver Countian's investigative reporting since before taking office, which have included Guy holding meetings with other elected officials trying to convince them to cease all communications with this publication. Guy regularly refers to the Beaver Countian's John Paul as "Mr. Relevant."
Lieutenant James McGeehan served as Captain under Sheriff George David, and is one of several individuals who investigators with the Pennsylvania State Police recommended to Tony Guy he should not retain upon taking office. McGeehan's harassment of witnesses against Sheriff George David, including the Beaver Countian's John Paul, was the subject of sworn testimony before the 34th Statewide Investigating Grand Jury. Although Sheriff Guy kept McGeehan as command staff with the Sheriff's Office (along with Jay Alstadt who served as Sheriff David's Chief Deputy), he terminated Deputy Curtis Larick, who had been subjected to intense harassment within the department for assisting State Police and testifying against Sheriff David at a bond revocation hearing (which led to David being placed on house arrest for three months).
Various individuals within the Sheriff's Office, on at least four separate occasions, have attempted to have criminal charges brought against Beaver Countian Founder John Paul since he originally began his investigative reporting uncovering public corruption.