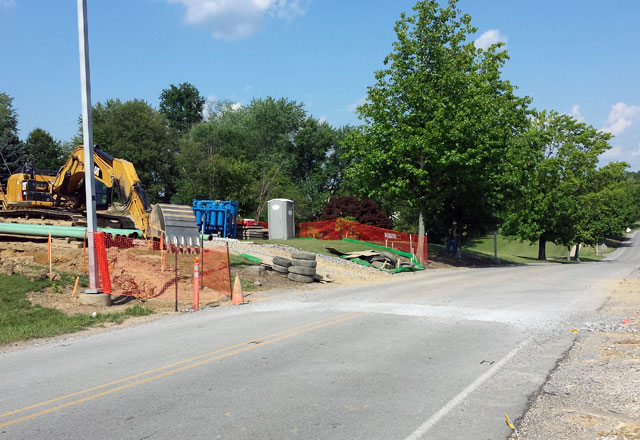 Two county workers suffered minor injuries, and dozens of cars were damaged, after a section of roadway leading into the Friendship Ridge parking lot sunk.
The incident occurred back on June 26th after a section of roadway had been cut out to make room for a pipeline being installed by Sunoco Pipeline LP. Sunoco had purchased the rights to install its pipeline through the county owned property for $75,000. The pipeline will be used to transport natural gas byproducts when completed.
As part of Sunoco Pipeline's project, an approximately 2 foot-wide section of roadway leading into Friendship Ridge was cut out so the line could be installed. The road was patched, but officials say the repair eventually began to sink. What was originally reported as a small dip in the road at 11pm at night, turned into an estimated 1.5 foot deep ditch by 5am when the next shift of Friendship Ridge workers began to arrive.
Several employees of Friendship Ridge allege that Sam Rosatone, head of security for the facility, was notified about the problem but did not take immediate action to close the roadway.
A total of thirty-four vehicles reportedly sustained various levels of damage as car after car drove into, and then out of, the ditch. One of those vehicles is estimated to have over $4,000 in damages alone. Two county employees have since filed workers' comp claims; one woman reportedly knocked her head off of the steering wheel as the front of her car fell into the ditch.
County Solicitor Joseph Askar told the Beaver Countian that Sunoco's insurance carrier, Traveler's Insurance, has established a hotline for county employees who suffered injuries or damage to their vehicles.
Sam Rosatone could not be reached for comment.