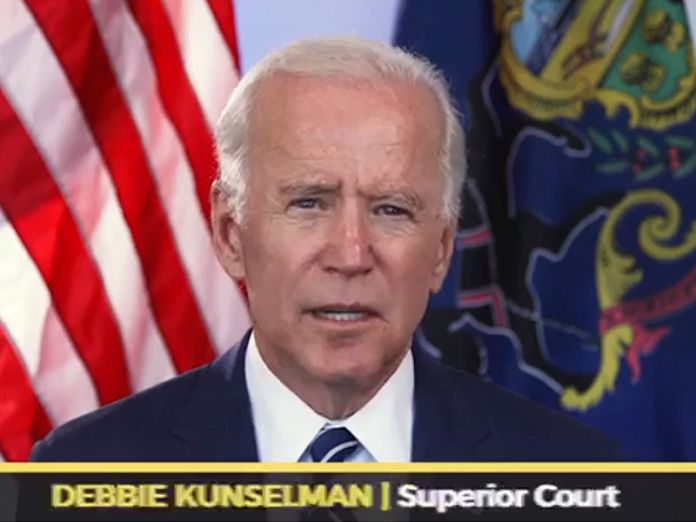 Former Vice President Joe Biden issued an endorsement this week of Beaver County Common Pleas Judge Debbie Kunselman's candidacy for Superior Court. The endorsement came as part of a video released by Biden in support of the entire "Slate of 8" Democratic candidates seeking seats on Pennsylvania's various appellate courts.
Kunselman promoted the endorsement by former Vice President Biden on her Facebook page.
The state-wide Superior Court considers appeals of decisions from the county-level Courts of Common Pleas, sitting in panels of three judges to hear cases from locations in Pittsburgh, Harrisburg, and Philadelphia.
Debbie Kunselman served as Beaver County Solicitor from 1998 to 2005 when she was elected to the Beaver County Court of Common Pleas. The Pennsylvania Bar Association gave its "highly recommended" rating to Judge Kunselman's candidacy for Superior Court back in February.
The election for Pennsylvania Superior Court Judge is one of many races voters will be deciding on November 7th. Voters will be asked to select 4 judges for seats on the Superior Court from a slate of 9 candidates who include Maria McLaughlin (Dem), Carolyn H. Nichols (Dem), Debbie Kunselman (Dem), Geoff Moulton (Dem), Craig Stedman (Rep), Emil Giordano (Rep), Wade A. Kagaris (Rep), Mary Murray (Rep), and Jules Mermelstein (Grn).
Joe Biden's "Slate of 8" endorsement video can be watched in full below: