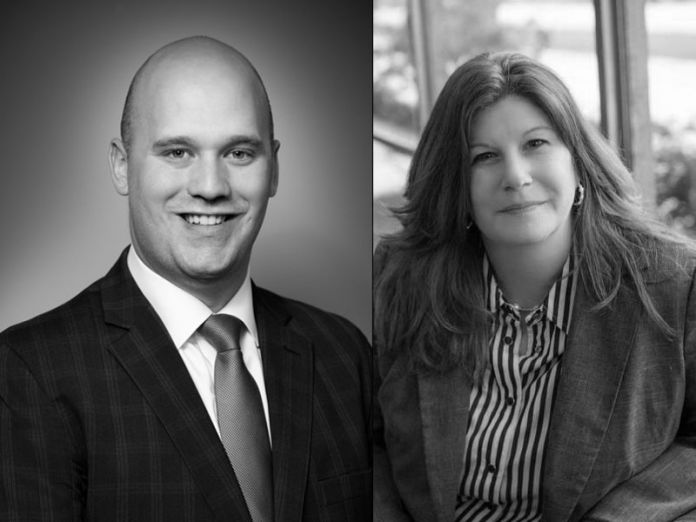 Former Beaver County Chief Solicitor and "Friendship Ridge" attorney Joseph Askar added a taunting message in support of Commissioner Dan Camp to one of Commissioner Sandie Egley's social media posts this week.
Attorney Joseph Askar wrote the message praising Commissioner Dan Camp to a LinkedIn post made by Egley on Wednesday, following the Commissioners' State of the County Address hosted by the Beaver County Chamber of Commerce.
LinkedIn is the internet's largest social networking site for professionals.
During the State of the County event, Commissioner Sandie Egley talked about filing complaints with state investigators concerning possible wrongdoings in Beaver County and about assisting law enforcement with ongoing investigations — she declined the moderator's request to go into further detail. Commissioner Dan Camp told the gathering of business people in attendance it was not his job to deal with corruption and that he was focused on moving the county forward.
Camp went on to use a metaphor during the event to describe his position, saying there is a reason why the windshield of a car is larger than its rear-view mirror.
"Commissioner Camp, your words and vision are of a true leader," wrote attorney Askar to Commissioner Egley's post about the event. "Maintain your focus of moving Beaver County FORWARD."
Commissioner Egley told the Beaver Countian she was not surprised that Joe Askar does not think people should be looking into the past.
"Stupid Askar," said Commissioner Sandie Egley in reaction to the post. "He thinks he is so smart."
Askar's comment was "liked" by Beaver County Chamber of Commerce President Jack Manning, who, according to sources in county politics, is being courted by Sheriff Tony Guy and others as a potential Republican Candidate for Commissioner in 2019. Egley has announced she will not be seeking re-election.
Attorney Joseph Askar has been a source of great division within the Board of Commissioners.
Commissioner Egley announced last September that she asked the Disciplinary Board of the Supreme Court of Pennsylvania to open an investigation into attorney Askar when it was discovered he had been representing Friendship Ridge's new corporate owners, Comprehensive Healthcare Management Services, after the sale was finalized but while still serving as the county's top attorney.
Askar resigned his employment with the County in January 2015.
Commissioners Tony Amadio and Dan Camp had refused to join Egley in filing the complaint against attorney Joseph Askar on behalf of the county, leading to Egley filing it as an individual. Camp and Amadio are both close personal friends of Askar and have continued socializing with him following Egley's formal complaint.
Askar has been seen visiting privately with Amadio and Camp together in the Commissioners' unit of the courthouse in recent weeks, raising the ire of Egley. Camp openly acknowledges that he has joined Askar for lunch several times each week on average since taking office, with the two being regular fixtures at Mario's Woodfired Pizzeria in Beaver. Askar has previously helped Camp with legal issues involving his family's dry cleaning business and the two took a long road trip together to Buffalo, New York, last year.
Commissioner Camp has told the Beaver Countian he never had any discussions with his friend Askar about the Friendship Ridge sale and never discussed the county's litigation against Comprehensive Healthcare Management Services with him. Askar has said he limited his representation of Comprehensive and that his work for the company never conflicted with his then-official capacity as Chief County Solicitor.
Democratic Commissioner Tony Amadio and Republican Commissioner Dan Camp voted to end the county's ligation against Comprehensive Healthcare Management Services on Thursday — overruling Commissioner Egley — despite an independent forensic audit that showed Comprehensive still owes the county approximately $1.3 million from the sale.
Comprehensive claimed that the county owed it money from the sale and Camp stated the county could not risk continuing its litigation.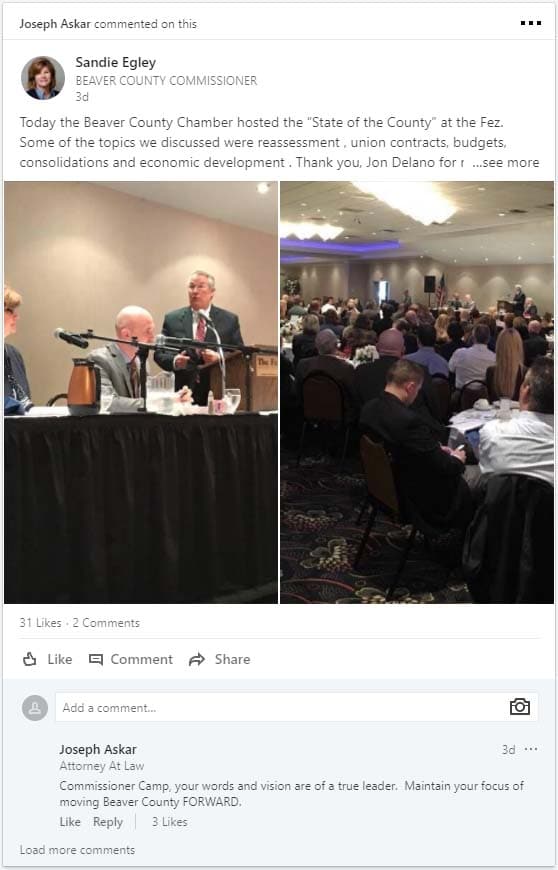 See Also:
– Camp Flips – County Will Release Another $300,000 To New Friendship Ridge Owners And Surrender Lawsuit
– Investigative Report: Former Chief County Solicitor Represented New Friendship Ridge Owners While Still Employed By The County
– Commissioner Amadio "No Comment" On If His Statement About Egley's Complaint Against Former Solicitor Was Untrue
– Former County Solicitor Joe Askar Hosting Big Money Campaign Fundraiser For Gov Wolf At "Friendship Ridge" Facility
– Financial Administrator: County Officials Paid $300,000 Bonus To New Friendship Ridge Owners Without Justification
– Former Financial Administrator's Email "Explains" $1.2 Million "Loan" To Friendship Ridge
– Treasurer Connie Javens Refused To Cooperate With Audit Into Friendship Ridge Sale
– New Friendship Ridge Owners Appealing Facility's Property Tax Assessment With Treasurer's Help
– Treasurer's Daughter Lands Lucrative Friendship Ridge Contract
– District Attorney Lozier: State Police Conducted An "Unauthorized Investigation" Into County Corruption
– The Beaver Countian Obtains County Detective's Notes From Investigation Into Treasurer Connie Javens
– With DA's Investigation Concluded, Comprehensive Issues New Request For Friendship Ridge Funds Held By County