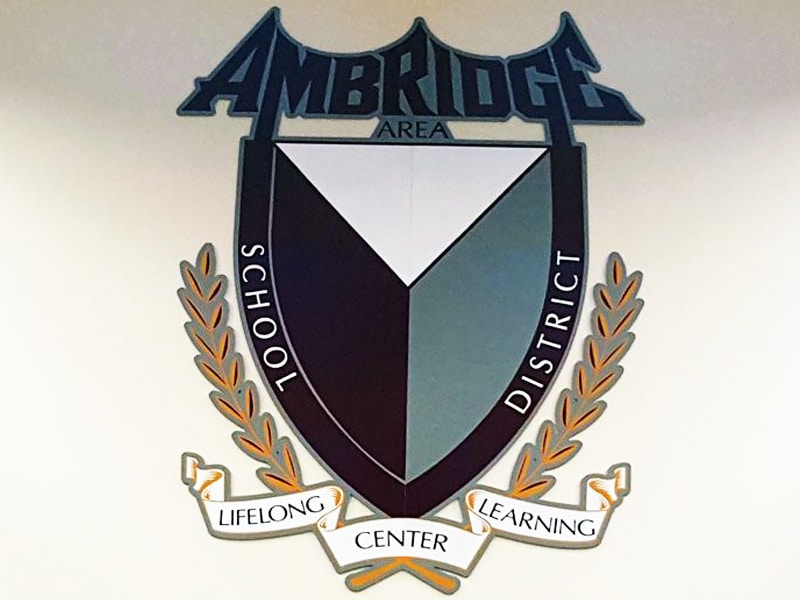 The former Superintendent of the Ambridge Area School District has filed a federal lawsuit against the district and several current and former school officials, detailing a series of alleged incidents over a two-and-a-half year period at the district — including allegations that an Ambridge Police Officer mistreated a disabled student and fears a School Board member was going to bring a gun into the school to shoot her.
Dr. Cynthia Zurchin's federal complaint lists the Ambridge Area School District, School Board members Robert Keber, Roger Kowal, and Kimberly Locher, former Board member Brian Padgett, and former Assistant Superintendent Megan Mealie, as defendants. Zurchin alleges causes of action including sex discrimination, retaliation, civil rights violations, breach of contract, and wrongful discharge.
Dr. Zurchin alleges her various experiences at the district were so traumatic they caused her to be hospitalized with stroke-like symptoms, and that her long-time doctor subsequently diagnosed her with Post Traumatic Stress Disorder (PTSD), anxiety, and depression, leading to an extended medical leave and ultimately a disability retirement.
Some of the accusations made in Cynthia Zurchin's 40-page federal complaint are detailed below. The Beaver Countian will report on the defendants' responses to Zurchin's allegations when they are filed with the court.
Alleged Mistreatment Of A Student By Ambridge Police
On pages 9 through 12 of her complaint, Cynthia Zurchin described an alleged incident involving an Ambridge Police Officer and a disabled student in the district. Zurchin claims she was retaliated against after filing complaints about the student's alleged mistreatment:
"By assuming her role as Superintendent of Ambridge SD, Dr. Zurchin took an oath to ensure that all students, regardless of their protected class, would be treated equally and fairly in school. Dr. Zurchin undertook this responsibility seriously consistent with her role and legal obligation. Therefore, when Dr. Zurchin learned that students were being subjected to unfair and discriminatory treatment within the district, she refused to turn a blind eye; she was willing to and was required to be a voice to speak out against the mistreatment.
"In September 2014, Dr. Zurchin became apprised of facts that evidenced the mistreatment and unauthorized restraint of J.H., an African American student with a documented disability.
"On September 15, 2014, School Resource Officer Nate Smith indicated he was responding to a disturbance in the hallway of the high school involving J.H., a special education and minority student. Despite video demonstrating that J.H. clearly was never creating a disturbance necessitating an aggressive response, Smith grabbed the student and restrained him with his arms behind his back, forcibly walked J.H. to the main office, smacked J.H.'s face into a glass window of the office, threw J.H. to the ground in a face down restraint, handcuffed J.H. and called for police backup to transport J.H. to a detention facility.
"Not only does this procedure violate school policy and protocol, after reviewing the video footage, it becomes clear that it was entirely uncalled for given the circumstances. Further, this behavior by Smith substantiated what Dr. Zurchin understood characterized a level of discord between minority and non-minorities within the district, a situation she vehemently opposed.
"Dr. Zurchin appropriately identified the individual that was the subject of discrimination and the protected classes under which he was the subject of discriminatory treatment. Dr. Zurchin also reported the incident to the Pennsylvania Department of Education, Bureau of Special Education as an improper restraint consistent with her obligations required under 22 Pa. Code 14.133.
"Further, Dr. Zurchin, through the school's solicitor, requested the local police department remove Smith from his role as School Resource Officer due to his violation of the code, noting that the prone restraint he used placed the district at significant risk of sanctions from the Department of Education ('DOE'). When Dr. Zurchin requested Smith be removed from his role, Defendant Kowal attempted to circumvent the district by going directly to the police chief and indicating that he should not heed Dr. Zurchin's concerns.
"Due to Defendant Kowal's persuasion, the police chief permitted a dangerous individual to remain in the district despite warnings that it could expose the school to liability. Due to Defendant Kowal's persuasion, Ambridge SD allowed an individual evidencing a racial animus toward students to remain on school grounds despite Dr. Zurchin's opposition and against the advice of the school solicitor.
"This incident followed on the heels of Dr. Zurchin's suggestion to offer a summer school graduation ceremony which would serve to recognize students with special needs and other struggling students in the district that were able to complete their coursework with an additional few months. This programming was rejected outright by Defendant Locher who stated, 'Fuck those kids,' referencing special needs students. This incident further serves to shed light on the several Board members' animosity to students with disabilities and directed interference with Dr. Zurchin's attempts to satisfy those student's needs and rights under the law.
"Despite encouragement from a local official to simply look the other way when it came to these ongoing incidents with board opposition, Dr. Zurchin had a legal obligation to report and participate in any unfair treatment of students and/or staff as a result of discrimination. Dr. Zurchin's actions resulted in further and continuing efforts by members of the board to force her resignation through an oppressive and retaliatory work environment."
Fears She May Get Shot By A School Board Member
On pages 7 and 8 of her federal complaint, Dr. Zurchin details an alleged incident involving Brian Padgett, and fears he may show up to the school with a gun:
"On June 12, 2013, at the first official board meeting attended as Superintendent, Dr. Zurchin was threatened with physical violence by Defendant Padgett during an executive session of the school board meeting. During the incident, Defendant Padgett leaned toward Dr. Zurchin and within inches of her face, pointed at her and screamed, 'You mother fucker, you better watch yourself. I will go after you. You better watch yourself, you mother fucker.' He also expressed, 'I will get you.'
"Dr. Zurchin responded that it was not okay for Defendant Padgett to speak to her like this, and she feared for her personal safety due to his proximity, size and language. Defendant Padgett was ultimately subdued by other board members separating Padgett from Zurchin. Notably, Defendant Kowal laughed during the threat and thereafter.
"Other board members witnessed this interaction and reported on it subsequently. Specifically, then-Board President Mary Jo Kehoe stated that Defendant Padgett's behavior was 'threatening, intimidating and hostile.' Then-board member and former police officer Robert Appel characterized it as 'extremely abusive' and indicated he heard Defendant Padgett say, 'You'll be sorry.'
"Dr. Zurchin filed a police report the next day, and Defendant Padgett was charged with harassment (18 § 2709 §§ A1) and terroristic threats (18 § 2706 §§ A1). Word began circulating during the months while an investigation was pending that Defendant Padgett was going to bring a gun to a future board meeting to shoot Dr. Zurchin. The threat of harm was substantial enough to necessitate police presence at subsequent board proceedings.
"Defendant Padgett concluded his term on the school board in November 2013 while criminal proceedings remained pending; Defendant Kowal and Belich, however, remained on the school board. While Defendant Padgett's charges were pending and although repeatedly encouraged to terminate the criminal charges, Dr. Zurchin refused to withdraw the criminal complaint which was substantiated by the evidence or otherwise waive any legal claims against Padgett.
"Defendant Padgett ultimately pled guilty to the harassment charges in July 2014, more than a year after the threat. After Defendant Padgett entered his plea, Defendant Kowal informed Dr. Zurchin, 'I will ruin you if it's the last thing I do; if it means ruining this school district.'"
Alleged Collusion – Conspiracy And Threats By School Board Members
Pages 13 through 16 of Zurchin's complaint detail allegations of retaliation after dealing with a reported incident of sexual harassment within the district:
"On March 20, 2015, a teacher in the school district filed a complaint with the union which was reported to Dr. Zurchin alleging that the Assistant to the Superintendent, Defendant Mealie, was engaging in sexual harassment. The teacher had simultaneously filed a complaint with her local police department alleging that Defendant Mealie was making unwelcome visits to her house.
"In support of her complaint, the teacher turned over 60 pages of text messages demonstrating the harassment that occurred. Dr. Zurchin, per district protocol, suspended Defendant Mealie pending an investigation. Further, Dr. Zurchin participated as a witness in the district's independent investigation into the teacher's claims of sexual harassment by Defendant Mealie.
"In addition to revealing sexual harassment by Defendant Mealie towards the teacher, the text messages between February and March 2015 also illustrate collusion between board members and Mealie to create a hostile work environment for Dr. Zurchin, to undermine Dr. Zurchin within the school and community and to compel her termination or resignation. The messages indicated concerted efforts undertaken by the Board and Defendant Mealie, who was appointed to her position by the Board, to malign Dr. Zurchin through the local public media, to foment a disruptive public response to Dr. Zurchin and force her ouster.
"Specifically, the messages, inter alia, indicate:
a. Collusion and conspiracy among Board Members to undermine Dr. Zurchin:
i. 'I sent this to Kim, Kelly and Rob (In reference to board members Defendant Locher, Smith and Defendant Keber) this am. 'Please make sure Roger and [at least] Angus is on board [with] Jess grievance…' Yes I have balls. They're my peeps and will be on it. Trust me.'
ii. 'Texted Kelly, Kim and Rob [your] email and they [are] like [Zurchin] is trying to cover this up too. [She's] gotta go. I wish I [could] be a fly on the wall in there. That cunt.'
iii. 'Trust me I have them (Referencing the Board Members) trained . . . they know exactly how she thinks. I guarantee they have some shit up [their] sleeves to come at her with. [You might] get to see a show.'
iv. 'I just texted [Roger Kowal] about your hearings. All good.'
v. 'Hey we all help each other. I'm sure he will help me out when he can. I have a feeling that if I get [Zurchin's] job it will be full of IOU's to [people]. Fortunately I am in good graces with 95% of [people] and the other 5% can fuck off [because] they can't beat me.'
vi. 'Those 3 (Referencing the Board Members) will take care of [you] trust me. They [are] on it. They hate her as much as us and get great pleasure out of busting her. LOL [you] will see.'
vii. 'I don't think the board has ever not followed [the superintendent's recommendation]. They always have. My [people] totally supported [you] so if [you] see them make sure [you] thank them. If it wasn't for them [Dr. Zurchin would have] got her way again and [you would have] got fucked.'
b. Intent to physically harm Dr. Zurchin:
i. '[Zurchin's] just being a cunt. So she will just look worse in the end. Her days [are] numbered. And if she Fucks [with] [you] I will fuck [with] her.'
ii. 'I wanna beat her ass like [you] can't believe. Just like in [high school]. I [would have] set her ass straight quick back then. I hate being nice. I'd rather fist fight.'
iii. 'I wanna punch both Tom and [Zurchin] in the twat. LOL.'
iv. 'I want to beat her ass for [you] and me and everyone else she has fucked with.'
v. '[You] know I just wanna punch [Zurchin]. It's not over [with] her. I don't forget this stuff. Trust me.'
c. A desire to effectuate Dr. Zurchin's discharge:
i. '[You] think [Zurchin] would get the hint and leave.'
ii. 'Plus [Zurchin's] on her way out. She will never beat us. She may beat us down but in the end we will win.'
iii. 'I'm done. It's time. I can't handle this anymore. I'm filing a complaint on her [with the Pennsylvania Department of Education]. I've had it . . . She won't get away with this any longer.'
"The messages evidence malice and indicate that Defendant Mealie worked in concert with School Board members, including Defendant Kowal, Defendant Locher, Defendant Keber and (Kelly) Smith to undermine Dr. Zurchin in her professional capacity while violating obligations of confidentiality as to personnel and circumventing procedures to achieve that objective."
Other Allegations
Dr. Cynthia Zurchin's complaint can be read in its entirety here, which includes an alleged warning she received from an unidentified local reporter, obscene and offensive signs a school board member allegedly held up during executive sessions, and comments a board member allegedly made to others that Zurchin would be seen hanging from a bridge with her head in a noose.