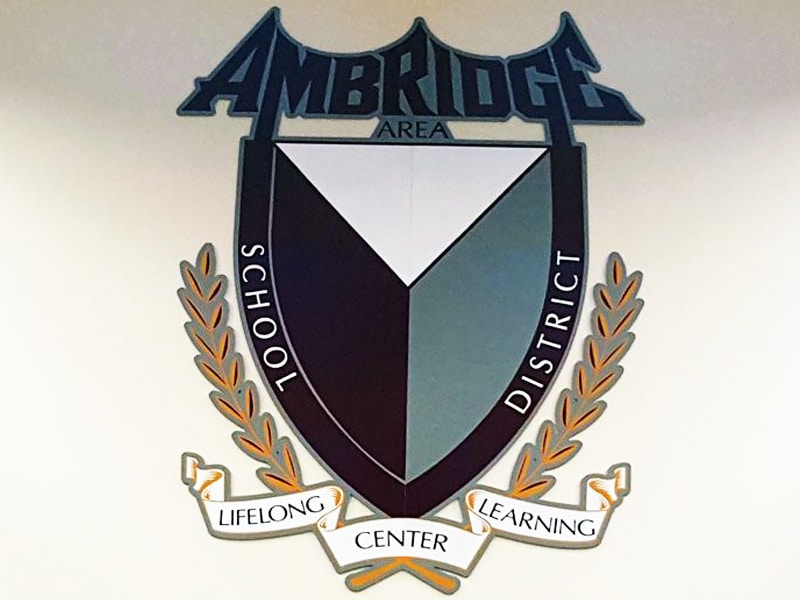 The former Assistant Superintendent of the Ambridge Area School District is seeking her immediate reinstatement after a forensic document examiner determined that a teacher's purported signature on a complaint filed against her is a forgery.
Court certified forensic document examiner Wendy Carlson determined a signature purporting to be that of Ambridge music teacher Jessica Braunlich on a complaint filed against then-Assistant Superintendent Megan Mealie back on March 23, 2015, was actually signed by somebody else.
The typewritten complaint purportedly signed by Braunlich had accused Mealie of sexual harassment.
According to sources, Megan Mealie insisted to district officials at the time that she and Braunlich had been engaged in an on-again-off-again consensual relationship. Mealie alleged that someone in the Ambridge Area School District had co-opted Braunlich to retaliate against her for making a hostile work environment complaint against Ambridge Superintendent Cynthia Zurchin. Mealie initiated a second complaint against Zurchin on March 17th of 2015 (she had previously filed a complaint in November 2014) — the first indication of a complaint by Braunlich against Mealie came on March 19th in the form of a brief handwritten statement.
Teacher Jessica Braunlich had been dealing with troubles of her own as the events were unfolding, with a preliminary hearing in court on March 11th, 2015, for her DUI arrest from earlier that year — several sources within the Ambridge School District told the Beaver Countian that Braunlich had been expressing concerns at the time about disciplinary action she could potentially face from the district.
An investigation subsequently conducted by Buchanan Ingersoll & Rooney at the behest of Superintendent Cynthia Zurchin determined that Megan Mealie had engaged in sexually harassing behavior toward Jessica Braunlich. Mealie subsequently complained to district officials that Buchanan Ingersoll failed to interview her witnesses as part of its investigation and made findings of fact before a hearing in the matter, but eventually signed a voluntary settlement agreement with the district ending her employment as Assistant Superintendent in October 2015.
Mealie is now contesting that settlement agreement.
The Beaver Countian obtained a copy of the forensic document examiner's report from a confidential source after it was sent individually via certified mail to every Ambridge School Board member by attorney Michael Santicola, who is representing Megan Mealie.
"We are sending these notices directly to each member of the board, as we have received information which indicates certain members were not aware of the entire proceeding, based upon false information given to them from the original complainant," wrote attorney Santicola in his letter to Ambridge School Board members. "[O]ur client is in the process of bringing criminal and civil charges against an individual, or multiple individuals, for Forgery and Conspiracy to Commit Forgery, related to documents purportedly signed by certain individuals, but in fact were not. I have enclosed a report completed by Wendy Carlson, an expert document examiner, who conclusively determined that one of the original documents which led to the initial case, was in fact, a forgery. This is a Felony of the third degree, and thus could invalidate the previous documents in this case."
Among the forensic expert's findings were that Braunlich's signature had been traced, and that the signature on the complaint against Mealie contained "significant dissimilarities" to the woman's known signature — including that the signature on the complaint contained a middle initial "J" when Braunlich's middle initial is actually "L." The report details 21 separate dissimilarities between Braunlich's known handwriting and the handwriting on the complaint.
Forensic document examiner Wendy Carlson's curriculum vitae shows she has examined documents in over 1,000 cases and has been certified as an expert witness by courts in 15 different states, including Pennsylvania, in addition to serving as a court-appointed expert in the Federal District courts. Carlson maintains offices in Texas and Colorado.
"The Jessica Braunlich signature on the questioned document does not match the known signatures or handwriting of Jessica Braunlich, thereby revealing that another person did indeed author the Jessica Braunlich signature on the questioned document," concluded Carlson in her official report. "I am willing to testify to facts herein stated in a court of law and I will provide to the Court exhibits to show that my testimony is based on sufficient facts or data and that my opinion is correct."
Attorney Santicola went on in his letter to encourage board members to vote to reinstate Megan Mealie's position in the district, "At his point, our client is asking to be immediately reinstated as an administrator in the Ambridge School District […] I believe the Board can act to reinstate our client at any time as well. A failure to do so will result in further action taken against individuals and entities involved in the conspiracy and forgery which occurred in the past."
Santicola informed members of the Ambridge Area School District that other alleged forgeries may have been committed in the matter involving Megan Mealie.
"We are in the process of examining the signature on the actual settlement agreement as well to determine if that is also a forged signature," wrote Santicola. "We have evidence to believe that it is indeed a forgery."
Jessica Braunlich could not be reached by phone and did not return several detailed voicemail messages left by the Beaver Countian seeking comment. A message left for Ambridge Area School District Solicitor Ira Weiss was also not returned.
Megan Mealie told the Beaver Countian she was unable to provide public comment for this article because of a gag order provision in her agreement with the district.
Sources within the Ambridge Area School District allege that Braunlich has been on a paid leave from the district since shortly after the complaint was filed against then-Assistant Superintendent Megan Mealie in March 2015.
Ambridge Superintendent Cynthia Zurchin has been on paid sick leave since October 2015, following a series of investigative reports published by the Beaver Countian about unrelated matters.