Law enforcement officials held a press conference in the Economy Borough Building today to announce the latest results of forensic testing performed on the embalmed head of a woman that was found laying off the side of a road last December.
Despite the exhaustive efforts of law enforcement and experts in a diverse range of fields, along with intense media attention given to the mystery, the woman's identity remains unknown.
The most significant of the latest test results released by authorities are of a sophisticated isotope analysis that shows the woman moved several times during the final months of her life. Isotopes are absorbed by the body from the environment where a person is living and are unique to different geographical regions.
Based on the analysis, experts are theorizing that seven months prior to her death the woman was living in an area which includes portions of Beaver County and a region ranging from Southwestern Pennsylvania (including the eastern counties of Ohio, northern counties of West Virginia and Maryland) extending towards Central Pennsylvania into New York.
Four to six months prior to her death, experts believe the woman spent approximately 2 months living in an area geographically consistent with the Allegheny Mountains, extending into Northeastern West Virginia and Northwestern Maryland.
Experts theorize the woman spent the final three months of her life back at the same location she was living prior to seven months before her death, an area that could include Central and Eastern Pennsylvania, Maryland, West Virginia and Ohio, extending north along Lake Erie into New York at Lake Ontario. This is the same region the woman is believed to have died.
Based on medications found in her system by the FBI Crime Lab in Quantico, authorities believe the woman may have suffered from a heart condition. An examination of her teeth by other experts revealed fillings consistent with dental work done in the late 1980's into the 1990's.
"Her identity if the priority of this investigation," said said Economy Borough Police Chief Mike O'Brien. "She deserves to have her name put to her face. Once that identification is made, we can move forward with this investigation."
"The investigation does stay open, and will stay open, until Jane Doe is identified," said District Attorney Berosh.
Anyone with information about the case, or who believes they may recognize the woman from the sculptures produced of her likeness, is asked to call the Economy Borough Police Department at 724-876-0380 or email them at police@economyboropd.com
"Jane Doe's" remains were laid to rest over the weekend following a private service attended by many of those who have been working on her case for the past year.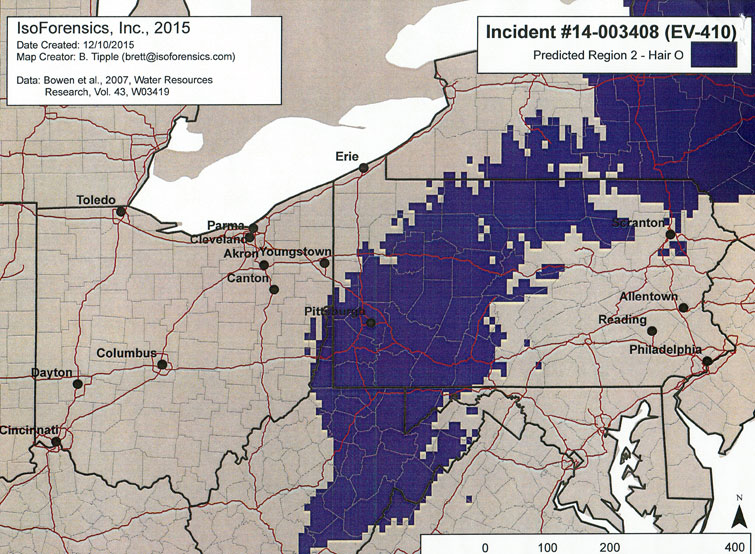 The Economy Borough Police Department, Beaver County Coronor's Office and District Attorney's Office listed the following experts and organizations who have conducted tests on the remains or otherwise assisted with the investigation to date:
– The Funeral Directors Association and Medical Examiners Association – have stated that the red rubber balls found in her eye sockets are not used by professionals
– Pennsylvania State Police
– West Virginia State Police
– Ohio Attorney General's Office
– FBI Behavioral Sciences Unit
– The Chinese Embassy – investigating the origin of the rubber balls
– Numerous Law Enforcement Intelligence publications that have written about the case to gain greater exposure in the law enforcement community
– Dr. Charles Beal a forensic odonatologist who has cataloged a complete set of dental records to be used for comparisons against any investigative dental records
– Dr. Dennis Dirkmat a forensic anthropologist from Mercyhurst University who confirmed the remains belonged to a white female who was over the age of 50 at her time of death
– Professor Michelle Vitali a forensic artist from Edinboro University who provided drawings and sculptures that have been released to the public through the media in an attempt to identify the woman
– Dr. Raymond Miller, Dr. Mary Bush and research scientist Peter Bush from the University of Buffalo who examined the teeth and dental fillings to determine the dental work the woman had done occurred in the late 1980's into the 1990's.
– FBI Forensics Laboratory in Quantico, Virginia that determined dirt and soil found on the head were not from the area where it was discovered. Toxicology determined the woman had traces of the drugs Lidocaine and Atropine in her system at time of death, indicating she most likely died of some type of cardiac distress.
– North Texas University DNA Laboratory conducted DNA analysis that was not successful due to the embalming process having deteriorated the sample. A second sample is currently being analyzed.
– Dr. Laura Pettler, a forensic criminologist who provided victimology, suspectology, crime scene analysis and assisted in tying together physical evidence with behavioral evidence
– IsoForensics Inc., a private research and analytical service company that provided Stable Oxygen Isotope Testing that resulted in maps of the geographical areas the woman had been living in up to the time of her death