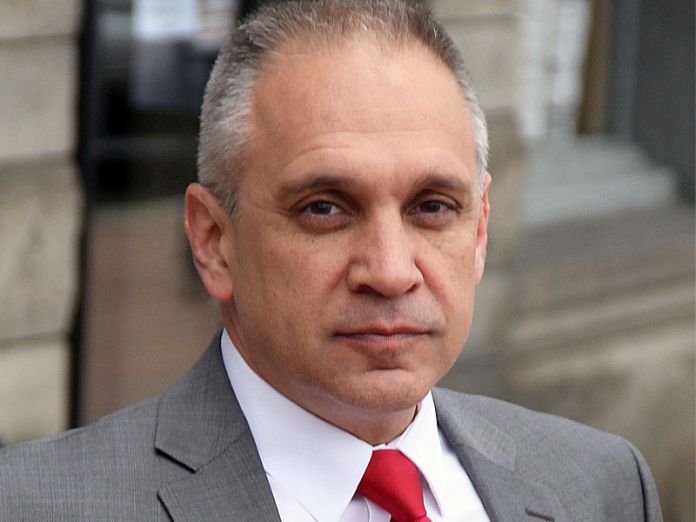 A federal judge has scheduled a status conference in former Sheriff Deputy Curtis Larrick's lawsuit against Tony Guy and the County of Beaver.
According to federal court dockets, U.S. Magistrate Judge Cynthia Reed Eddy has ordered the parties to participate in a phone conference with her at 10:00 a.m. on April 11th.
"Counsel should be prepared to discuss trial dates," the judge notes in her order.
Larrick alleges he was fired by Sheriff Guy at the start of his administration as an act of political retaliation, while Guy insists he terminated Larrick because of his character. Judge Eddy denied a motion by Tony Guy and Beaver County to dismiss Larrick's civil case this week, determining a jury could reasonably find the Sheriff's stated rationales for firing Larrick to be "incoherent and implausible."
Investigators with the Pennsylvania State Police had strongly encouraged Tony Guy to keep Larrick as a deputy, saying he had been of significant assistance with their probes into corruption in the Sheriff's Office and was one of the only deputies who had been truthful with them.
See Also:
– Sheriff Guy Tries To Avoid Sunshine Law By Claiming Dog Is An Employee
– Sheriff Guy Hires Several Deputies Including Two Aliquippa Cops And A Man Previously Arrested Twice For False Statements
– Investigative Report: Sheriff Tony Guy's Office Issued Deceptive Press Release About Inmate's Escape
– Full Disclosure: Sheriff's Office Falsely Alleged Beaver Countian Founder Breached Courthouse Security
– Facebook Takes Action Against Fake Profiles Set Up In Support Of Sheriff Tony Guy
– Investigative Report: A Look At The Deleted Facebook Posts That Are A Matter Of Contention In Lawsuit Against Sheriff Guy
– Investigative Report: A Look At Sheriff Tony Guy's Testimony About His Chief Deputy – What He Did – And Did Not – Say
– Sheriff Tony Guy's Wife Sylvia Plays The Role Of Grinch On Wayne Kress' Christmas Post
– Sheriff Tony Guy Promoted Long-Time Acquaintance To Full-Time Status
– Beaver Countian Asserts Public's Rights After Sheriff Guy Calls For Private Budget Meeting With Commissioners
– Commissioner Camp Calls Foul After Sheriff Guy Says He Is "Unable" To Comply With His Budget
– Democratic Chairman's Remarks About Republican Sheriff Tony Guy's Budget Causing Political Firestorm
– "Mrs Beaver County" Drops Out Of State Pageant – Says Sheriff Tony Guy Greenlighted Improper Fundraiser
– Editorial: Sheriff Tony Guy Will Ruin The Republican Party The Same Way Sheriff George David Destroyed The Democrats
– Commissioners Cut Off Funding To Sheriff's K-9s After Tony Guy Failed To Respond To Concerns Raised Months Ago
– Sheriff Tony Guy Admits One Of His Department's K-9s Should Not Be Used Near The Public
– Investigative Report: Sheriff Tony Guy Working Part-Time Deputies More Than Full-Time Hours
– Former Deputy: Sheriff George David And His Men Are Supporting Tony Guy For A Reason
– In-Depth: Commissioners At Odds With Sheriff Tony Guy After Deputy Injured While Responding To Drug Bust
– Sheriff Guy Says Dan Camp "Is Really Progressing" – May Become Best Commissioner In County History