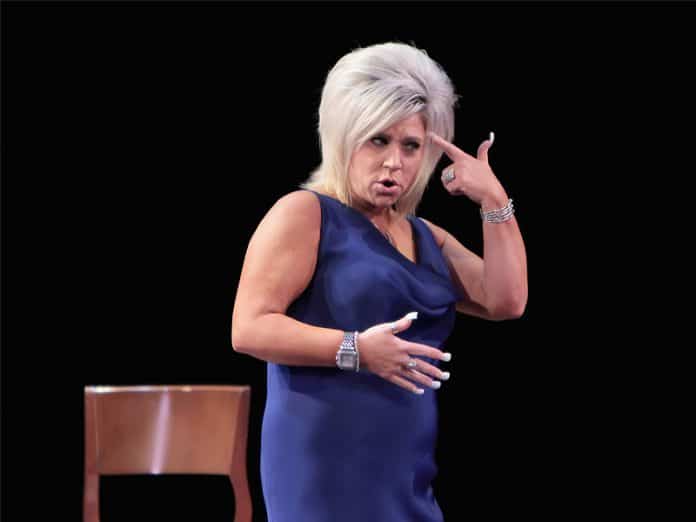 A reality television star who claims to be able to speak with the dead purported to communicate with Aliquippa murder victim Rachael DelTondo during a performance at Heinz Hall in Pittsburgh last Friday. Rachael's mother Lisa was among those who paid to see Theresa Caputo, a self-proclaimed psychic medium who stars in TLC's "Long Island Medium."
Lisa DelTondo told BeaverCountian.com she went to see Caputo's show at the urging of her daughter's friends.
Rachael DelTondo was murdered at the bottom of her parents' driveway in Aliquippa on Mother's Day. Rachael's death has been covered by news outlets throughout the United States and abroad, but her murder has not yet been solved by the Beaver County Detectives Bureau and her killer remains on the loose.
Caputo has portrayed a medium on the TLC reality tv series since 2012 and has written two New York Times' bestsellers, "There's More to Life Than This," and "You Can't Make This Stuff Up." She also performs in a traveling roadshow, "Theresa Caputo Live! The Experience."
She has a large following of individuals who believe she has supernatural ability, boasting over 3.6 million fans to her Facebook page.
Lisa said the tickets cost her a small fortune because she had to buy them through a scalper, but she was desperate to get answers about who killed her daughter.
"They were marked $98, but brokers bought up all the tickets. I paid $600 to get into the front row. I could look up her dress that's how close we were."
Lisa took her cousin, Jackie Belcastro, along with her to the show. Lisa and Jackie were raised together as if they were sisters, and Rachael referred to Jackie as her aunt.
Lisa said some of the things Caputo began calling out to the audience during the show started to resonate with her.
"She said the number 13, she kept saying 13, and I was going to stand up because of course that's the day Rachael was killed."
Lisa said she kept silent as Caputo began doing readings for several other people in the audience.
"Then she said, who here is wearing something from their deceased loved one. That's when I stood up."
Lisa told BeaverCountian.com she was wearing a coat that had belonged to her daughter, along with a lot of her jewelry. She was holding her daughter's prayer card during the show.
"The coat didn't fit. I couldn't get it to zip because my daughter was so small," said Lisa. "(Caputo) said, your daughter said to take it off because you look ridiculous."
Lisa said it seemed like just the kind of statement Rachael would have made to her.
"I was crying ugly face," said Lisa. "She said, mom quit praying to die because we don't want you here, it is not your time yet."
Lisa asked Caputo to have Rachael identify her killer, but it didn't happen.
"She said she knows but she doesn't want to tell you, because you and your husband could be in danger."
Caputo assured Lisa that Rachael was telling her justice would come but she needs to be patient. Then Lisa said Caputo told her something that helped to put her at ease.
"She said I want you to know she is with you and that she is at peace. And when she said that, my heart dropped. That was all I wanted to hear — that my daughter is OK wherever she is."
Skeptics insist that Theresa Caputo — and other high profile psychic mediums — are not actually speaking with the dead, but are instead using a technique known as "cold reading" to make individuals falsely believe they are communicating with their lost loved ones. Caputo has previously turned down offers from the James Randy Educational Foundation of $1 million if she could demonstrate her claimed abilities under scientific test conditions.
"Whether (Caputo) is full of shit, whether I believe it or not, she was amazing," said Lisa. "I believe I felt my daughter's spirit that night. I do believe whatever makes me Lisa, whatever made her Rachael, is still floating around somewhere … Maybe I am being stupid, I don't know, but I think I believe in God less than I believe in Theresa Caputo."
Jackie also said she believes that Caputo was channeling Rachael.
"Being brought up as a Catholic you don't want to believe this, you're not supposed to believe this," said Jackie. "I went to Catholic school, but since this happened to Rachael I have lost my faith. I have no religion anymore. The only time I go to church is when there are special masses said for Rachael, but I'm there for her. I sit there numb, I don't hear a word the priest says … But I thought Theresa (Caputo) was excellent. I thought it was really Rachael."
Lisa said after the performance dozens of people who were part of the capacity crowd came up offering their support.
"When I left that place you would have thought I was Barbra Streisand. The love from strangers was just truly amazing. Everybody in the place came up to me, hugged me, telling me they were praying for me."
Lisa said she has begun paying to schedule readings with other people who claim to have psychic abilities in hopes one of them will identify Rachael's killer by name.