Facebook has taken action against fake profiles established in support of Beaver County Sheriff Tony Guy. A "Concerned Citizens" page that had been making posts in defense of Sheriff Guy was deleted by Facebook yesterday along with the fake user account established to administer it.
The accounts were created in apparent violation of Facebook's Terms of Service by an unnamed person, leading to the social media company's deletion of the pages.
The "Concerned Citizens" Facebook page touted itself as being founded by a group of ordinary citizens who were concerned about "one sided" reporting on politics in Beaver County.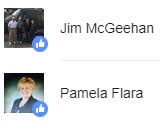 The first person to "like" the page was former Republican prothonotary candidate Pamela Flara. Other Republican politicos soon followed Flara in joining the page not long after its creation — former Republican Committee Chair Carla Yacoviello was among the first ten people to "like" it from her account.
Among the other Facebook pages "liked" by the fake profile included ones for Republicans Daniel C. Camp III Beaver County Commissioner, PA State Rep. Jim Marshall, PA State Rep. Jim Christiana, and PA State Rep. Aaron Bernstine.
The first post made by the "Concerned Citizens" page consisted of an editorial supportive of Sheriff Guy in response to an article published by the Beaver Countian titled, "Investigative Report: A Look At Sheriff Tony Guy's Testimony About His Chief Deputy – What He Did – And Did Not – Say."
Although the page spoke out in favor of work being done by Republican Commissioner Dan Camp, it repeatedly lambasted Republican Commissioner Sandie Egley, "The leaking of this information hurts us the tax payers and our Chairwoman of the Board of Commissioners seems to not have any concerns about this information getting out to only a selected individual or two."
The page also posted full-length copies of articles published by the Beaver County Times that were positive for some Republican officials, allowing the page's visitors to bypass a paywall in effect on TimesOnline.com. The page highlighted the Times' favorable reporting about Sheriff Guy — including an article titled "Despite differences, issues in Beaver County sheriff's office are similar to other counties" — while being dismissive of revelations resulting from the Beaver Countian's investigative work:
"This is true factual reporting. The Sheriff has had an uphill battle keeping his campaign promises. What another site has 'reported' has been nothing but innuendo, twisted truth and nothing but political maneuvering. Sheriff Guy along with DA David Lozier and Coroner David Gabauer have to this point been the only 3 out of the 5 new elected Republicans to keep their promises to clean up the corruption and stop the practices of nepotism and cronyism within county politics. Commissioner Camp has also been working to change the way county government is run. These 4 gentlemen are the future of our county."
The only individual to comment on items published by the "Concerned Citizens" page before its deletion by Facebook was retired sheriff's deputy Jim McGeehan, who has been a vocal supporter of both Sheriffs Tony Guy and George David.
While the page garnered only a few followers before being removed, word of the political effort had made its way through the courthouse and inner circles of politicos from both parties, many of whom are even now preparing to support campaigns for county commissioners and row officers in 2019.
Democrat Wayne Kress, who has already publicly announced his campaign for sheriff with a fundraiser scheduled for September, said he had been among those monitoring the "propaganda page."
"Sure they all campaigned on the notion of being open and transparent, but here you go, another fine example of them all trying to be sneaky — hiding identities and circumventing the system," said Kress. "To me, that's not transparency at all."