A troubling series of public Facebook posts attributed to Aliquippa Assistant Police Chief Joe Perciavalle about fallen Officer James Naim are now going viral in Beaver County.
At approximately 6:11pm last night the following posts, attributed to Perciavalle, were made to his Facebook page:
"The truth will come out. This officer lost his life because of the dirty deeds of others," followed by, "People need to do the right thing."
The posts were accompanied by a photograph of the fallen officer.
By midnight the post already had nearly 100 likes and shares from his page alone, including by other officials with the City of Aliquippa, such as Councilmen Donald Walker and Mark Delon.
Aliquippa Officer James Naim was murdered on March 15, 2001, during a foot patrol at the Linmar Terrace public housing complex. Officer Naim had only been with the force for little more than a year before his death. Jamie M. Brown was subsequently convicted by a jury of third degree murder for shooting the officer twice in the head at close range.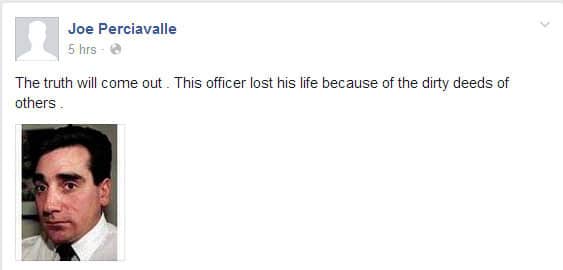 Along with the initial post, which remains live as of the time of this report, the Beaver Countian has also obtained archived copies of messages that were purportedly published by Assistant Police Chief Joe Perciavalle to his Facebook Page and then deleted.
Patti Faiella replied to Perciavalle's original post with, "Joe..i have and have been wearing my original end of tour black bracelet in remembrance of Jim..do you want it." Follow up posts attributed to Perciavalle read, "No thanks. Maybe you can wear it to the indictment hearings. Just sayin."
Those replies have since been deleted.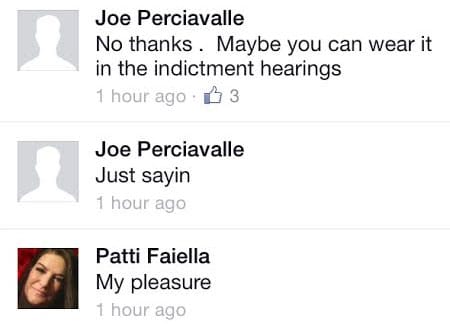 A reply by Ernest Jamal Genes in response to Perciavalle's post was "liked" by Aliquippa Mayor Dwan Walker, "Please keep my friend Joe Perciavalle covered in prayer. When the truth begins to be exposed, those who are in the wrong run to cover their wrongs. I pray God's protection over Joe as he does what so many were purposed, but afraid to do."
"It's been WAYYYYYYY to longgggggg free Jamie Brown…….," wrote Quincy Walker on Perciavalle's Facebook page as part of the thread. Another post by Sonya Jeter also called for the release of convicted cop killer Jamie Brown, "God Bless you Joe and keep you safe!!! #FREEJAMIEBROWN." That reply was "liked" by Joe Perciavalle.
Another short reply by Mandy Friend read simply, "Shits getting real." It too was "liked" by Perciavalle.
It is unclear what prompted the posts apparently made by Assistant Police Chief Joe Perciavalle, but they continue to spread rapidly in the local area on social media. Officials with the City of Aliquippa could not be reached by the Beaver Countian for comment. This publication left messages for Assistant Chief Joe Perciavalle and Aliquippa Mayor Dwan Walker, and will report if we hear back.
Mayor Walker promoted rookie Officer Joseph Perciavalle to the position of Assistant Chief back in April.
Read Also: District Attorney: Officer Naim Murder Remains A Closed Case As Far As My Office Is Concerned