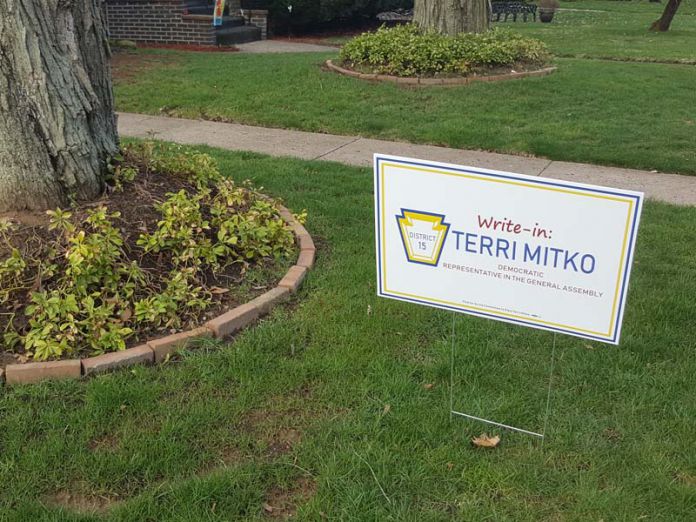 When Democratic primary voters in the 15th Legislative District head to the polls next Tuesday, May 15th, they will not be seeing any names to pick from for State Representative on their ballots. Despite the apparent lack of choice, there is in fact a contentious race underway for the Democratic nomination in a district that includes Beaver, Brighton, Center, Frankfort Springs, Hanover, Independence, Potter, Raccoon, Vanport, and parts of Washington County.
Democratic voters in these areas would be well served by writing in the name Terri Mitko.
A series of events that began with an investigative report published by the Beaver Countian on March 12th led Alex Andres, the then-Democratic candidate for the 15th Legislative District, to withdraw his name from consideration. With the filing deadline already passed, Democrats were left without a candidate to appear on the ballot.
Since that time, Brighton Township attorney Terri Mitko has offered herself as a Democratic contender. Mitko has been playing a game of catch-up, working feverishly to put up yard signs, establish a campaign website and social media presence, knock on doors, and attend events. In order to appear on the general election ballot later this year, Mitko needs Democrats to back her write-in effort in the primary next week.
Republican Josh Kail, who is the only name that will appear on the Republican primary ballot, has similarly been spending considerable time knocking on doors and sending out flyers also attempting to get Democrats to write in his name — hoping to avoid having any opponent in the fall.
While Kail is undoubtedly ambitious and has been exhibiting an admirable work ethic, there is one thing he most certainly is not… a Democrat.
Republican Josh Kail and Democrat Teri Mitko each have a respectable list of qualifications, but they each have significantly different thoughts about how to solve the problems facing Beaver County and the Commonwealth of Pennsylvania. Our democracy works best when elections are preceded by a vigorous debate of ideas; Beaver Countians deserve to hear that debate unfold over the coming months before deciding for themselves which platform best represents their own ideals.
For this debate to occur, Democrats in the 15th Legislative District should write in "Terri Mitko" for "Representative In The General Assembly."