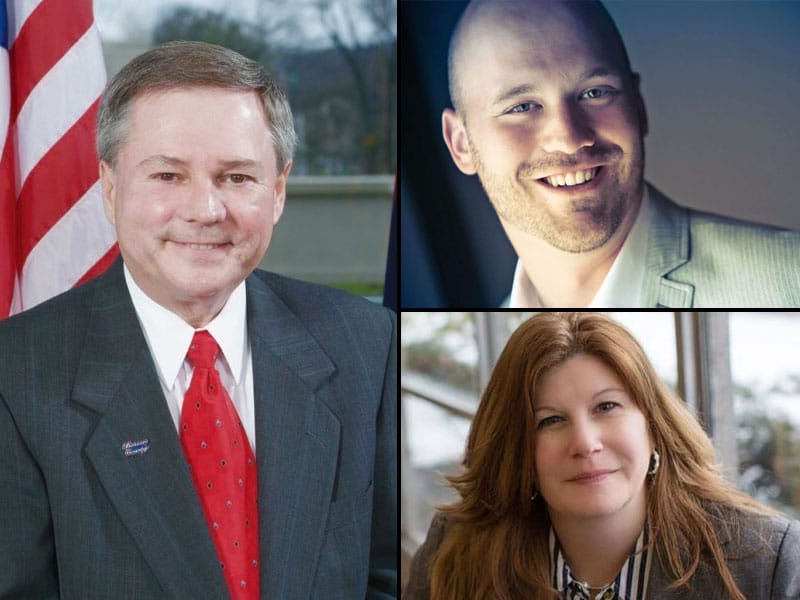 Commissioner Tony Amadio expressed shock and outrage following last week's public work session after hearing about a projected multi-million dollar deficit in the county's budget for this year. Despite Amadio's claims he did not known about any budgetary problems before last week, and did not know where the budgetary numbers being discussed originated, emails obtained by the Beaver Countian show he had in fact been receiving regular warnings about the county's financial situation since at least April.
Commissioner Sandie Egley and Financial Administrator Ricardo Luckow broached the subject of the county's budget during last Wednesday's meeting, notifying the public that reductions in spending will likely be needed to bridge a projected cash-flow deficit of $2 million by year's end.
Although Commissioner Amadio said very little during the meeting, he told the Beaver Countian in an interview after the work session that he had been unaware of any budgetary difficulties the county may be facing.
"I have no idea what [Financial Administrator Luckow] is talking about," Amadio told the Beaver Countian at the time. "I didn't say a whole lot today because I didn't know where he was getting those figures from."
Commissioner Amadio also said in the interview that the county was preparing to refinance a bond which will generate savings that Luckow and Egley have failed to mention (Amadio had voted against refinancing the bond).
After publishing its interview of Commissioner Amadio, the Beaver Countian submitted a formal Right-to-Know request to the county, seeking copies of any emails sent by Financial Administrator Ricardo Luckow to the Commissioners concerning budgetary projections. The County Law Department provided copies of six emails in response to the request.
"Dear Commissioners, I performed the first cash flow projections for the (General Fund) to the end of this year to start gauging our ability to timely meet all our 2017 obligations," wrote Luckow in an email dated April 6th that was sent to Tony Amadio and the other two Commissioners. "The projection results in a $2.7 million cash deficit. Please consider that it's very early in the year to forecast given the number of variables that are subject to change with the passage of time and, therefore, actual events are likely to change the course of the current projection."
Financial Administrator Luckow sent subsequent emails to each of the Commissioners on May 26th, June 30th, July 14th, July 31st, and August 22nd. Each of the emails detail projected deficits in the county's budget and provide a list of factors that could impact the bottom line.
The emails show that Luckow had in fact noted "probable savings due to future bond refunding transaction," but the bond has not yet been refinanced. Any savings which may occur are not certain and the amount of those savings unknown, meaning they can not be relied upon for budgetary purposes.
The emails establish that Amadio's opposition to refinancing the bond came even as he was receiving warnings from Luckow about a deficit for the year.
Also mentioned in the projections are expenses to the General Fund which are not yet known, including "potential transfers to other county funds due to cash flow shortages" and "other contingencies."
"As you can see, unfortunately the trend isn't improving. I suggest we discuss strategies to address the potential shortfall," wrote Luckow in his August 22nd projections that were emailed to Commissioners.
Commissioner Tony Amadio has been leveraging to have Ricardo Luckow ousted as Financial Administrator since he first assumed the role at the beginning of 2016. The new Republican majority Board had forced the resignation of then-Financial Administrator Vince LaValle, a long-time friend and political ally of Amadio, due in part to his role in crafting a budget containing a projected $17 million dollar deficit that had been unknown to the public — the projected deficit was first exposed by Luckow.
Despite an external audit that confirmed the massive deficits under the prior Board, and efforts made by the new Board to fill those gaps, Amadio continues to publicly insist the deficits never existed.
"To me it's all reminiscent of the last big supposed deficit," said Amadio last week.
Commissioner Amadio is joined in his vocal disdain for Financial Administrator Luckow by Treasurer Connie Javens, who has been an outspoken critic of Luckow for years.
Ricardo Luckow's efforts in exposing mismanagement, improprieties, and corruption in county government have made him a repeated target of political reprisals.
Prior to becoming Financial Administrator, Luckow worked as an independent contractor for the county and was first to expose problems with the sale of Friendship Ridge. He similarly helped to uncover nearly a half million dollars in uncollected property taxes dating back decades for a politically influential family in the county — also discovering anomalies in the way some properties are assessed for tax purposes. Luckow was likewise instrumental in revealing wrongdoings in the Sheriff's Office under George David.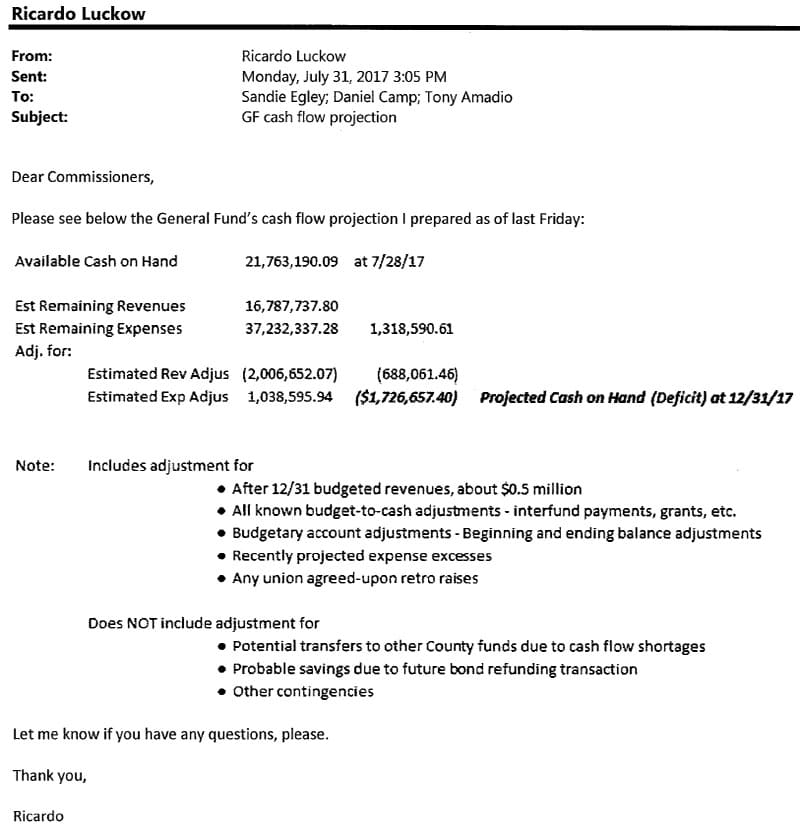 All of the projections sent by Financial Administrator Ricardo Luckow to the Board of Commissioners this year can be read in full here.