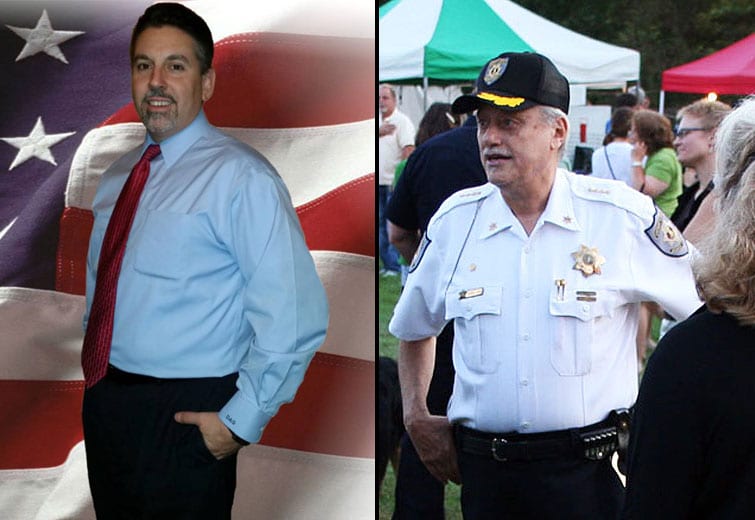 A group of elected officials have banded together and are abandoning the Democratic Committee in protest over the party's endorsements of George David for Sheriff and Dirk Goodwald for District Attorney.
Commissioners Tony Amadio and Joe Spanik, Controller David Rossi, Prothonotary Nancy Werme, and Register of Wills candidate Tracy Antoline-Patton, have all officially renounced the Democratic Party's endorsement they received just over a week ago. Democratic Party Chairman Michael "Doc" Sisk has also renounced the endorsement he received for his Coroner candidacy, and has announced he is taking a leave of absence as Chair of the party through the end of this election year.
Such a large and formal divide may be unprecedented in the history of Beaver County, and could lead to lasting reforms for the Democratic Party; now seen by many in the public as plagued with corruption.
"The Democratic Party has to police itself," Chairman Doc Sisk told the Beaver Countian, "before someone else comes in and polices it for us."
The controversy started on March 19th, when Democratic Committee members gathered at the Monaca Turners to vote on endorsements for the Democratic primary election to be held on May 19th. The event was expected to be uneventful. Most senior members of the party had agreed to not make endorsements for any county seat; they would instead vote to have an "open primary." But George David and Dirk Goodwald, who have been running together as a team, convinced committee members loyal to each of them from towns like Aliquippa, Ambridge, and Beaver Falls, to vote together as one block. Plagued by allegations of intimidation, the pair successfully overrode attempts to keep the primary open, and secured David the official Democratic Party endorsement for Sheriff and Goodwald the endorsement for District Attorney.
"I have been maintaining for over a year now that I can not run with Sheriff George David on a ticket, and that is simply because of the way he treats other people," County Commissioner Tony Amadio told the Beaver Countian. "In all my days in politics I have always treated people fairly; I have treated gentlemen as gentlemen and ladies as ladies. I understand there is a serious problem down in the Sheriff's Office, but unfortunately I do not have the power as Commissioner to rectify that because of the way county government is set up by law. The only thing that I can do is leave the Democratic endorsement behind and take my dignity and integrity with me. So that is what I am doing. My integrity is more important to me than anything."
Commissioner Amadio said he will likewise refuse to provide any support to Dirk Goodwald's candidacy for District Attorney, "He has aligned himself with George David, so I will not be aligning myself with him."
A private meeting was held shortly after the committee made its endorsements, where the group of elected officials agreed they could not in good conscience run together with George David or Dirk Goodwald. They would instead decline their own endorsements, refuse to pay party assessment fees, and leave the Democratic Committee of Beaver County — now broke and leaderless — to George David, Dirk Goodwald, and their supporters.
"As everyone well knows [Sheriff] George David has repeatedly made statements in the media that no one will tell him what to do," said Commissioner Joe Spanik. "He has said that no Commissioner will tell him what to do, he has even said that no judge will tell him what to do. Well as elected officials we have to follow the laws which are made by the legislature. We have to listen to judges. He fought us many times, and he has tried to define what we do as County Commissioners. He challenged us all the time and we have had to challenge him back just to make sure laws are upheld. You would think as law enforcement he would be upholding and respecting the law, but he keeps breaking laws over and over again. I think that is why so many folks are saying we need to get rid of this guy, so that's what we are all trying to do."
Controller David Rossi highlighted the waste, fraud, and abuse of taxpayer funds that has occurred under George David's tenure as one of the reasons he will not be supporting the Sheriff's reelection. "The various audits conducted by my office of the Sheriff's Department over the past several years speak for themselves as to why I can not support George David's endorsement," said Controller Rossi. "I am not a rubber stamp and I never will be. I will continue to proudly serve the people of Beaver County in a bipartisan fashion moving forward."
Prothonotary Nancy Werme said she could not stand by as Sheriff David continued to victimize his own employees. "In the past I have always supported endorsed Democratic candidates, but I can not lend my name or any other support to Mr. David's candidacy this time," she told the Beaver Countian. "I have always abided by our county's union contracts, and believe that all men and women should be treated fairly and with respect. That has not happened in George David's office. In my refusal to run with George David, I am joining a number of other Democratic candidates running for office in Beaver County. I will continue to work for and proudly serve all Beaver County citizens."
Democratic Chairman Doc Sisk made phone calls on Friday to the remaining elected officials who have all still been supporting Sheriff David, including Treasurer Connie Javens, Recorder of Deeds Jan Beall, and Clerk of Courts Judy Enslen, notifying them that the other endorsed candidates had left in disgust. Javens, Beall, and Enslen responded by pulling their assessment fees from the party as well, leaving the team of George David and Dirk Goodwald to stand alone.