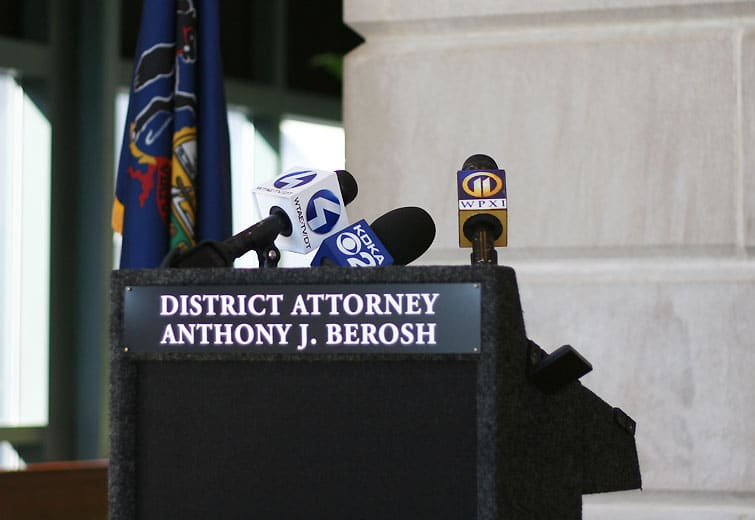 I am not going to use words like "allegedly," or "purportedly," or "apparently," or "may have." There is no need to hedge my language in any way. I am going to say this as clearly as I possibly can because the facts are as clear as they possibly could be:
Two years ago to this day, Deputy John Joe Fratangeli of the Beaver County Sheriff's Office unlawfully detained and arrested a destitute African American man named Larry Hicks, and then filed a materially false affidavit against him to substantiate criminal charges which the man did not commit. Sheriff George David used those charges to hold a press conference where he inflated the false allegations even further to help distract the public from the fact he had pleaded his 5th amendment right against self incrimination in a court hearing the day before — David had been unlawfully ordering his deputies to provide security services for people and corporations including local real estate tycoon CJ Betters, one of his closest political cronies. Despite George David's well documented history of corruption and racism dating back four decades, Beaver County Times reporter Kristen Deorschner and WPXI reporter Amy Marcinkiewicz publicized the Sheriff's lies about Larry Hicks without challenge.
The Beaver Countian was almost immediately informed by trusted sources within the Sheriff's Office that the charges against Larry Hicks were false, and that the Sheriff was using the African American man as a distraction from his own corrupt and unlawful activities which were finally beginning to be exposed. At the urging of our sources, this publication informed District Attorney Tony Berosh and Beaver County Detective Kim Clements of a gross miscarriage of justice. The Beaver Countian then began to publish a series of investigative reports that proved, without any doubt, the "facts" outlined in Deputy John Joe Fratangeli's charging affidavit were false; people he claimed to have interviewed as witnesses in the case he had in fact never spoken to, never even met.
Beaver County District Attorney Tony Berosh dropped the charges filed by John Joe Fratangeli against Larry Hicks, but then filed new and unrelated charges against the man for providing inaccurate information when filling out a gun permit application — Despite dozens, perhaps even hundreds, of other instances in which people provided inaccurate information on applications, this was the first time in District Attorney Berosh's tenure that someone had been criminally prosecuted for doing so; the very definition of a selective prosecution.
Although Larry Hicks was charged for "lying," Deputy John Joe Fratangeli never was. Despite the urging of his own county detectives, District Attorney Tony Berosh has refused to file charges against John Joe Fratangeli. He has also refused to relinquish authority over the investigation to the Pennsylvania Attorney General's Office, who has said on multiple occasions they would prosecute Fratangeli if referred the case. He has likewise rejected requests by high ranking officials within the Pennsylvania State Police, including requests made just last month, to turn the case over to them so they could effectuate an arrest of Fratangeli.
District Attorney Tony Berosh has declined to comment, on dozens of different occasions spanning two years, about Deputy John Joe Fratangeli's materially false affidavit or why charges have not been filed against him.
While the Beaver County Chapter of the NAACP eventually opened an investigation of their own into the incident, and were preparing to bring to force their proud tradition of nonviolent resistance, they too soon failed their mandate. The organization's outrage over the unlawful behaviors of corrupt officials dissipated the instant Sheriff David promised a job as a deputy to a relative of NAACP President Willie Sallis — The same sort of corruption David has relied upon, year after year, well documented instance after well documented instance, to escape justice for his many gross misdeeds.
The Beaver County Times has never bothered to follow up on Fratangeli either, even though they had been used as a tool in Sheriff David's corrupt plot. They too have been well manipulated by David, who pulled a six figure advertising contract from the paper in a scheme devised for the Sheriff by Ambridge Police Chief Jimmy Mann to harness their reporting. This paper has been censored since the day publisher Lisa Reese held a private meeting with David in his office about the ad money, a meeting which led to the gagging of Times Political Reporter JD Prose… one of the few voices who had ever dared speak truth to George David's power. The Beaver County Times, which prides itself as being the "legitimate news organization" of Beaver County, has still never disclosed that incident to its readers or otherwise revealed the history behind the blinders their news organization now wears for purely economic reasons.
This is not the only documented instance in which John Joe Fratangeli has lied or otherwise betrayed his oath, but he remains well insulated. Sheriff David has since rewarded Fratangeli for his loyalty by promoting him to Lieutenant, a position which gives the man additional authority to abuse and corrupt.
I sat down privately with Larry Hicks as George David's freak show was unfolding. I looked the man in his eyes as he teared up and then began sobbing, telling me he had made many mistakes in his life but never wanted to kill anyone, never threatened to commit murder. He told me he couldn't even get work mopping floors because everyone was afraid of him, because Sheriff George David appeared on the regional news telling the public that the man had ambitions of becoming a mass murderer — Telling the public that he and his men were heroes for stopping him. Telling the public a bunch of damn lies.
I will never forget what was done to Larry Hicks, and Beaver Countians should not forgive those who continue to be complicit in these disgusting miscarriages of justice.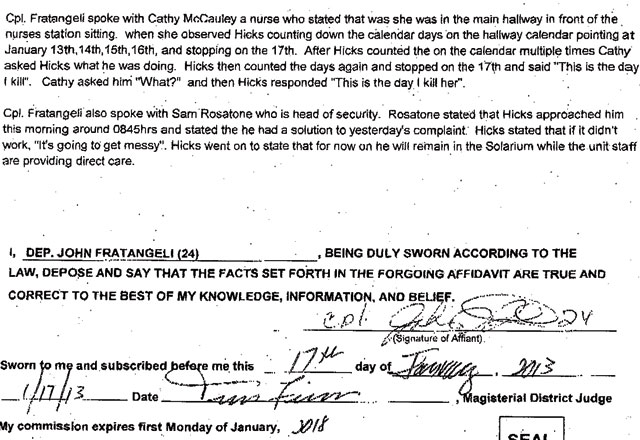 – County Officials Investigating Sheriff's Handling Of Friendship Ridge Incident
– Serious Questions About Sheriff David's Account Of Events At Friendship Ridge
– Woman At Friendship Ridge Claims Deputies Never Even Interviewed Her
– District Attorney Drops Charges After Investigation Into Friendship Ridge Incident
– District Attorney: This Case Has Almost Reached Mythical Proportions
– Judge: Man To Stand Trial Following Alleged Friendship Ridge Incident
– Friendship Ridge Suspect Out Of Jail After Community Donates Bail Money
– District Attorney's Office Files 11 New Charges Against Friendship Ridge Suspect
– Union Takes A Stand Against Sheriff David After Clerk Files Grievance
– District Attorney Dispels Rumors Circulating About Clerk In Sheriff's Office
– Man To Stand Trial For Lying On Concealed Carry Permit & Gun Applications
– Clerk In Sheriff's Office Restored To Her Position Following Hearing
– Sheriff's Deputy May Soon Be Criminally Charged Over Sworn Statements
– Sheriff's Deputy Abandons Post – Follows Beaver Countian Taking Photographs
– Larry Hicks Pleads Guilty To Making False Statement On Background Check
– Sources: County Detectives Were 1 Day Away From Charging Sheriff's Deputy
– Sheriff David Promotes Deputy Who Filed False Affidavit To Lieutenant