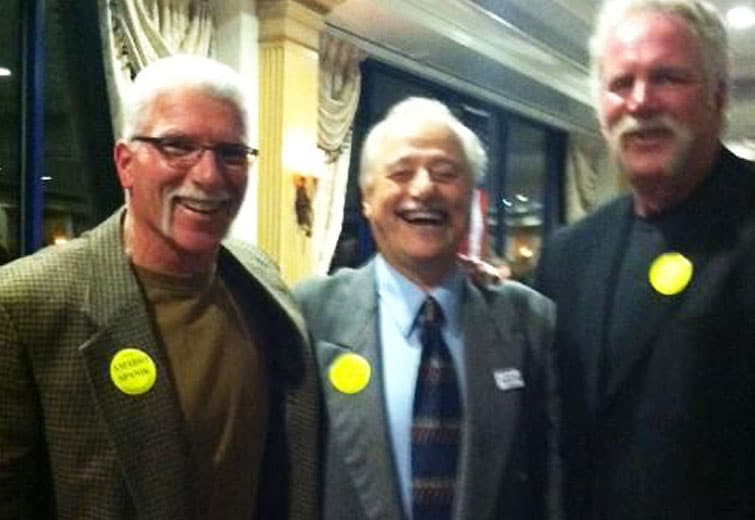 Republicans continue to rely on some of the most controversial deputies in the Beaver County Sheriff's Office in their efforts to see the election of Tony Guy, their party's candidate for Sheriff. This time by sharing a desperate rant trashing Democratic sheriff candidate Wayne Kress, written by Sheriff's Deputy Sgt. Randy Tallon.
Randy Tallon is one of Sheriff David's most loyal deputies whose sordid history in the Sheriff's Office has been well documented in the form of formal complaints filed by his fellow deputies, police reports detailing his unscrupulous behavior, and sworn testimony before a Statewide Investigating Grand Jury about his mistreatment of individuals in the courthouse.
Beaver County's Human Resources Office has accumulated a folder's worth of complaints filed against Randy Tallon with not only allegations of harassment, but alleged insinuated threats of violence and acts of retaliation aimed at deputies who cooperated with the Pennsylvania State Police, or otherwise failed to fall in step with George David's lunacy. Tallon's unabashed and unrelenting harassment of some of those who testified against Sheriff George David can be attested to first-hand by this reporter.
His soiree with a female courthouse employee (which was carried out in his parked patrol car) was caught on film by Beaver County Detectives and local law enforcement while they were carrying out an unrelated prostitution sting. The official police reports and photos remain on file in the County Detective Bureau.
Internal investigations by the county have repeatedly led to recommendations that Tallon be disciplined, but time and again Sheriff George David has refused to take meaningful action against his loyalist deputy, rabid as he may be.
Tony Guy has told some in George David's chain of command they will likely keep their positions if he becomes sheriff, so it should probably come as no surprise that people like Randy Tallon are working hard to get him elected (although Tallon is expected to retire at the end of this year, he leaves behind many comrades who would be fired if Wayne Kress becomes sheriff).
What should come as a surprise is that the Republican Party — which has been so vocal about wanting to end corruption — would at the last minute forward along a falsehood laden diatribe penned by a man like Randy Tallon (who himself has been the source of so much derision) simply because it suited their political objectives.
Given that Republican sheriff candidate Tony Guy has been affiliating himself with people like former Sheriff's Deputy Joey David and George David's First Deputy Jay Alstadt, one can start to see how his running mates on the Republican ticket would be so quick to turn to a man like Randy Tallon to make their case for Guy's election. But still, seeing Tallon's name emblazoned on Republican coroner candidate David Gabauer's campaign page did come as a shock, as it did when it appeared as a shared post on Republican recorder of deeds candidate Tim Sempfs' page, and in feeds after being liked by Republican prothonotary candidate Pamela Flara and even Republican Party Chairman Megan Carpenter. Tony Guy himself was tagged in some of the posts.

David Gabauer not only shared Tallon's post to his campaign page, he added a little note along with it, saying in part: "Randy Tallon hits the nail on the head. Please take a moment and read what he has to say. The facts he presents are all verifiable."
A few minutes research by this publication debunked the entire gist of what Randy Tallon had to say, including his false statements about Wayne Kress' time as a State Trooper and veteran. Deputy Tallon went so far as to falsely accuse one county employee who appeared in a photograph with Kress of being absent from the courthouse because he is "being investigated" — the man has in actuality been undergoing a series of serious medical procedures.
It is obvious Gabauer did not take the time to try to verify any of Randy Tallon's "verifiable facts," and instead became an unwitting accomplice in Tallon's unending campaign of harassment. This is what happens when you associate yourself with George David's loyalists.
Along with promoting Tony Guy, Deputy Sgt. Randy Tallon's Facebook page features several rants he has written in the past defending Sheriff George David and supporting his tenure in office.
"I have thoroughly enjoyed the time that Sheriff David has been at the helm. He has managed his fiscal responsibility with extreme expertise. With over 40 years of law enforcement experience he brings a wealth of experience and expertise to the table. My intentions are to retire at the end of the next term. I would really like to end my career working for a man like Sheriff David. I would really appreciate all my friends in Facebook land to get out next week and vote for Sheriff George J David. Pass the word!!!!!!!!"
– Deputy Randy Tallon
As I've written before when commenting on the Sheriff's Office, relationships can be thought of as a fuel that powers engines of corruption — and as we have all seen — Beaver County's political machine gets impressive mileage to the gallon.
All it took was word to start spreading through the Republican Party that the Beaver Countian was working on an editorial about Randy Tallon's rant that *poof* it started magically vanishing from their Facebook pages. Sometimes being a leader requires little more than simply calling people out on their bullshit and shame on Tony Guy for not doing it.
There is a reason why both the Beaver Countian and the Beaver County Times have endorsed Wayne Kress for Sheriff. He is the only candidate who has said the things that have needed to be said, who has refused the help or support of degenerates during his campaign, and who has publicly committed to doing the things that need to be done once elected.
Case in point, when reached for comment about Deputy Randy Tallon's Facebook rant here is what Wayne Kress had to say: "I know everything there is to know about Randy Tallon and the things he has done as a deputy and the ways he has acted in uniform. This is who the Republicans want to tie themselves to? A deputy like this? Really? […] I have never spoken to the man in my life, but if I ever do speak to him I'll only have two words to say… You're fired."
Wayne Kress served his country as a veteran of the United State Air Force, served his state as a Trooper in the Pennsylvania State Police, and would serve his county with integrity if elected sheriff.
The Sheriff's Office must no longer be allowed to operate as a common gang of street thugs. It is not fair to the citizens of Beaver County and it is not fair to those professionals still in that department who have been the minority for far too long.
This all must end.