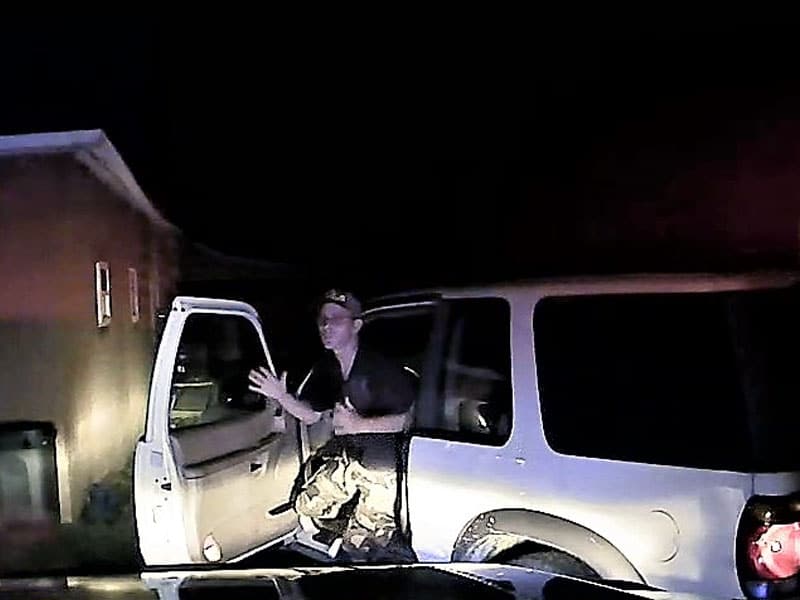 A dash cam video showing an incident involving a Beaver Borough Police K-9 was played again in open court last week, and yet again the Beaver Countian has been sent around in circles while attempting to obtain a copy for you to view. These back-door antics by county officials have amounted to a procedurally perverse kind of bumfuckery which must not be permitted to prevail over Beaver County's criminal courts.
The Beaver Countian was in the courtroom on Tuesday of last week for a pretrial hearing where a police dash cam video depicting the August 2016 arrest of James Edward Cicco was played in open court by his defense attorney. The same video had been played in open court by prosecutors in a September 2016 preliminary hearing for the case.
On the video shown in court, Beaver Patrolman Jeffrey Wijen-riems was seen sending his police K-9 Czar to attack a man in a car who he had an encounter with; the video shows Czar again biting into the man as he lay on the ground with his hands cuffed behind his back. In both instances, the dog is seen refusing to let go of its grasp on Cicco, with Wijen-riems pulling at the dog's collar apparently attempting to unclench its jaws.
James Cicco was hospitalize for three days as a result of the flesh of his chest being ripped from his body by Czar during the encounter. The K-9 remains on active duty with the Beaver Police Department; an investigation conducted by the Pennsylvania State Police concluded there was no criminal wrongdoing by Officer Wijen-Riems. Cicco is awaiting trial on charges which include allegations that after first being bitten by Czar, he "taunted" the animal by intentionally kicking it while being handcuffed by Wijen-riems — actions which are not readily visible on the video shown in court. Cicco is also being prosecuted for allegedly resisting arrest after — not before — Wijen-riems ordered Czar to attack the man for the first time.
The Beaver Countian believes you should not be forced to rely on our description of what is on that dash cam video from last August; as a member of the public you have a right to see for yourself the incident involving James Cicco, Officer Wijen-riems, and his K-9 partner Czar. This publication has been working since last September to obtain a copy for you to view — avoiding the filing of litigation against public officials as part of these efforts. Fundamentally, the Beaver Countian believes public records such as this should be obtainable by any citizen, not just by entities which have access to teams of attorneys from major law firms.
Our efforts to obtain a copy of the video began on the day it was first shown in court by the District Attorney's Office. Immediately following the September 2016 hearing, the Beaver Countian met with the Court Administrator's Office, asking what the rules or procedures were to obtain a copy of an exhibit shown as part of a preliminary hearing in Beaver County. We were told there were no rules, no procedures, and that the Court Administrator's Office knew of no way for the press to obtain access to a copy of the record.
The Beaver Countian subsequently filed a Right-to-Know request on September 21st with the District Attorney's Office seeking a copy of the exhibit. The District Attorney's Office denied that request in a letter to the Beaver Countian dated that same day, stating the video exhibit which had been played in open court was exempt from disclosure because it was now an "investigative file" (it was not by current legal definition ever an investigative file to begin with).
The District Attorney's Office directed the Beaver Countian to appeal their denial to the Pennsylvania Open Records Office, which was also done on September 21st. Nearly one month later, on October 18th, the Open Records Office issued their response: The District Attorney's Office was wrong to instruct the Beaver Countian to appeal to the Open Records Office, the appeal should instead be directed to the District Attorney's own internal appeals officer.
The Beaver Countian contacted the District Attorney's Office, asking for a copy of its rules or procedures for filing appeals to their office so this publication could proceed appropriately. We were told there were no rules, no procedures for us to follow.
The Beaver Countian then met with District Attorney Lozier and members of his staff (including his appeals officer) on November 14th. The appeals officer directed that parties could file briefs with him by December 2nd and that he would make a decision soon after. As the Pennsylvania Open Records Act dictates that records are presumed to be public, the Beaver Countian was under no obligation to prove why the document should be released, rather, the burdened was with the District Attorney to demonstrate why the video should be kept secret. The Beaver Countian elected against filing a brief and waited for a decision by the District Attorney's appeals officer.
On December 20th, the Beaver Countian received an email from District Attorney David Lozier, asking if we were going to file a brief as part of our appeal. We replied we were not. He asked if we wanted to proceed forward with the appeal. We replied that we did. He asked if we intended to take him to court if his own appeals officer ruled the video should be withheld. We replied that we would.
The Beaver Countian then waited… and waited… and waited.
Over three months later, the Beaver Countian again contacted the District Attorney's Office last week to get a status on our appeal. We were told the District Attorney's Office never submitted a brief to their own appeals officer, never asked him to make a decision about whether the video should be released or not. The District Attorney's Office informed the Beaver Countian last week that they will just now be filing a brief and will finally be asking their internal appeals officer to issue a ruling. There is no indication on when that decision may come.
The Beaver Countian asked the District Attorney's Office if, in the elapsed months, it had established any rules or policies on how appeals were to be conducted by their office. We were told there are still no procedures in place for us (or them) to follow.
At the conclusion of last Tuesday's hearing on pretrial motions in the Cicco case, the Beaver Countian stood up in open court and informed Judge Dale Fouse that the Court Administrator's Office has said they knew of no local rules or procedures on how the media could gain access to exhibits shown in open court. The Beaver Countian respectfully asked the judge how the public should proceed to gain such access to the video exhibit just played in his courtroom. Judge Fouse said he would get back to us with an answer to that question. He has not.
The Beaver Countian then went down to the Clerk of Court's Office asking if they were in possession of the exhibit as it had now been presented in the Court of Common Pleas. We were told by a clerk that they did not know, their office would get back to us. Clerk of Courts Judy Enslen called back later that same day saying her office had the exhibit, but as it was a digital video file, she and her staff did not have the technical abilities required to make a copy of it (it is common practice in Beaver County that any citizen can visit the Clerk of Court's Office and inspect case records and all files contained within under the watchful eye of staff — records filed with the Clerk of Court can be copied for a small fee). Enslen told the Beaver Countian she would call back after asking around about how to proceed with copying the digital record. She has not.
This video was shown in open court by both the prosecution and defense, attached by reference to legal briefs submitted by both a prosecutor and defense attorney, and was provided by the District Attorney's Office directly to a judge presiding over motions in the case (apparently via some kind of ad hoc process). The judge is currently relying on the contents of that video in making a decision on whether or not to dismiss certain charges pending against the defendant in the case.
There should be no need to file a motion with the court asking for this video to be released and there should be no need to file litigation to obtain a copy either (neither the prosecution nor defense ever filed a court motion asking a judge to have exhibits sealed).
It should be noted at this point that these bizarre attempts at obfuscation are not reserved solely for the news media. In a profound act of obtuseness, the Solicitor for Beaver Borough and the Beaver Police Department has asserted that the criminal defendant in this matter, James Cicco, should be directed by the court to file a Right-to-Know request for potentially exculpatory evidence in his own case. In open court last Tuesday, Beaver's Solicitor said he would then be denying that open records request (before it has even been filed) under the very same "investigative files" exemption being claimed by the District Attorney's Office.
The only real question in this entire embarrassing display of local "governance" is this one: Why?
Throughout this process the Beaver Countian has intentionally attempted to achieve access to these public records in a manner that any citizen may undertake, repeatedly asking the simple questions, "What are the local procedures? What are your policies? What would you have us do?"
Unfortunately, this publication is instead being forced to transit a circular road far too well traveled by those seeking transparency in local government; once again we find ourselves being compelled to rely on attorneys and explore ways to straighten the path through legal remedies available in state and federal courts.
Things are not as they should be. Bumfuckery indeed.