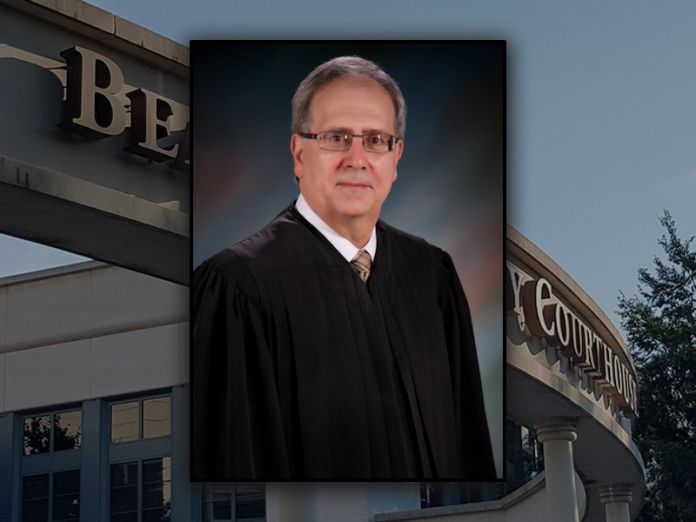 Beaver County Common Pleas Judge Kim Tesla has demonstrated himself to be a hard working jurist who has discharged the duties of his office with fidelity over the past decade. Beaver Countians would be well served by voting on November 7th to retain him.
Kim Tesla is a graduate of Geneva College and Duquesne University School of Law, who began his career with the county in 1990 when hired as an Assistant District Attorney. Tesla worked for the District Attorney's Office for 17 years before being elected as judge in 2007.
Kim Tesla has shown an even temperament on the bench through the years, expressing outrage and empathy in a demeanor which rarely fluctuates a bar above or below his normal baseline. He has garnered a reputation as being a "law and order judge" whose view of the legal system was shaped by his years as a prosecutor, though both prosecutors and defense attorneys say he has proven to be a fair jurist who applies the law equitably.
That is not to say his decisions have all been without controversy.
One of Tesla's most problematic rulings came back to haunt the courts in February 2016, when the Superior Court of Pennsylvania issued an order granting a new trial for Marlin "Twin" Kelly, who had been convicted by a jury in 2014 of murdering a woman and her unborn daughter. The appellate court determined in a 2 to 1 ruling that Judge Tesla had erred in Kelly's original trial by refusing to dismiss for cause a potential juror who works as a police officer in the county. Tesla reasoned that a law enforcement officer should not automatically be prevented from serving as a juror, even if he routinely works with individuals who are prosecuting the case at hand. The appellate court saw it differently.
Those who work closely with Judge Tesla said at the time he was distraught over being overturned and looked "gut punched" after learning a key witness from the first trial was now refusing to take the stand for the retrial. Ultimately, the witnesses' prior testimony was read to jurors in open court and prosecutors succeeded in convicting Kelly for a second time.
Some who oppose Tesla's retention point back a decade ago to his campaigns for judge as reason why he should not be entrusted with another term.
Kim Tesla ran for judge in 2003, and again in 2005, before finally winning a seat on the bench in 2007. His 2005 candidacy became a matter of controversy after a Statewide Investigating Grand Jury found that Tesla's election was one of many in which then-State Representative Mike Veon had invested state resources and personnel — something they described as using "taxpayer-paid legislative staffs as a political machine." Tesla himself was never accused of any wrongdoing and publicly insisted that his wife was the main person who had worked with him on his campaign.
Despite concerns raised about political dealings, time has proven Kim Tesla does not permit party politics to prejudice his judgement.
It would have been very easy for Kim Tesla to quickly dispose of a lawsuit filed in 2013 against then-Sheriff George David by a New Brighton man named Dennis McKee. The man had alleged the Sheriff illegally revoked his concealed firearms carry permit; Sheriff David insisted McKee had a reputation for being a danger to others and should in no way be allowed to carry a gun concealed on his person. McKee filed the lawsuit acting as his own attorney — he had by this time already become well known to many attorneys in the county by interjecting himself into other people's cases. McKee fancied himself as something of an armchair lawyer who enjoyed advising others on the law despite not being a licensed attorney, having never gone to law school (or even college), and most often being very incorrect in his understanding of legal matters.
Not many people would have expressed criticisms if Judge Tesla had simply dismissed the problematic provocateur's litigation — the paperwork filed by McKee had been done so incorrectly and was barely coherent. But Judge Tesla did what Judge Tesla does, he ordered a hearing and privately began researching the relevant laws.
McKee's behavior in court was bizarre, his understanding of the law incomplete, and his arguments inarticulate, but he did have one thing going for him — his basic premise appeared to be right. Judge Tesla expressed concern in open court that Sheriff David may have failed to provide due process when he issued McKee's revocation. Tesla ended the hearing by ordering George David to file a brief with the court to show cause why the revocation was proper; he scheduled another hearing.
By this time McKee's case had garnered public attention, a Second Amendment attorney filed a friend-of-court brief in support of his claims. Following a lengthy second hearing in the case, Judge Tesla issued a stunning rebuke of Sheriff George David in an extensive 30-page opinion and order of court reinstating Dennis McKee's concealed carry permit.
While many people would have agreed Dennis McKee had no business carrying a gun, Judge Tesla ruled that Sheriff David had failed to prove he should be denied the right, and more importantly, had initially failed to even try to gather evidence against him. Dennis McKee's case proved to be not just about Dennis McKee. Research by the Beaver Countian at the time showed George David may have arbitrarily denied concealed carry permits in violation of state law to as many as 300 other individuals, leading to a public condemnation of the then-Sheriff by leading gun rights advocates in the region.
Judge Tesla's ruling changed the way the Sheriff's Office operates in Beaver County and his thoroughly researched opinion was read across the state — reasserting individuals' due process rights as they pertain to carrying a concealed firearm in Pennsylvania. There are likely few judges who could — or would — have looked through the fog of McKee to clearly see the much larger landscape before him.
The most commonly heard criticism of Kim Tesla from his colleagues are not of the actual decisions he has made, but of his decision making process. Tesla is exhaustive in his handling of cases and is known for spending inordinate amounts of time in the courthouse and at home scouring over every bit of minutia — attorneys joke that Tesla often knows the cases better than either of the opposing parties appearing before him. Some who work in the courthouse say this thoroughness often comes at the cost of judicial expediency, leading to court hearings on issues which neither side in cases consider matters of contention.
There are other occasions when Tesla's near obsession with process has proven invaluable.
In September of last year, Kim Tesla brought his courtroom to a screeching halt during a routine plea hearing for a first-time DUI offender. What normally would take minutes turned into an hours' long ordeal after Manuel De Jesus Pineda-Reyes was brought shackled by Sheriff's Deputies before the judge — there was no defense attorney standing by the man's side. Through a Spanish interpreter, Pineda-Reyes told Judge Tesla the last time he spoke to his privately hired defense attorney he was advised he would be released from jail within 48 hours. That had been weeks ago and the man said he had not heard from his attorney since.
Manuel De Jesus Pineda-Reyes told Kim Tesla he did not understand why he was still sitting in jail.
Many judges would have issued a routine continuance in such situations, allowing a few weeks for a defendant to retain new defense counsel (often by making application to the Public Defender's Office). What happened instead was emblematic of how Kim Tesla operates on the bench.
Judge Tesla called Pineda-Reyes' attorney on a speakerphone set up in the middle of the courtroom and questioned him on-the-record about why he had not appeared for his client. He had other calls placed to the jail and to the Clerk of Courts' Office; he sifted through court records with staff. He ordered the Public Defender's Office to represent the defendant on the spot to help determine why he was still incarcerated — he at the same time ordered the District Attorney's Office to verify that the victim whose vehicle Pineda-Reyes struck had received compensation to be made whole. After additional research, Tesla warned the man that accepting a plea in the case could have collateral consequences with immigration — something the defendant said he had not been advised about before.
Word of the case had spread through the courthouse and some attorneys sat in Judge Tesla's courtroom to watch the events unfold. By the end of the day, Pineda-Reyes had consulted extensively with defense attorneys and decided to proceed with entering the plea in his case (he was later deported by federal authorities).
Attorneys who witnessed the proceeding praised how the situation was handled. Judge Tesla's own words in open court that day perhaps best summarized the rational behind his unconventional approach, "In this case, as in every case, our job is to do the right things for the right reasons."
Judges make thousands of decisions on a regular basis, whether they be the routine accepting of a plea agreement for a first-time DUI offender or a due process ruling with profound Constitutional implications. In each case, there are those who both agree and disagree with the outcome. These decisions are rightly debated, criticized, and in some instances contested. What the public should hope for in a judge is a person who is prepared and transparent, thoughtful and reasoned, fair and independent — someone who in each case tries to do the right things for the right reasons.
Kim Tesla has proven himself to be such a man.